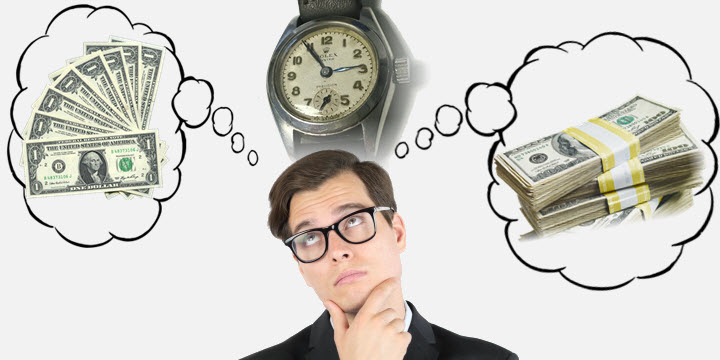 Many owners of luxury watches wish to know how much they could sell their watch for, which is why "How much is my Rolex watch worth? How much cash could I get for it?" is are common questions. Unfortunately, there is no Rolex Blue Book for you to consult, in order to find an accurate valuation. The easiest way to find out how much a Rolex is worth, is to make use of the Jaztime.com free value estimation request form, which can be found here: => get a Free Value Estimation for your Rolex
How much can I get for my Rolex?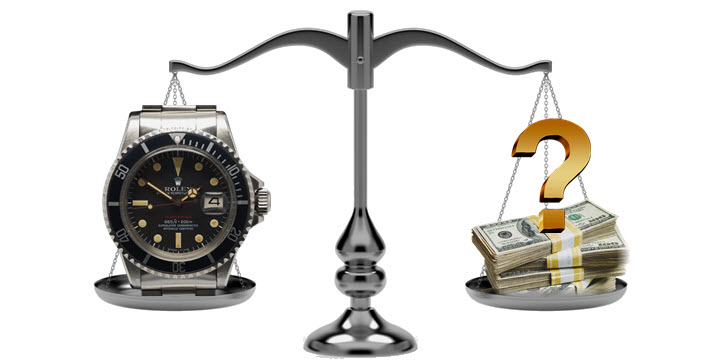 If you wish to estimate the value yourself, consider that many people both overestimate the value of their Rolex timepiece and underestimate the time it takes to find a buyer.
1) The original buying price is mostly useless
Many people use the original buying price as a means of estimating true market value, but this is ineffective. With luxury watches, like many other items, the value drops significantly the moment it is first used. It is also important to understand that the price set by an authorised dealer does not reflect free market prices. As you may be aware, Rolex try to discourage any re-selling of their watches. As a result of this, anyone selling a Rolex via any means other than an official Rolex shop will almost certainly need to provide discounts.
2) Rolex Value depends on: model, material and dial colour
It goes without saying that the value of your Rolex is dependent on the model you own, while the case, bezel and bracelet materials are another key value determinant. However, you may be slightly more surprised to learn that the dial colour and hour markers can also have a significant influence on the estimated value of your watch. Yet, these details will only tell you so much. Rolex owners often check the internet for the second hand price of their model and assume they can get the same. Sadly, this overlooks the fact that different websites or sellers will set different prices, and it does not necessarily mean that a buyer can be found at that particular price.
3) The age of the Rolex influences how much its worth
As anyone who has used the Blue Book for a car valuation will know, 10 year old models are usually less in demand than new ones. The same is true for Rolex watches and any value estimator worth their salt will take this into account and adjust the value accordingly. With that said, even the the age of a watch is a surprisingly complex issue, because certain older models are worth more – especially if they have become rare, or were unique in some way. For this reason, the viewpoint that an older model will always be worth less than a brand new design is too simplistic.
4) Watch condition, box and papers influence the value
The condition of your watch will make a huge difference to the price you can expect to receive. A Rolex in mint condition will attract a much better price than one that shows signs of wear and tear. Some companies even gift brand new Rolex models to their employees, who then opt to sell on the grey market, but there are potential issues here too. For example, if the company has decided to engrave something on the back of the watch, or have decided to modify it, it could drastically reduce its value. The price a second hand watch attracts will also vary significantly, depending on whether the owner still has the box and papers.
5) The trade-off between price and time
Remember, the higher the price you try to sell your Rolex for, the longer it will take to sell. Here at Jaztime, we are vastly experienced and extremely good at estimating true market value for swiss watches. Yet, it still typically takes 3-6 months for us to sell a watch, because you cannot guarantee instant demand. If you want to sell your watch faster than that, realistically, you will need to reduce the asking price, so that it becomes an offer too good to refuse.
Fastest way to get true Market Value Cash for your Rolex: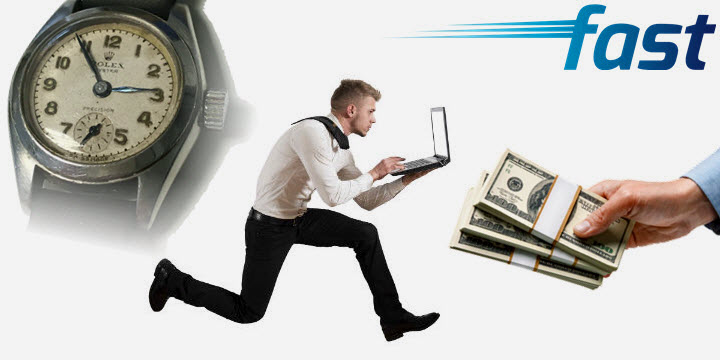 Do you prefer to spend time and effort to maybe sell your Rolex after 6 months? Or would you rather find out how much your Rolex luxury watch is worth RIGHT NOW and get cash at true market value within few days? Selling your Rolex timepiece to a professional watch reseller like Jaztime.com (get your free value estimation here) is much easier, faster and safer than trying to sell it on your own, or trying to sell through a non-specialised marketplace. Additionally, you will be able to get cash for your Rolex within a few days.
Note: Do you want to sell in order to buy a different watch? You get a much better deal in a TRADE-IN than when selling and buying separately. => get a free Trade-in value estimation
If you are considering selling your timepiece online, it is important to keep your wits about you and understand how the second hand watch market actually works. All of us at Jaztime.com believe in being transparent with customers about why we set the prices we do. With this in mind, here are some things we feel you should know:
1) Do not accept "up to" quotes
Unfortunately, some shady businesses will only provide 'up to' value estimates and when you eventually send your watch to them, the price estimate will suddenly be much lower. At Jaztime.com, we provide true market value estimates and in 99 percent of cases, if you decide to sell to us, we pay the quoted price in full.
2) We have the business risk
Almost all sellers tell us that their watch is in good condition, and in most instances they are telling the truth. Nevertheless, in situations where there is a problem with the watch, we lose money. Jaztime.com offers a warranty on all of the used watches we sell. As a result of this, it is a business necessity to pay slightly less for your watch than you might be able to fetch if you sell it yourself, assuming you were to take all the right steps.
3) We have to service & polish your used Rolex
Before we can sell any used Rolex that we buy from a customer, we need to get it into the best possible condition. Therefore, we always check, service and polish the watches before listing them for sale. Again, this adds to our costs. Please check how much a regular Rolex servicing costs for a better understanding of this.
4) We have inventory costs
It is not unusual for a watch to take 6 months or more to sell, depending on demand for the model you sold to us. As you might imagine, we would like a decent return on investment for the money we spent, but storing your luxury timepiece also costs money. We need to factor this into the equation before buying from you.
5) We have overhead costs too
At Jaztime.com, we try to deliver the very best service for our customers, whether they are looking to buy, looking to sell, or trying to find out more information about a particular model. All of this means having several experienced watch experts carrying out free quotes, spending time trying to sell used watches, and answering questions. Of course, we understand that you want to receive the highest possible amount for your watch. At the same time, however, we also need to pay out prices that allow us to remain a profitable business.
6) Jaztime.com has great Google Reviews: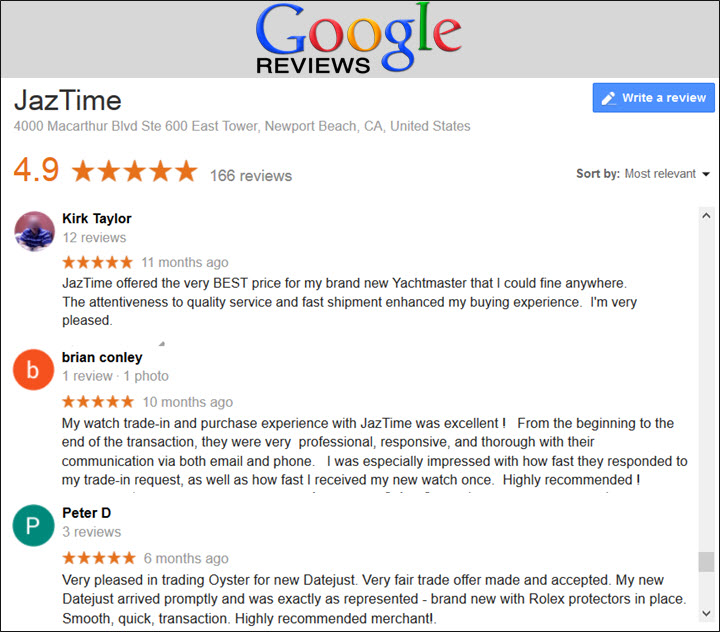 With those points explained, we hope you now understand some of the complexities involved in price valuations. Although we wish the process could be as simple as you clicking on 'Sell My Rolex', filling out a form, sending us your watch and receiving a price close to the amount you paid initially, this is not a market reality.
These issues are by no means exclusive to Jaztime.com, and you are likely to encounter the same elsewhere too, because watch specialists need to cover their own costs. Indeed, we are confident that our service exceeds that of any of our competitors and we hope you will provide us with the opportunity to prove this to you.
Fill out our free Rolex Quote Request Form now, and get a reliable value estimation within a few business hours.
Find out how much your Rolex is worth, right now: