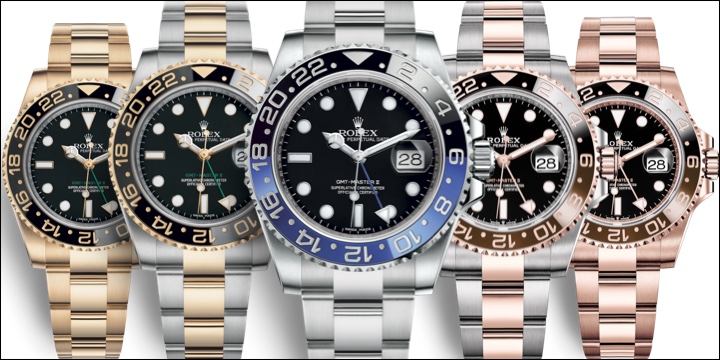 The Rolex GMT-Master II collection was introduced in 1983 and initially operated alongside the brand's main GMT-Master collection. However, since the turn of the millennium, the GMT-Master II has replaced the original GMT-Master line as the manufacturer's primary range of pilot's watches.
Rolex designed the initial collection in collaboration with Pan American Airways, and the GMT-Master II is able to keep track of three time zones at once, thanks to its quick-set hour hand, 24-hour GMT hand, and rotatable bezel. The collection has also expanded significantly over the years, with new materials and designs.
As a result of this expansion, buyers have a wide range of options to choose from, and the GMT-Master II is recognized for being one of Rolex's most versatile models. This buying guide aims to help customers understand the different models within the collection, their differences, and the various options that exist for customization.
Stainless Steel GMT-Master II: Black Dial & Ceramic Bezel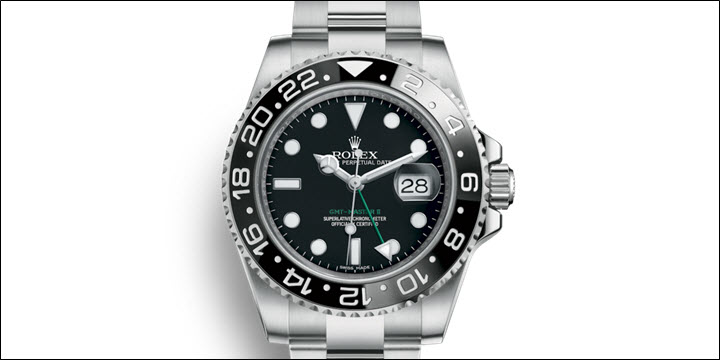 Stainless steel Rolex GMT-Master II models with a black dial and a black ceramic bezel are the cheapest timepieces in the collection, making them a popular entry-level option. In addition, their classic aesthetic helps to provide an understated quality, which is suitable for almost all tastes and settings.
The black dial contrasts strongly with the hands and dial markers, offering excellent legibility, and the simplistic color scheme means the watch works well with most outfits.
Nevertheless, it is important to be aware that there are other, more interesting models available with a black dial, and buyers may wish to consider some of these before making their final decision.
Rolex GMT-Master II Black/Blue Ceramic Bezel "Batman"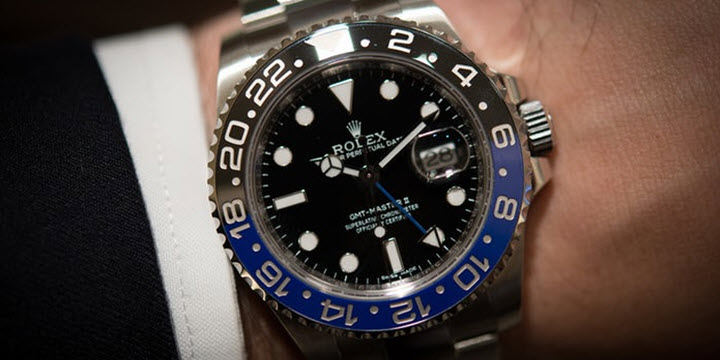 When it comes to the most popular and desirable GMT-Master II models, the reference 116710BLNR is a logical place to start. The timepiece was introduced in 2013 and features a bi-color bezel, with black on one half and blue on the other. This color scheme earned the watch the nickname 'Batman'.
This model re-introduced bi-color bezels to the GMT-Master collection, after they had been absent since the launch of the GMT-Master II range. It is extremely popular and difficult to purchase. For this reason, grey market prices are higher than at authorized dealers, but the advantage is that you do not have to wait years to get it.
It is worth noting that, despite the fact that some people mistake the GMT-Master II 'Batman' with a black/blue Rolex Submariner, there is no Submariner model with this black and blue design on the bezel.
GMT-Master II: Steel Jubilee vs White Gold Oyster Bracelet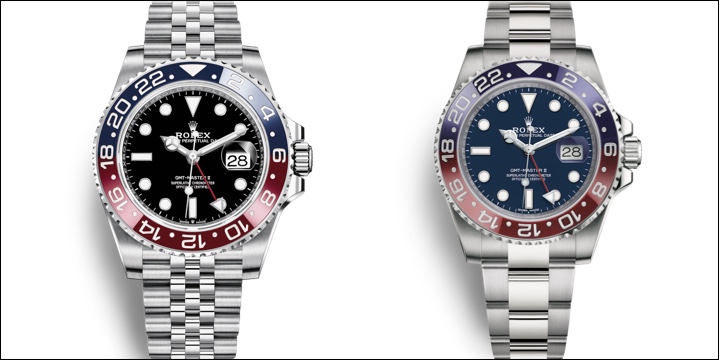 Those looking for a model with a bi-color bezel may also wish to consider the GMT-Master II 'Pepsi' timepieces, which have a red and blue bezel. These are not as popular as other models in the collection, partly because Rolex produces some of the 'Pepsi' models in white gold, which makes them a more expensive option.
With that being said, the 'Pepsi' design is the only white gold GMT-Master II in production, giving it a sense of exclusivity. Additionally, the newest red and blue model is constructed from stainless steel, and has a Jubilee bracelet, which is absolutely unique among GMT-Master II watches.
Much like with the 'Batman' design, some people mistake the GMT-Master II 'Pepsi' with a blue/red Rolex Submariner. However, once again, there is no Submariner with that color scheme on the bezel.
Rolex Gmt-Master II: Yellow Gold/Steel vs Rose Gold/Steel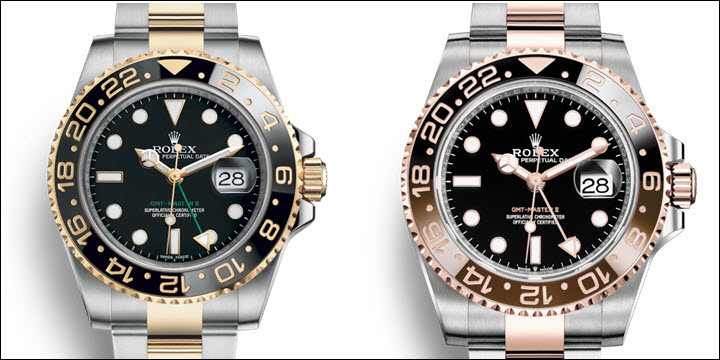 For those seeking a GMT-Master II model with an added sense of luxury, one of the gold and steel two-tone 'Rolesor' models may be the perfect choice. To provide some perspective, these models are sold at a similar price point to the 'Batman' timepieces, meaning they are more valuable than standard steel models.
Initially, all of these two-tone GMT-Master II models combined 18k yellow gold and stainless steel with a black ceramic dial. However, in more recent times, the brand has added the option of 18k rose gold and stainless steel watches, with either a black ceramic dial, or a black and brown 'Root Beer' ceramic bezel.
Due to the fact that the rose gold and steel models are very new, and rarer than the yellow gold and steel versions, they have a higher price point and retain a greater sense of exclusivity.
Rolex GMT-Master II: Rose Gold/Steel vs. Full Rose Gold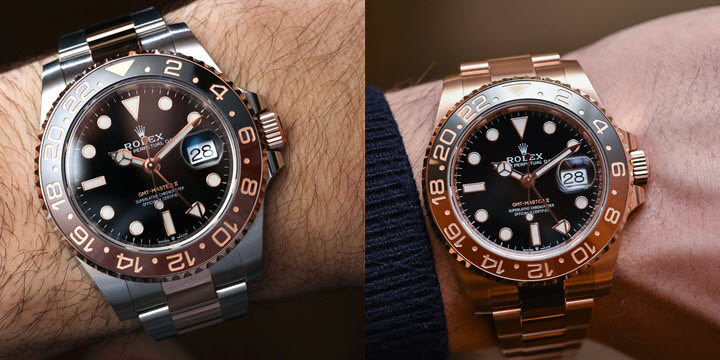 The full rose gold GMT-Master II is a brand new model, introduced in 2018, and it is already attracting significant attention from buyers. As it is slightly more understated than the full yellow gold option, it serves as an ideal choice for those looking for something luxurious, but without too much of a flashy appearance.
As with some of the two-tone rose gold and steel models, the full rose gold GMT-Master II makes use of a black and brown bi-color bezel, which has been nicknamed 'Root Beer'. This color scheme fits perfectly with the rose gold case and bracelet, providing an aesthetic reminiscent of some of the older GMT-Master models from the 1970s.
A full rose gold model is roughly twice as expensive as the two-tone rose gold and steel models, making this category among the most expensive of all of the available options.
Yellow Gold Rolex GMT-Master II: Black vs. Green Dial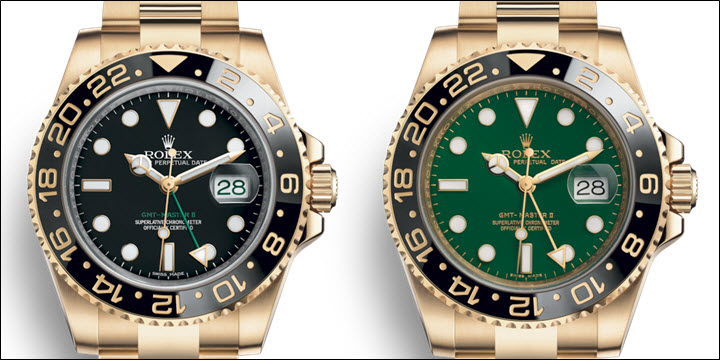 Finally, the GMT-Master II is also available in full yellow gold, which is an ideal option for those wishing to purchase a tool watch with a real sense of luxury and status. Within this category, there are further decisions to be made related to both the dial color and the bezel.
The most common full yellow gold model comes with a black ceramic bezel and a black dial, but an alternative option has a green dial, which stands out much more. It is, therefore, a great option for buyers looking to purchase a timepiece that really catches the eye and makes a bold statement.
Customers wishing to go a step further still will be interested to know that there is also a yellow gold GMT-Master II model that comes with a ruby, sapphire and diamond set bezel. This is, by some distance, the most expensive yellow gold model in the current GMT-Master II collection and is ideal for those seeking true extravagance.
The Final Word
Although the Rolex GMT-Master II is a high-quality, functional pilot's watch, part of the collection's appeal stems from the sheer range of options available to buyers, not only in terms of case materials, but also in terms of dial colors and bezels as well. At Jaztime, we offer all of these variations at the best possible prices.