Swiss Watch Authentication & Appraisal Service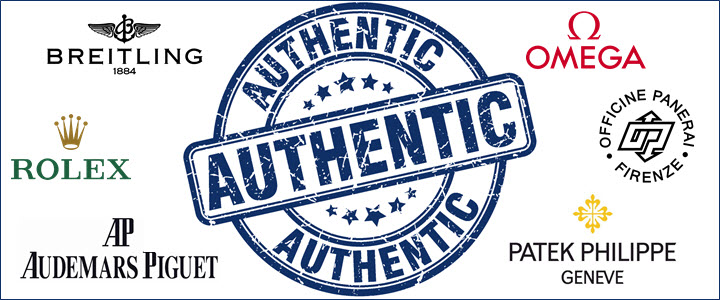 Price for a Watch Authentication: $75
Price for an Appraisal for Insurance purposes: $75
Make an appointment: 4000 MacArthur Blvd. Suite 600 East Tower, Newport Beach, CA 92660



At Jaztime, our comprehensive watch authentication and appraisal services provide customers with our expert insight into the authenticity of a luxury timepiece, as well as its replacement value. These services can help our customers to identify fake or counterfeit watches and insure authentic watches for complete peace of mind.

We have over a decade of experience in the luxury watch industry and have sold more than 10,000 luxury Swiss watches, so you can confidently put your faith in us. We guarantee we will take excellent care of your timepiece and use our expertise to provide you with a carefully considered opinion.
Watch Authentication Service
When dealing with luxury Swiss timepieces, you want to know that you have the real deal. Unfortunately, the visual quality of counterfeit watches is improving all the time, making it increasingly difficult to identify them. Thankfully, Jaztime's authentication service can help to give you certainty that your watch is what it purports to be. During the process, we will carefully open up your watch, paying careful attention to its movement, dial, serial number and other parts, in order to establish authenticity. We aim to provide our customers with a transparent and completely honest opinion, based on our extensive experience in this field.
Watch Appraisal for Insurance purposes
Luxury watches are extremely valuable and require significant investment, so it is understandable that many people choose to insure models from the likes of Rolex, Omega, Panerai and Patek Philippe. With that said, most insurers will require a letter of appraisal from a reputable company, giving an accurate valuation of the watch. Therefore, the single best reason to get an appraisal is for protection against things like theft. In the event that your watch is stolen, you want your insurance to fully cover it and having paperwork from a licensed company like Jaztime can go a long way towards ensuring you get the payout you deserve. In addition, an appraisal can help to give you an estimate of what you can expect to get for your timepiece, should you decide to part with it and either sell or auction it.
Factors Affecting Watch Value
The appraisal process itself will take into account a number of different factors. These include the brand of the timepiece, as well as the presence of accompanying certification, the age of the watch, the number of similar timepieces on the market and the presence of unique or rare features. Moreover, we will carefully evaluate the quality of the materials used, as well as the overall condition of the timepiece itself. While some signs of wear and tear are to be expected with used watches, severe scratches, visible damage and broken parts can have a significant negative impact on the final valuation.
Would Jaztime buy the Watch for the Appraisal Value?
No, our appraisal valuation is not an indicator of the amount Jaztime would be willing to pay for your watch. Instead, our assessment serves as an indicator of the timepiece's replacement value at the time it is appraised by us. This valuation is based on our own experience, our internal database and current market conditions.
To find out what Jaztime will pay for your watch, please submit a request on our Sell Your Watch page.