11 Reasons to Choose Jaztime.com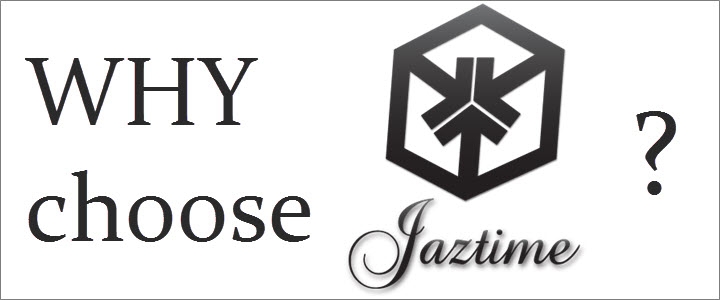 Purchasing a luxury watch is a major investment and a decision we firmly believe you should take carefully. For this reason, we are happy for our customers to question why they should buy their watch from Jaztime.com, rather than one of the other dealers out there, including authorized dealers and other grey market websites.
Here, we explore some of the reasons why we feel Jaztime is the best option available.
1) Certified Authentic Luxury Timepieces
Jaztime.com is a major online grey (open) market luxury watch dealer. We only buy and sell authentic watches from prestigious brands like Rolex, Panerai, Audemars Piguet and Patek Philippe, and all of the brand new watches we sell come with the original box and warranty papers, proving their authenticity.
> learn more about our Authtenticity Guarantee
> learn more about the "grey market"

2) The Most Competitive Prices
The majority of watches found on our online store are much cheaper than they would be from authorized dealers and we strive to beat the prices of our online competitors too. In fact, if you find a luxury watch at a cheaper price elsewhere, let us know an we will adjust the price. To get the best possible deal, check out our ROLEX ON SALE category.
If you are wondering how we can afford to offer such low prices on authentic Rolex watches, the answer is simple. We do not have any of the high overhead costs associated with a bricks and mortar store location, such as fancy display cases, 24/7 security guards, employees attending to customers and expensive advertising.
We choose to forward these savings on to our customers by reducing the prices of the watches we sell.
3) Tax Free Outside of California
Our headquarters are located in Newport Beach, Orange County, California. As a result, we are legally required to charge sales tax if you order your watch and have it shipped within the state of California. On the other hand, no sales tax will be charged on orders shipped anywhere outside of California. You also have the option to make an appointment and pick up your watch from our office but you must pay California sales tax. No exceptions.
4) Greater Selection Than Any Authorized Dealer
Even the biggest and best authorized dealers cannot compete with the huge selection of watches found on the Jaztime online store. This is because we are able to offer all of the brand new collections, but can also offer some of the recently discontinued models, as well as used and vintage models. Of course, we also sell watches from all of the major luxury Swiss watch manufacturers, rather than our stock being limited to watches made by a specific brand.
5) No Waiting List for Your Desired Watch
Certain Rolex models are released in limited numbers, or are in such high demand that they can be difficult to get hold of from an authorized dealer. This usually means spending significant time on a waiting list before you get hold of your watch. With some models, these waiting lists can be as long as five years.
On the grey market, while you may need to pay slightly more for the most rare or in-demand models, you can get those watches much faster. At Jaztime, we can get hold of any waiting list watch you desire within a few short days, as long as you are willing to accept the principles of supply and demand, and pay a fair market price.
> learn more about Rolex Waiting List Watches
6) Convenience of Shopping Online
One of the single biggest reasons to buy from Jaztime is the convenience of buying your luxury watch online. This means that instead of taking the time out of your schedule to visit several Rolex dealers, you can find the watch you are looking for from the comfort of your own home and get it delivered to you at home, or at work. We provide high resolution images of our watches from many different angles, allowing you to see all the details. In addition, we have many videos providing reviews, comparisons and how-to instructions.


7) Double Warranty Protection
Every watch we sell comes with a one-year warranty from Jaztime, regardless of whether it is a brand new or pre-owned watch. In addition, for both new and used watches, you can also usually make use of the brand warranty. The precise warranty terms vary between manufacturers, but for Rolex the brand warranty is for five years. However, it is often much easier and faster to let Jaztime service or fix your watch, as opposed to sending it to one of the relatively few official service centres, as these are often overwhelmed.
> learn more about the Warranty
8) Buy Back & Trade-In Program
Do you have a used watch you would like to sell? Perhaps your watch is slightly damaged and you are looking to recoup whatever you can for it. Alternatively, maybe you want to swap your current watch for a new model that has caught your eye. Jaztime can help, as we support buy backs and trade-ins for all major luxury watches. Rolex buy backs and trade-ins are the most common, of course, but we will also buy used models from Audemars Piguet, Omega, Panerai and many more. All you need to do is fill in our Sell Your Watch or Trade-In form, providing us with details about your watch, and we will give you a free quote within a few business hours.
> Rolex Buy Back Program - Sell your Watch
> Rolex Trade-in Program
9) Extensive YouTube Videos: Reviews and Comparisons
We are aware that one of the biggest disadvantages of shopping with Jaztime, rather than an authorized dealer, is the inability to see the watches up close. It is for this reason that we make extensive use of the YouTube online video platform, creating watch review, watch comparison and how-to videos of the various timepieces we sell. This allows you to get an in-depth look at the watch you want and learn more about it.
> check out our Rolex Reviews & Comparisons on Youtube
10) Our Customer Reviews Speak for Themselves
We truly believe the reasons cited above are good reasons to buy your chosen watch from Jaztime. However, no reason we can give you, can compare to the opinions of the people who matter most - our customers.

We invite you to check out the many positive reviews our customers have left us on respected online review platforms like Google and Yelp. We have hundreds of happy customers who have bought, sold, or traded watches through Jaztime, and we believe their opinions are more important than anything we have to say.
> read our Jaztime Google Reviews

11) Excellent Customer Support
Finally, we are confident that Jaztime.com offers superior customer support to our competitors. This includes our 'Ask the Watch Pros' telephone service, as well as support offered via email and social media. If you have any questions about our stock, or about buying, selling or trading a watch, our team are always happy to help.
Any Questions? Call us: show contact info