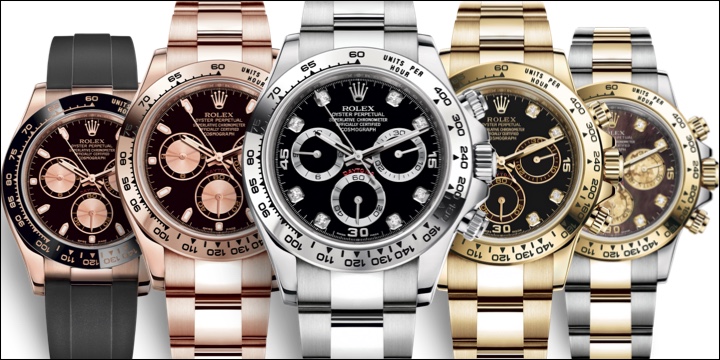 There are many different varieties of the Rolex Daytona, which can affect whether or not the timepiece looks modern or classic, unobtrusive or obvious and in your face. Many Rolex shops will not show all of these different options next to each other, in a single place, but you can view and order all of them from Jaztime.com.
One of the most popular options for buyers is a Rolex Daytona with a black dial. However, even within this category, there are a number of different options to be aware of. In this article, we take a closer look.
Black Dial Daytona: Steel vs Ceramic Bezel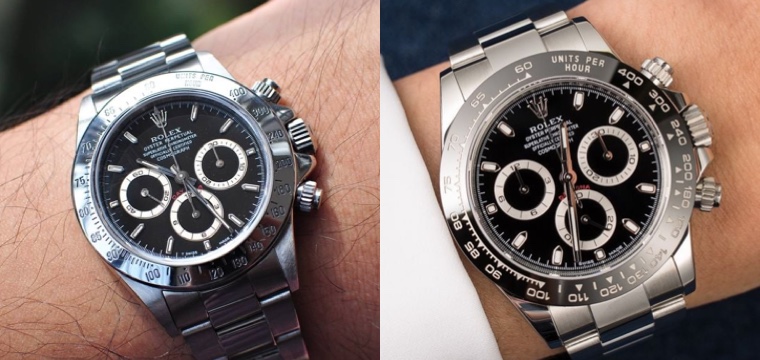 The most affordable options, in most cases, are the stainless steel models and this material works well with the black dial, giving the timepiece a sporty, yet sophisticated appearance. However, even within this sub-category, there are still a number of varieties to choose from, based on personal preferences.
One of the most obvious decisions to make is whether you want a stainless steel model with a matching steel bezel, or whether you want a black ceramic bezel instead. The ceramic helps the bezel to stand out and offers superior scratch resistance, but the stainless steel option is great for those seeking a more subtle look.
If you are looking to add a touch of extravagance, some of these models also have diamond dial markers.
Yellow Gold/Steel Rolex Daytona Black dial vs. Dark MOP Dial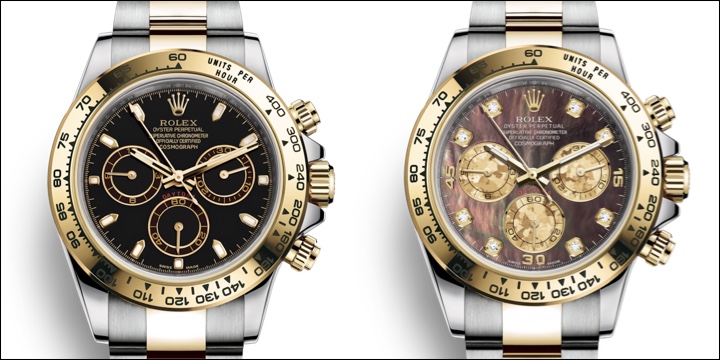 For some buyers, the idea of owning a gold Rolex is too much to resist and the Daytona offers a great range of options here. For those looking for an understated gold element, the stainless steel and gold two-tone models are an ideal option. These models feature yellow gold bezels, as well as yellow gold central links on the bracelet.
Those looking to a bolder statement will also find full yellow gold models and rose gold models with a black dial. With these, the contrast between the gold and black offers real character. Furthermore, white gold Daytona are also available, giving a similar aesthetic to the steel models, but with a more precious material.
Next, we will take a closer look at the yellow gold and rose gold variants.
Yellow Gold Daytona Black Face: Rubber Strap vs Gold Oyster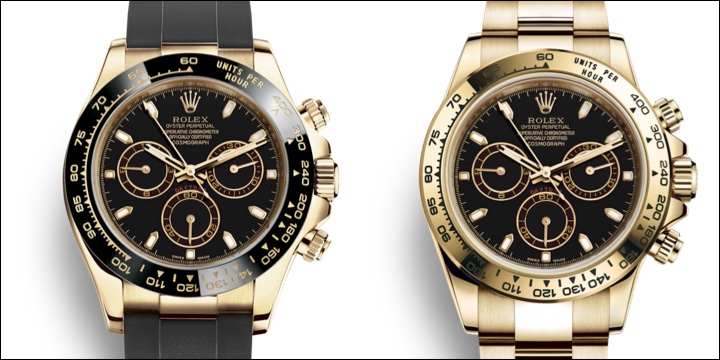 Yellow gold has a timeless appeal and the full yellow gold Daytona models are among the most popular and valuable. Yet, for those looking to purchase a watch in this particular category, there are still some stylistic choices to be made, which can dramatically alter the aesthetic of the timepiece.
Perhaps the biggest decision to be made is whether to opt for a yellow gold watch with classic Daytona dial markers, or to make an even bolder statement by choosing a model with diamond dial markers. The diamonds provide a clear luxury appeal, but some may prefer the more traditional, less 'blingy' look.
Moreover, customers also have the option of either black or champagne sub-dials. This is effectively a decision over whether you want the sub-dials to stand out from the rest of the dial, or would prefer them to be the same color as the dial, making them appear more subtle and less clearly visible.
Rose Gold Daytona Black Face: Rubber Strap vs Gold Oyster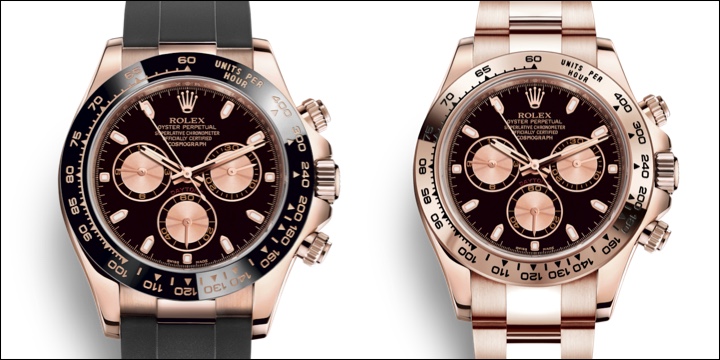 The various Rose Gold models represent the biggest departure from the classic Daytona aesthetic, largely because of the option of either a leather or rubber strap. As both of these are black, they work well with the black dial face, helping to give the entire watch a darker, sportier and more contemporary aesthetic.
In addition to these, however, there are also more traditional style Daytona models with a rose gold case. These particular models feature a rose gold Oyster bracelet. All of the rose gold versions of the Rolex Daytona are also completed by the presence of champagne sub-dials, which match well with the colour of the case.
Black Rolex Daytona Ceramic Bezel & Rubber Strap:
Rose vs. Yellow vs. White Gold
Newly released in various gold options, the Daytona becomes a more comfortable fit with the Rolex invention of the Oysterflex rubber strap and without losing its aesthetic. The rubber strap is made of central super-elastic metal blade that is overmoulded with a very durable and high performing black elastomer. Meaning that not only will this newer style rubber strap fit perfectly in comfort of your wrist, it also will withstand the elements and keep its form for years to come.
Additionally, the Daytona's also received an upgrade to their bezels, going from just the standard gold bezel to a wonderfully scratch resistant black ceramic bezel. This combination of rubber strap and ceramic bezel can be found on each luxurious gold choices which are rose gold, yellow gold, and white gold. However; for the black dial on the white gold it is only available with diamond hour makers opposed to the index hour markers. Nevertheless, the Daytona still keeps its trademark look and is sure to grab the attention of any onlookers.
Rainbow Rolex Daytona: White vs. Yellow vs. Rose Gold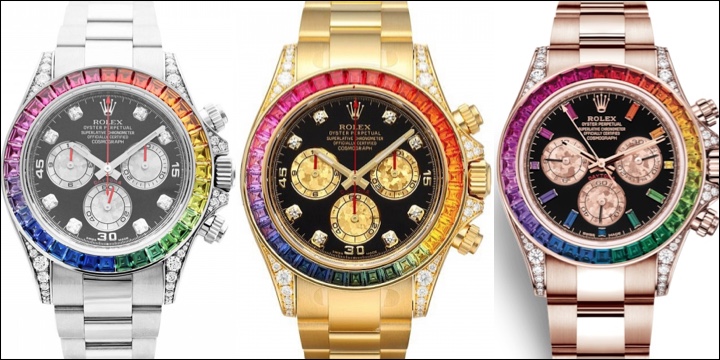 Finally, for those wishing to really stand out, the Daytona collection includes a number of diamond and rainbow sapphire set models. The most basic of these feature Rolex factory diamonds in the bezel, along with diamond dial markers. However, there are even more extravagant, colorful options too.
These include models featuring 36 multi-colored sapphires, which are baguette cut and set on the bezel. An additional 46 diamonds diamonds also adorn the case, while there is a choice of either diamond dial markers, or colored gem dial markers. These timepieces are available in both white gold and rose gold.
As with other models in the collection, the rose gold version features champagne sub-dials.
Buy Your Rolex Daytona Watch Today!
The Rolex Daytona is a firm favorite among seasoned luxury watch collectors and more casual buyers alike. If you would like to purchase any of the watches listed above, please visit our online shop at Jaztime.com. All of our watches are 100 percent authentic and we offer the best prices in the United States.