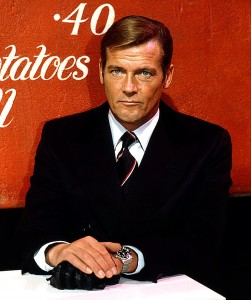 Over the years, the legendary James Bond character has been associated with a wide range of luxury brands. For instance, in terms of cars, he has driven vehicles ranging from the iconic Aston Martin DB5 to the Audi A5, while those playing 007 have worn suits tailored by the likes of Anthony Sinclair and Tom Ford. However, when it comes to wristwatches, historically, the world's greatest secret agent was usually associated with the Rolex brand.
Ian Fleming, the character's creator, left us in no doubt about which watch manufacturer Bond preferred in his novel 'On Her Majesty's Secret Service', describing him as being in possession of "a heavy Rolex Oyster Perpetual on a metal watch bracelet." Fleming continued to reference this brand in future writing and when Bond mad
e his on-screen début in the 1962 film 'Doctor No', lead actor Sean Connery prominently sported a Rolex Submariner.
Yet, since 1995, James Bond has seemingly parted ways with the Rolex brand and has instead opted to wear Omega watches. So what is behind this change of heart, and has James Bond worn any other watch brands on screen?
Bond's Rolex Years
The Rolex Submariner worn by Sean Connery in 'Doctor No' seemed like an ideal fit for the character, especially at that time. During the early 1960s, diving had become a popular activity for those with a decent disposable income, so it was in-keeping with the character of a secret agent who enjoyed the finer things in life. At the same time, it offered great functionality and could withstand any situation in which Bond was required to go underwater.

Connery continued to wear Rolex Submariner timepieces throughout his tenure as 007. Indeed, the watch appeared in all seven of his films, albeit with a change from a leather strap in the early films, to a nylon one by the time of his third film, 'Goldfinger'. The watch actually became so closely linked with the character that people often refer to the exact model (reference number 6538) as a James Bond Submariner to this day.
In his book 'Casino Royale', author Ian Fleming said outright: "He could not just wear a watch. It had to be a Rolex," and Fleming himself was known to be an owner and advocate of the Rolex Oyster Perpetual Explorer model. By the end of Connery's run, his watch also included gadgets, such as the built-in Geiger counter seen in 'Thunderball'.
However, the relationship between bond and Rolex continued. George Lazenby stepped into the role for the movie version of 'On Her Majesty's Secret Service' and wore two Rolex watches; a Submariner 5513 and a Rolex Chronograph 6238, which has since become known as the 'Pre-Daytona'.
The Move Away From Rolex
In 'Live and Let Die', the first Bond film to star Roger Moore, 007 dons a highly advanced watch, which includes gadgets like a buzz saw and even a magnetic system, which is able to change the trajectory of bullets. Although the watch manufacturer is not named outright in the film itself and we never get a clear look at the branding on the timepiece, Rolex receive a special 'thank you' in the credits, so it is believed that they created it.
Then, in Moore's second film, he was seen wearing a Rolex Submariner 5513, much like Lazenby before him. Yet, the next few films in the franchise coincided with the dawning of the Quartz era. During this time, things were rapidly 'going digital' and Bond's watch was changed to reflect this. Therefore, contrary to popular belief, James Bond did not change directly from Rolex to the Omega brand.
Instead, there was a period of time from 'The Spy Who Loved Me' in 1977, through to 'A View to a Kill' in 1985, where Bond wore watches that were primarily made by Seiko. These included the Seiko LC Quartz, the Seiko Professional Divers' 600m, the Seiko Sports 100 and the Seiko Liquid Crystal TV Watch. Then, in 1987, Timothy Dalton wore a Tag Heuer Professional Night Dive wristwatch. Finally, Rolex returned to the screen for 1989's 'A License to Kill', where Dalton wore a classic Submariner (reference number: 16610).
The Omega Partnership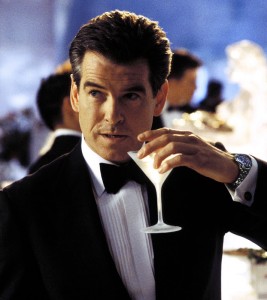 It may surprise some Bond fans, and indeed some Rolex fans, to know that Rolex never paid the creators of the James Bond films for product placement and actually did little to take advantage of their status as the manufacturer most closely associated with the franchise. In fact, some fans of the series have speculated that Rolex watches were only used so frequently because Albert R. Broccoli, the producer of many of the films, favoured Rolex.
Nevertheless, by the time Pierce Brosnan stepped into the role of James Bond for 1995's 'GoldenEye', product placement was commonplace and the film's creators knew they could receive a tidy sum to promote a watch manufacturer on-screen. They decided to stage a bidding war to become the official watch of James Bond and Omega won the war, seeing the value in being associated with Brosnan's suave, sophisticated portrayal.
In 'GoldenEye', Brosnan wears a Omega Seamaster Professional 300m and variations of this watch also appear in his subsequent films, 'Tomorrow Never Dies', 'The World Is Not Enough' and 'Die Another Day'. Throughout this period, Omega were keen to stress their long-standing association with the British Royal Navy, in order to appease those Bond fans who believed he should only be seen to wear a Rolex.
A Less Polished Bond
By the time Daniel Craig stepped into the role of 007 for the 2006 film 'Casino Royale', the franchise had undergone something of a makeover. The film's creators wanted Craig to portray a Bond character who was less polished, grittier, and slightly rougher around the edges. Given that high-end Rolex Submariner watches tend to be more expensive and lavish than high-end Omega watches, it made sense to continue with the Omega partnership.
That is not to say that Daniel Craig's version of James Bond sacrifices quality, or does not appreciate the finer things in life. In fact, there is a scene in 'Casino Royale', where the character of Vesper Lynd believes Bond has no surprises left. She looks at his watch and expectantly asks him if it is a Rolex. He replies: "Omega," and she judges that it is "Beautiful." Craig actually wears two different models during the film; a blue Omega Seamaster 300m chronometer and a black Seamaster Planet Ocean 600m Co-Axial.
The Omega brand also seems to fit with the modern day requirements of the James Bond character. For instance, in 'Casino Royale', he has a lengthy underwater scene and the Planet Ocean's 600-metre water-resistance certainly comes in handy. By the time of his second film, Craig has parted ways with the Seamaster 300m and is seen wearing a Seamaster Planet Ocean once again. This time, however, it has a smaller 42mm case size, which fits with a Bond who prefers understated class. A special 007 version of this watch was released around the same time.
In 'Skyfall', Bond is seen wearing a Seamaster Planet Ocean Titanium and a Seamaster Aqua Terra. In celebration, Omega also released a Seamaster Planet Ocean 600M Skyfall Edition, with only 5,007 of the timepieces ever released to the public. While purists may disagree, to an entire generation the Omega brand is now firmly associated with Bond, and the more sporty nature of the watches seem to fit well with the character's current incarnation.
Further reading:
Get the lowest price for Authentic Rolex and Omega: