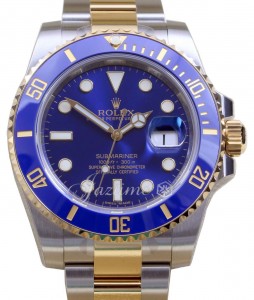 With its rich history and instantly recognizable appearance, the Rolex Submariner is now firmly established as a legendary divers' watch and one of the 'go to' options for those seeking a timepiece with excellent water resistance properties. Indeed, Rolex refer to the collection as the archetypal dive watch and even entry-level timepieces in the collection provide water resistance at depths of up to 1,000 feet.
Offering uninterrupted time display and a rotatable 60-minute bezel, which allows divers to easily and accurately time the duration of their dives, the watch is able to meet virtually any underwater challenge. Meanwhile, its Chromalight display offers supreme clarity and its COSC-certified calibre 3130 movement is fully shock resistant, guaranteeing precision timekeeping above or below the surface.
These qualities, combined with a choice of gold or stainless steel and a reasonable entry-level price of around $7,500, have helped to make the Submariner an extremely popular choice. However, there are a number of alternatives on the market, which fare well in a straight comparison. Here, we take a look at ten contenders.
1. Rolex Deepsea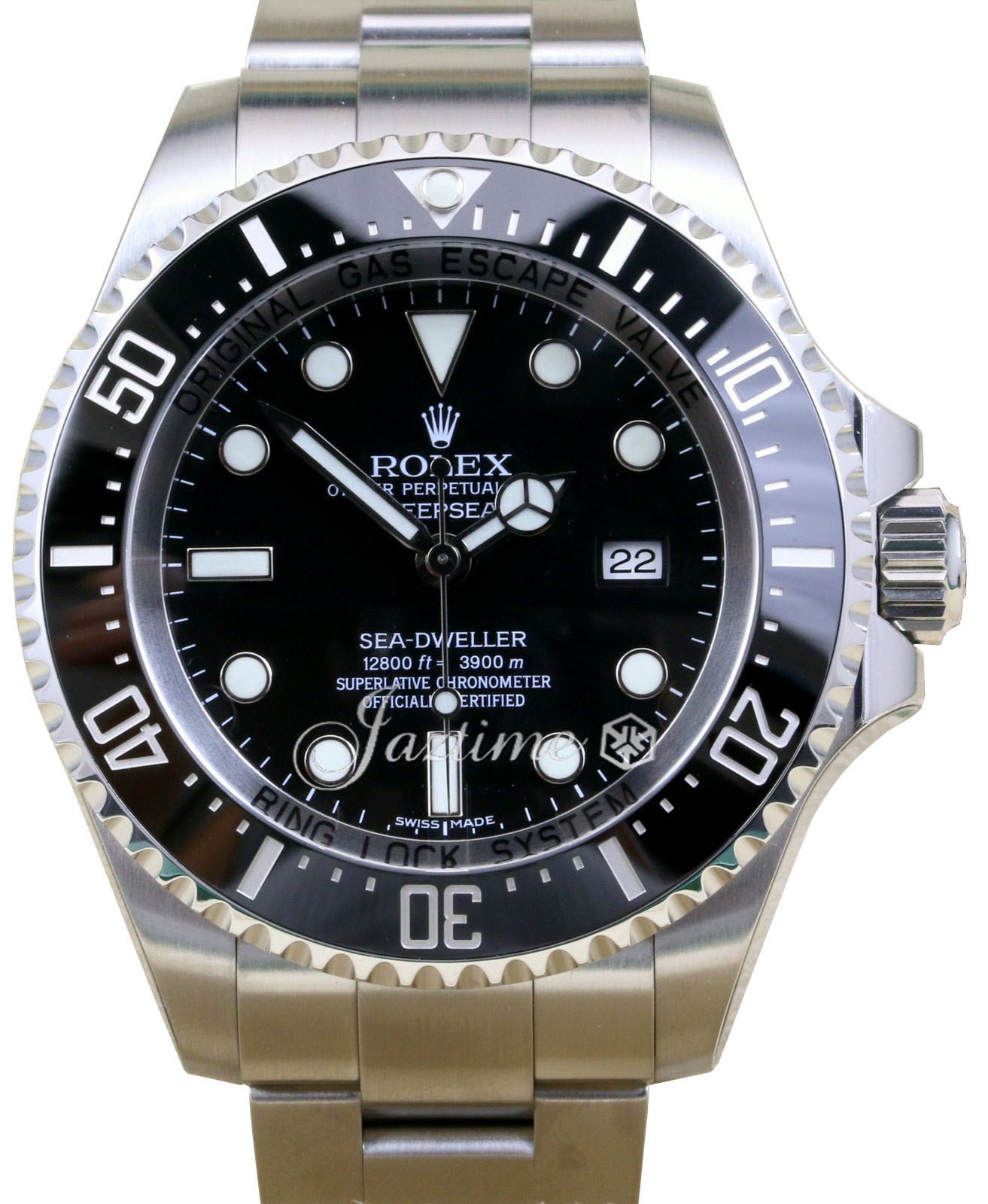 If you are set on purchasing a Rolex, but not necessarily set on the Submariner, one possible alternative is the Rolex Deepsea. Constructed from 904L stainless steel, these timepieces are marketed as being 'ultra-resistant' to water and are able to maintain function at depths of up to 12,800 feet, far outperforming the Submariner in this regard.
Benefiting from simplistic design, most Deepsea watches have a plain black dial and 18k gold dial markers, although a blue dial version is available. As with the Submariner, the Deepsea utilizes an in-house movement, the calibre 3135, which is shock resistant and also able to sustain performance when subjected to big temperature changes.
All Deepsea timepieces have a built-in helium escape valve, protecting them from pressure changes when a diver returns to the surface. However, these features come at a cost and with a starting price of approximately $11,500, the Deepsea represents a slightly more expensive alternative to the Submariner.
2. Rolex Sea-Dweller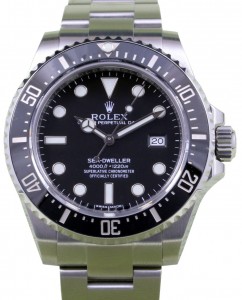 Another 'ultra-resistant' option comes in the form of the Rolex Sea-Dweller, which has a history dating back to the 1960s. The result of years of collaboration with diving specialists, including the COMEX deep sea diving company, these timepieces are water resistant up to 4,000 feet below the surface.
Made from stainless steel, the watch is similar to the Rolex Deepsea in appearance, although it has a smaller case size and a slightly less chunky appearance generally. Again, simplicity is the order of the day, with clean black dials and dial markers made from 18k gold to prevent them from being tarnished.
The Sea-Dweller uses the same calibre 3135 movement as the Rolex Deepsea, while its bi-directional rotating bezel has 60-minute graduations engraved on it, allowing dives and decompression stops to be timed easily. With starting prices of around $10,000, it is more expensive than the Rolex Submariner, but cheaper than the Deepsea.
3. Panerai Luminor Submersible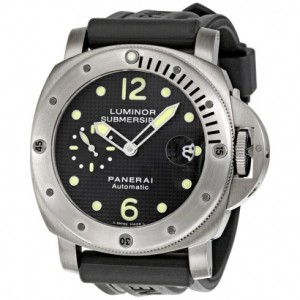 Moving away from the Rolex brand, another alternative to the Submariner comes in the form of the Panerai Luminor Submersible, which is available at a starting price of around $10,900. This timepiece is a great option if you have less intense requirements, as it offers the same 1,000 feet water resistance as the Rolex Submariner.
As a member of the Luminor collection, the Submersible's appearance is primarily defined by its polished steel material, classic Italian design and the brand's trademark "device protecting the crown". It uses an exclusive Panerai OP III calibre movement, which has been tested and certified by the COSC, guaranteeing precise timekeepingThe watch has a 44mm case size and features a uni-directional rotating bezel, enabling wearers to calculate their immersion time quickly and easily. Meanwhile, the use of the brand's Super-Luminova technology ensures excellent visibility and legibility at all times, in all situations.
4. Breitling Superocean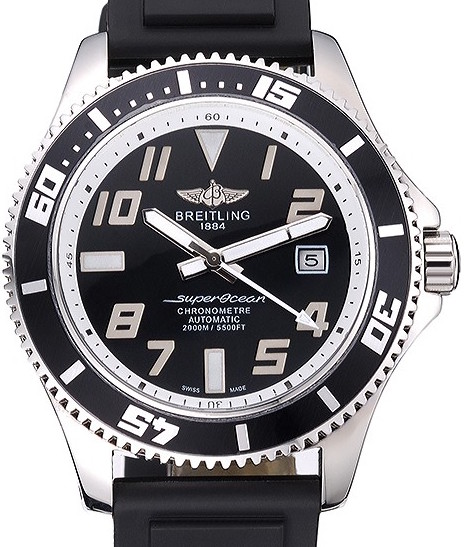 The crown jewel of Breitling's diving watch family, the Superocean features a classic 1950s inspired design and the main watches in the collection are water resistant for up to 3,300 feet under the surface, again giving them a performance edge over the Rolex Submariner in that respect.
With a uni-directional rotating bezel offering the ability to measure submersion time and a COSC-certified movement guaranteeing precision timekeeping is always possible, the Superocean places a strong emphasis on function.
However, it sacrifices nothing in terms of pure style and elegance and its stainless steel case is resistant to corrosion and has hypo-allergenic properties, making it ideal whether it is worn on top of a wetsuit or on skin. An entry-level Superocean II 44 retails for around $3,500; one of the cheapest prices on this list.
5. Omega Seamaster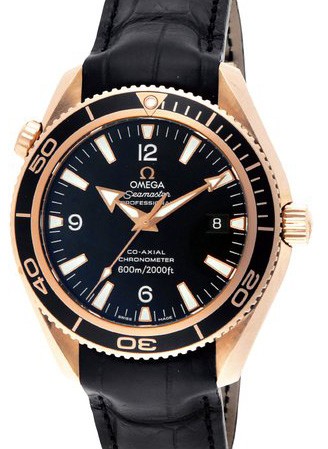 Worn by James Bond in all of the Bond films since 1995, Omega's Seamaster range is recognisable around the world and has a level of prestige that is comparable to the Rolex Submariner. It includes the Seamaster Diver collection, which was designed to meet the needs of professional divers and is available in either steel or titanium.
Entry-level models retail from around $2,500, with some of the more advanced models, like the Seamaster Diver 300m Chronograph GMT, going for closer to $7,000. This means it is a good option for those operating on a tighter budget and there is plenty of choice when it comes to additional features, including date display.
As with the Submariner, the watches are water resistant for up to 1,000 feet. Some of the newer models in the collection also utilise a new in-house co-axial movement, and all of the timepieces have a luminous coating on the hands and dial markers, providing visibility at all times.
6. Omega Planet Ocean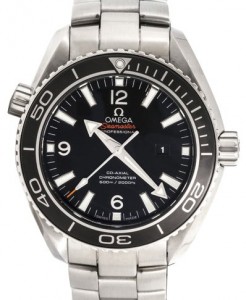 Staying with the Omega brand, the Planet Ocean collection was launched in 2005 and pays tribute to the brand's long history of producing dive watches. It features a classic design, a plain dial face for excellent clarity and has a date window at the 3 o'clock position.
The Planet Ocean models are able to resist water at depths of up to 2,000 feet, outperforming the Rolex Submariner and the Omega Seamaster. Customers also have a choice of either a steel bracelet or a leather strap.
On the lower end of the price scale, the stainless steel Planet Ocean 600 M Co-Axial 42 mm retails for around $6,000, making it a very affordable option. However, there are some truly extravagant Planet Ocean models, made from rose gold and decorated with diamonds, and these sell for in excess of $25,000.
7. Calibre de Cartier Diver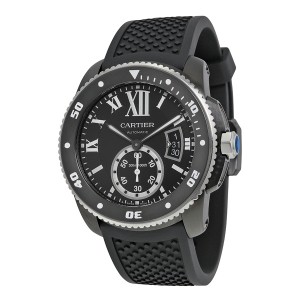 Combining the iconic Calibre de Cartier design with the properties needed to succeed underwater, the Calibre de Cartier Diver is a stylish, robust and dependable instrument and a suitable alternative to the Rolex Submariner. The watch utilises a 1904 MC movement, offering excellent precision and is available with various wristbands.
Like with many other divers' watches, this timepiece places a strong emphasis on clarity and to achieve this, the watch hands and dial markers have a luminous coating. Meanwhile, it is able to maintain performance underwater at depths of up to 1,000 feet and has a uni-directional rotating bezel for timing dives.
The most basic stainless steel models in the collection retail for around $8,500, which is slightly more expensive than an entry-level Submariner. Meanwhile, at the opposite end of the scale, a brand new, exquisite rose gold Calibre de Cartier Diver will View the Cartier Calibre de Cartier Collection set you back around $25,000; similar to the Omega Planet Ocean.
8. Audemars Piguet Offshore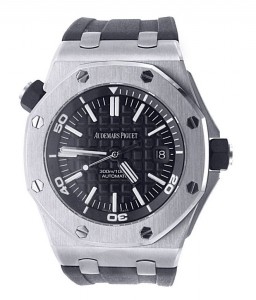 Released in 1993, the Audemars Piguet Offshore is considered a more sporty take on the brand's Royal Oak collection and offers a combination of style and excellent all-round performance. The standard Offshore Diver watch is constructed from stainless steel and retails at $19,000, making it one of the most expensive models on this list.
Meanwhile, the Offshore collection includes a number of even more extravagant models, some of which are diamond-set and made from high-value materials like gold and platinum. As a result, this may be a good alternative to the Rolex Submariner for somebody looking for something a little bit more flashy.
The main Diver model has a 42mm case size, is characterized by its octagonal case shape and has a distinctive tapisserie pattern on its dial. It also has a rotating inner bezel, complete with a diving scale, a date display window, and uses a self-winding calibre 3120 movement, delivering brilliant precision.
9. IWC Aquatimer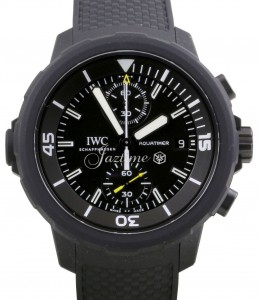 Made from either stainless steel or lightweight titanium, the IWC Aquatimer was introduced to the market in 2009 and has quickly developed a reputation as an excellent dive watch. In 2014, the second generation Aquatimer was released, with a more discreet look, better suited for multi-purpose use.
One of the most notable features is a 'SafeDive' system, which consists of an external/internal rotating bezel. This can be used to measure dive times and because the inner bezel can only be rotated anti-clockwise, it is protected from accidental movements to the outer bezel, ensuring maximum dive time isn't exceeded.
Luminous coating on the dial markers and hands ensure the time can be read even when visibility would usually be poor and the watches  have 30 bar water resistance. A brand new IWC Aquatimer Galapagos Islands model retails for around $10,900, making it slightly pricier than the Rolex Submariner's entry-level timepieces.
10. Tudor Pelagos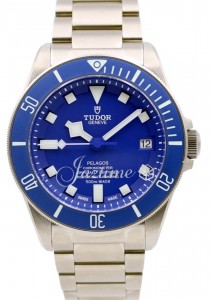 Finally, the Tudor Pelagos represents a more affordable alternative to the Rolex Submariner. Indeed, it is a popular choice with those who want the reliability of a Rolex, but who are not yet ready to make that kind of financial commitment.
The watch has a built-in helium escape valve; perfect for use during saturation dives, and uses an in-house MT5612 movement, manufactured by Tudor and fully certified by the COSC. Meanwhile, visibility is guaranteed through luminous markers on the dial and on the uni-directional rotating bezel.
With a case made from a combination of titanium and stainless steel, the watch is lightweight, yet robust and water resistance is guaranteed for up to 1,640 feet below the surface. One of the cheapest models on the list, you can get hold of a Tudor Pelagos for a perfectly reasonable retail price of $4,125.
Sources:
Get the lowest price for Authentic Swiss Watches: