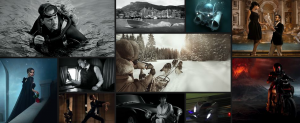 Have you been browsing for a new watch, but feel unsure about what size you should be looking to purchase? Rest assured, this is a common feeling. You want your watch to look good, but it also needs to feel comfortable. And if you pick the wrong size, you may attract attention for all the wrong reasons.
After all, the human mind has become accustomed to the concept of proportion, and we naturally notice if something appears too big or too small. Not to worry. Here, we have compiled a helpful guide, which will show you how to choose the right size watch to best fit your wrist and style, so you attract envious glances, rather than confused looks.
Measuring Your Wrist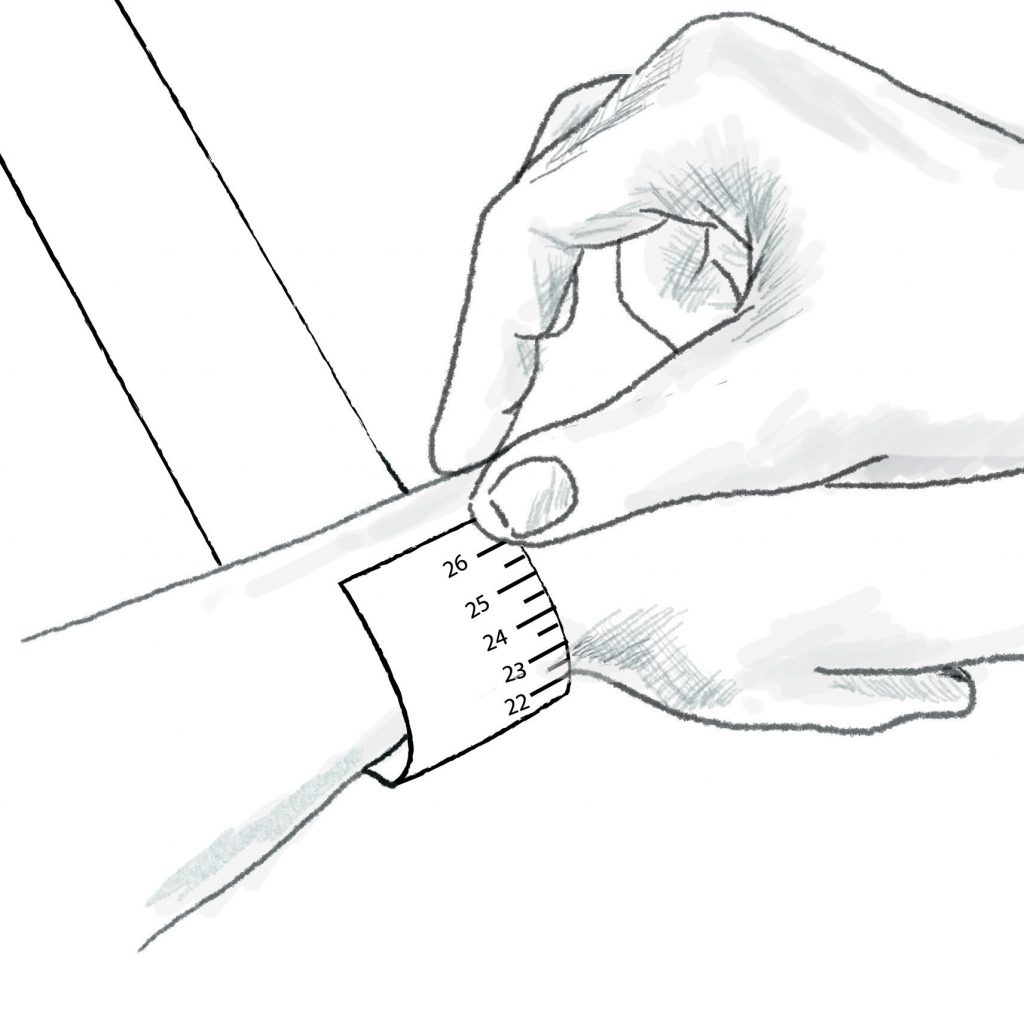 Before doing anything, it is important to take a measurement of your wrist. This will allow you to establish where your wrist falls on a basic scale of small to large, and give you an exact measurement to provide us with when you order your watch through Jaztime.com, so that ultimately we can adjust the bracelet for your ideal fit.
The easiest and most accurate way to do this is to purchase a tailor's tape measure. If you have a tape measure thats great, if not you can use our printable wrist measure. From there, measure around your wrist, above the bone, in the exact location where you would wear your watch.  Take extra care to make sure the tape measure is neither too tight, nor too loose.
If you do not have a tape measure handy and if youcannot wait to purchase one, a simple trick is to use a sheet of paper, a tissue, or a piece of string. Wrap it around your wrist and mark the point where it overlaps, then use a ruler to measure the distance from the end to the mark you made.
As a general rule, 6 – 7 inches means you are in the small to medium range, while 7.5 – 8 inches means you are on the larger side. Any bigger than that means you are extra large.
Diameter of the Case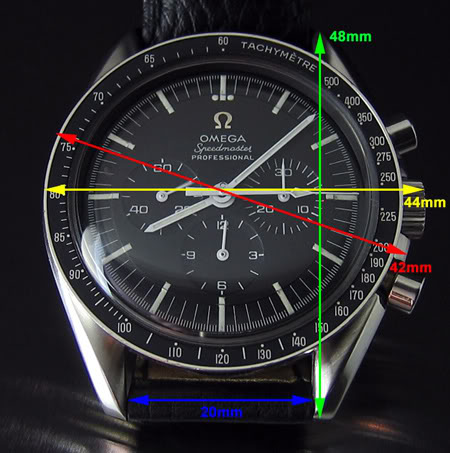 In terms of choosing the right size, perhaps the most obvious part of the watch to look at is the diameter of the case itself. According to GQ, almost all men's watches fall within the 34-mm to 50mm range, and while bigger sizes are available, they will be too big for most people.
To take this a step further, more than 90 percent of men find that their ideal watch size falls between 40mm and 44mm, based on a poll conducted by A Blog To Watch, so this is the range that most men should be looking at. For women, case sizes of 36mm or less are commonplace, but this tends to be on the small side for many men.
However, we believe you can be more specific by using your wrist measurement and following these guidelines:
Width of the Watch band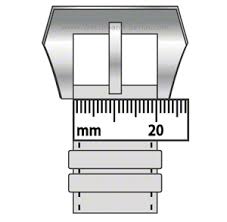 When it comes to the wristband, the length is not so much of a problem. If you let us know your measurement before or shortly after ordering, we can make any necessary adjustments to ensure the watch is an ideal fit. However, you still need to consider the wristband's width when trying to find a perfectly proportioned timepiece.
Although it is far from a hard and fast rule, Real Men Real Style suggests that the ideal proportion is to have a wristband with a width of approximately half the case diameter. So, to clarify, this means that a watch with a 44mm case diameter should have a 22mm wristband.
There is a slight difference depending on whether you are opting for a sports watch or a dress watch. Generally speaking, dress watches follow the above ratio, although they might be slightly smaller, whereas the straps on sports watches are sometimes slightly wider, especially with more recent models.
Other Details to Consider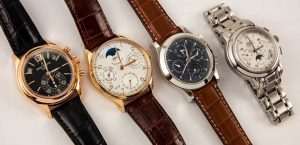 The watch case's thickness is usually considered less of a problem than the other elements, but nonetheless, a case with an abnormal thickness can look strange. Thickness should usually correlate with the case diameter, so a 38mm case might have a 6mm thickness, but a 46mm case might look better with a 10mm thickness. Also, depending on the movement and the complication, the thickness will correlate to what's inside the timepiece.
When selecting a dress watch, an over-sized timepiece is more likely to look ill-fitting than a watch that is slightly too small. With modern sports watches, however, the opposite is true. Current fashion trend leans towards over-sized sports watches, so a watch that is slightly too big may still look fine. In the end, it depends on the wearer's personal preference and taste.
With that said, if you are planning to wear a sports watch to official occasions, it may be sensible to opt for one which is slightly smaller, so that it seems less "in-your-face" and too gaudy.
Metallic or rubber wristbands usually offer a thicker appearance than leather or fabric straps, even if they are actually the same size. As a result, this needs to be taken into consideration. A metallic bracelet that is wider than our recommended proportion may look even more out of proportion than a fabric equivalent.
It is also worth paying attention to the extra details on a watch, like pushers and lug sizes. A watch with larger lug sizes may look thicker than it actually is, causing an unbalanced appearance. Therefore, if you have smaller wrists, you may wish to avoid watches with large lugs for this reason.
Final Considerations
When it comes to finding the right watch for your wrist and style, there are a number of factors to take into account. Nevertheless, by following our guide, paying particular attention to case diameter and wristband thickness, you should be able to find a timepiece that looks balanced and fits you perfectly. Most swiss luxury brands are exquisite in their designs and will manufacture a watch that is appealing to the mass public so do not worry too much about the individual elements but how it looks overall on you. Holding, touching, and trying on a watch is always recommended before you make the purchase.
Although there are some differences between sports and dress watches, and between metallic bracelets and leather straps, the basic principles are the same. So measure your wrist, work your way through our guide and search for a watch from our collection that matches your proportions.
Finally, if you have any questions or queries about this post, please feel free to respond in the comments section. If you want to browse some new or used watch selections, take a visit to our online store at Jaztime.com.
Further Reading:
Get the lowest price for a watch that fits your wrist and style: