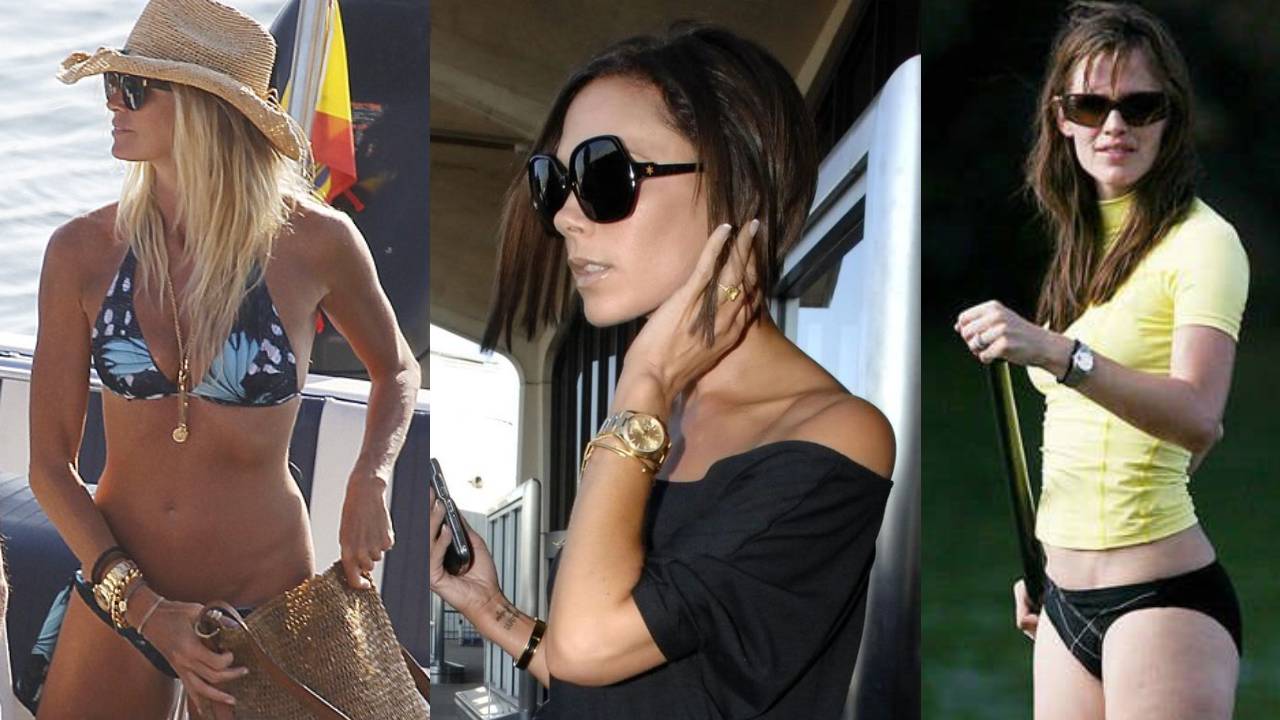 The Rolex brand is recognized around the world as the leading manufacturer of luxury watches and its timepieces serve not only as functional fashion items, but also as status symbols. Throughout the years, there has always been interest in celebrity figures wearing Rolex watches, and this has been especially true of women in recent years.
One of the major trends within celebrity circles has been women wearing what are regarded as over-sized Rolex watches – those that have been traditionally worn by men. In this blog post, we take a closer look at some of the most high-profile female celebrities that wear Rolex watches, along with the models they have opted for.
1. Jennifer Aniston – Rolex Day-Date President / Rolex Milgauss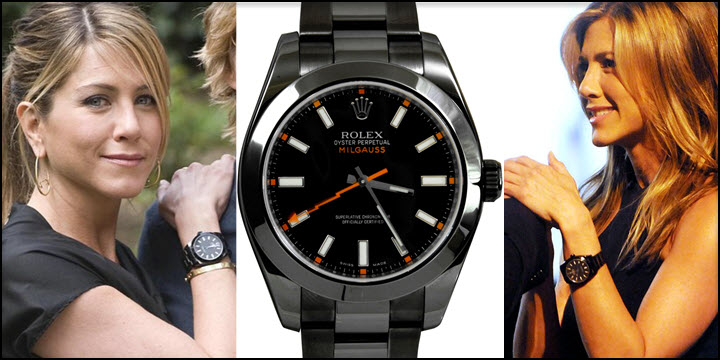 Jennifer Aniston is one of the most instantly recognizable female celebrities who is regularly seen sporting a Rolex watch. The former 'Friends' actress is also a notable example of the aforementioned trend of preferring to wear over-sized men's models, rather than the smaller ladies' timepieces like the Lady-Datejust.
The watch she is seen wearing most frequently is a full yellow gold Rolex Day-Date President, which measures 36mm in diameter. This is larger than traditional ladies' watches, but is still very wearable and does not look out of place on her wrist. The model she wears has a champagne dial, perfectly complimenting the case.
However, in addition to this stunning dress watch, Aniston also has a significantly larger timepiece in her collection, which packs more of a punch. Her custom black-out Rolex Milgauss, complete with DLC coating, has a 40mm case size and is a very unique choice, as it is very rarely seen on a woman's wrist.
2. Victoria Beckham – Rolex Daytona / Day-Date President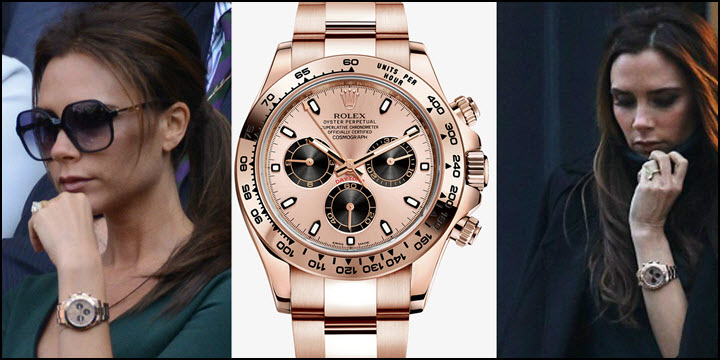 While Victoria Beckham originally rose to fame as a member of the 'Spice Girls', she is now equally well-known around the world as a designer and fashion icon. As a result, many people take great interest in what she wears, and one of the most regular features is the sight of a luxury Rolex watch on her wrist.
Beckham actually has an extensive collection of luxury timepieces, with examples including both rose gold and yellow gold Rolex Daytona models. The yellow gold version is more immediately eye-catching, while the rose gold version has a more subtle and feminine appearance. Both watches have a 40mm case diameter.
Additionally, Victoria Beckham also owns at least two Rolex Day-Date models. The first is a full yellow gold 36mm model, with a smooth bezel, while the second is a vintage 36mm yellow gold Day-Date with an aqua green 'Stella' dial and a diamond bezel. This is a highly sought after release from the 1970s, with an eye-catching design.
3. Elle Macpherson – Rolex Daytona / Sky-Dweller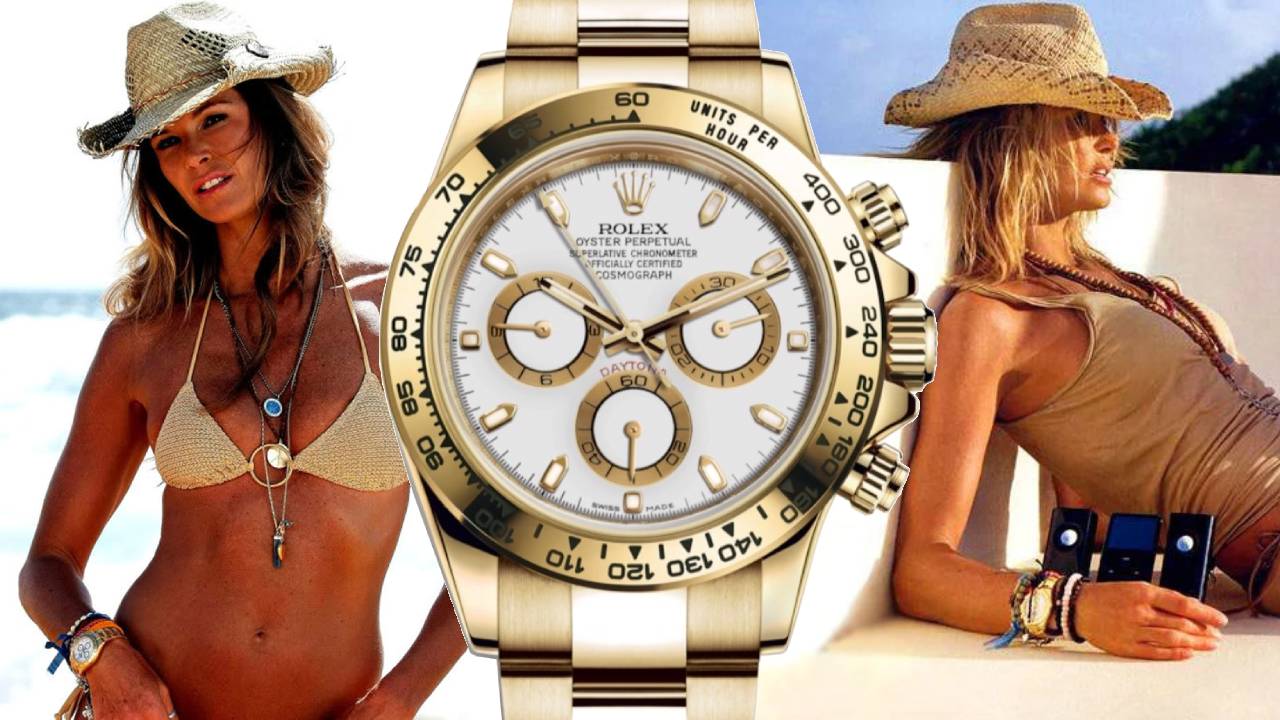 Nicknamed 'The Body', Elle Macpherson is one of the most famous models in the world and was one of the first high-profile female celebrities to be regularly seen wearing over-sized men's models. Indeed, while many women still play it relatively safe with a 36mm watch, the Australian model likes to wear a much larger Rolex.
Her collection includes both a Rolex Daytona and a Rolex Sky-Dweller, with the Daytona measuring 40mm in diameter, and the Sky-Dweller exceeding even that, with a 42mm case size. This means that both of these models make a bold statement and stand out, regardless of what else she may be wearing.
Elle Macpherson also appears to have a very specific aesthetic that she likes from her Rolex timepieces. Both the Daytona and Sky-Dweller she has been seen wearing are full yellow gold models, with champagne dials. This gives them a very uniformed appearance, and ensures they exude a clear sense of luxury and style.
4. Jennifer Garner – Rolex Lady Datejust / Day-Date President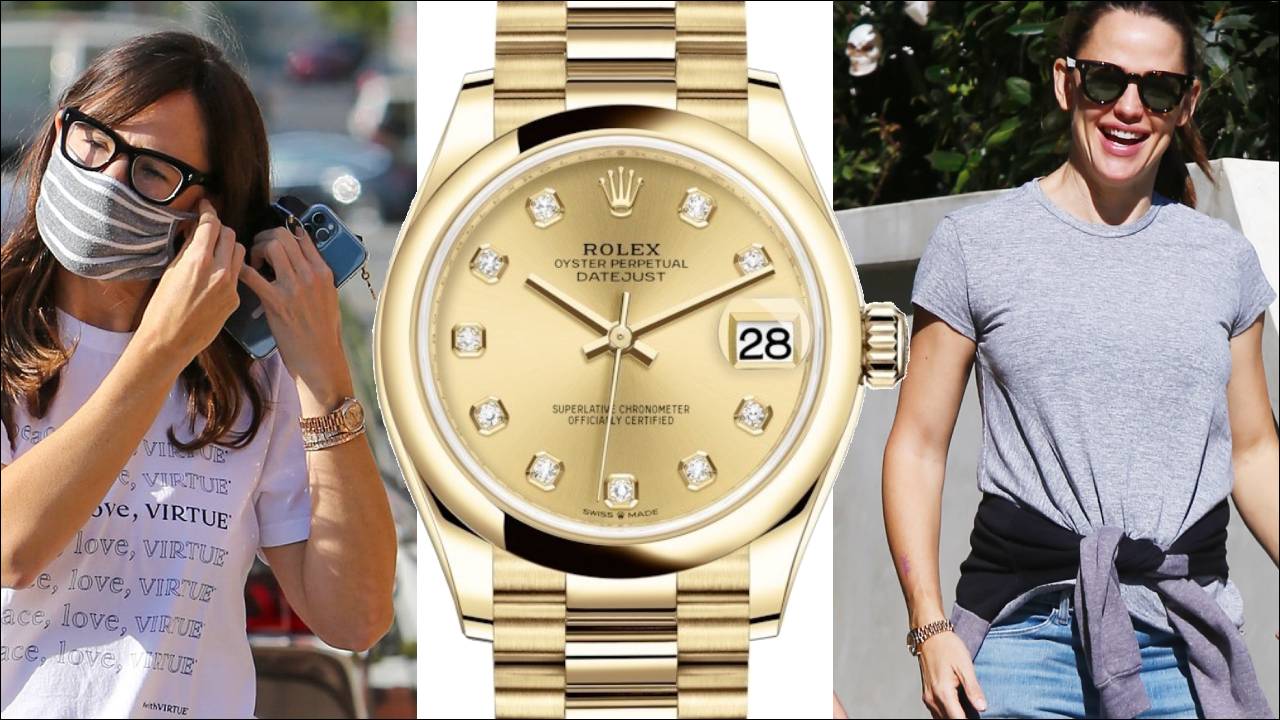 Hollywood actress Jennifer Garner is best known for her on-screen performances in television shows like 'Alias' and films like 'Daredevil', 'Juno' and '13 Going on 30′. She is also well-known as a Rolex enthusiast and has been seen wearing a number of different models over the years.
Interestingly, Garner is an example of a woman who still likes to wear a smaller, more elegant ladies' watch and has been most commonly seen sporting either a full yellow gold or a two-tone Rolex Lady Datejust with a 31mm case. The two-tone model in her possession features an eye-catching blue dial and a fluted bezel.
With that being said, she has not been immune to the charms of larger timepieces either. Her collection is known to include a full yellow gold Rolex Day-Date President, with a diamond bezel and diamond dial markers. The particular model she wears has a 36mm case, meaning it is still small enough to retain a touch of elegance.
5. Lindsay Lohan – Rolex Datejust / Submariner / Day-Date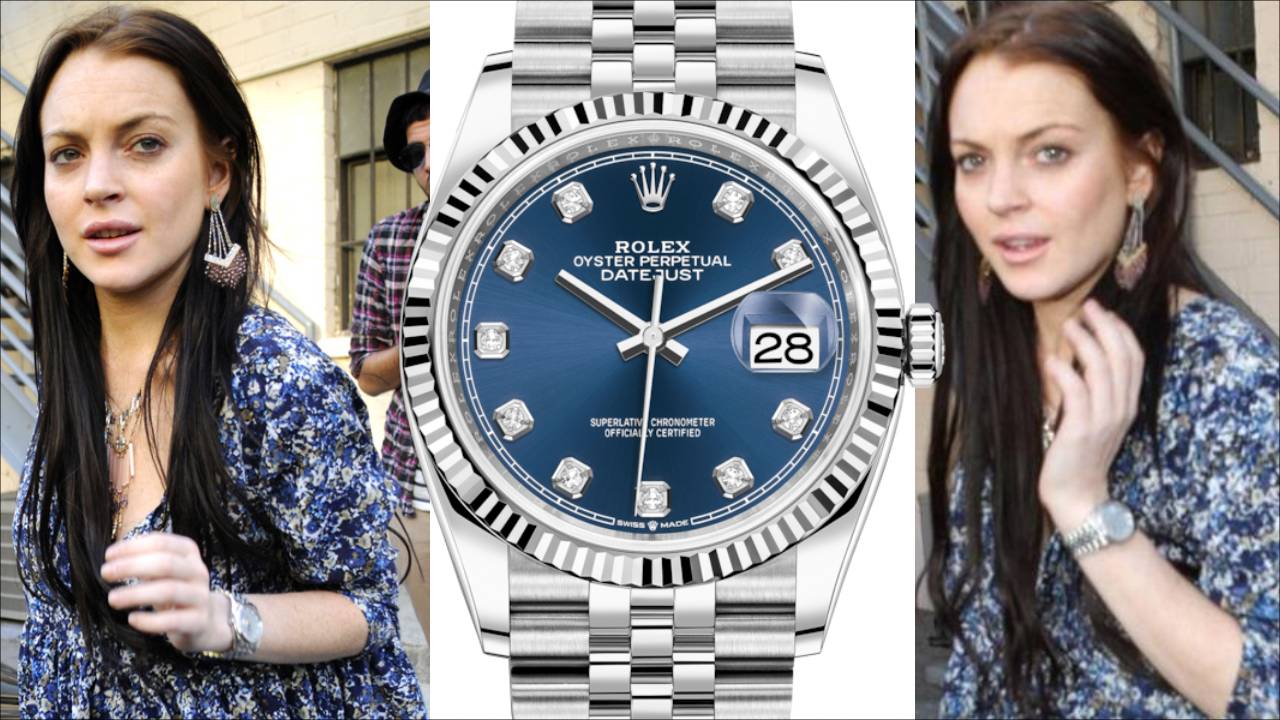 Actress and reality TV star Lindsay Lohan appears to have one of the most varied collections of Rolex watches of any female celebrity, which would suggest she is an active collector. While she has been seen wearing at least four different models, they are all men's timepieces, indicating a preference for the over-sized look.
Among the watches the 'Mean Girls' star has been seen sporting are a full yellow gold Day-Date President and a stainless steel Rolex Datejust, both of which are 36mm in diameter. In addition, she has been seen wearing a larger 40mm two-tone yellow gold and steel Rolex Submariner, with a blue dial and blue bezel.
Finally, one of the bolder models in her collection is the GMT-Master II 'Batman', which is also a 40mm model. This particular version of the GMT-Master II is made from stainless steel and features a ceramic bezel, which is half black, half blue. While it is not the most expensive watch in her collection, it is quite rare to see women wearing it.
6. Charlize Theron – Rolex Deepsea / Datejust / Day-Date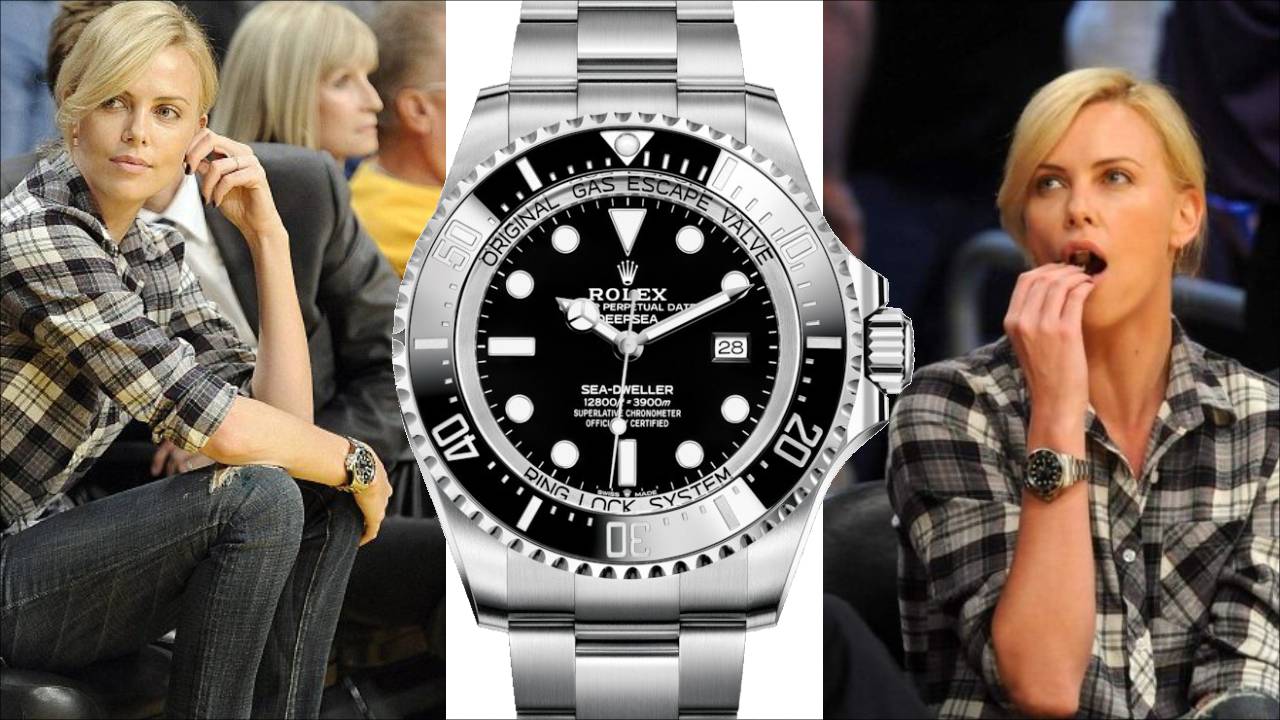 Charlize Theron is an Academy Award-winning actress and film producer, who is also well-known as a fashion icon. When it comes to luxury watches, Rolex is her brand of choice and she has been seen wearing a number of different models, with one of them being a surprisingly bold choice, even by film star standards.
At a Los Angeles Lakers game, Theron was seen sporting a Rolex Sea-Dweller Deepsea, with a black dial and a black bezel. This is noteworthy, because the watch has a 44mm case size, which is extremely large for most women. Nevertheless, she made it work for her, pairing it to great effect with a casual shirt and jeans.
Other models in her collection include a full stainless steel Rolex Datejust, measuring 36mm in diameter, and a full yellow gold Rolex Day-Date President. This collection means she has a large diver's watch for making a statement, a smaller, more understated dress watch, and a more luxurious gold watch for those special occasions.
7. Sofia Vergara – Rolex Daytona / Rolex Datejust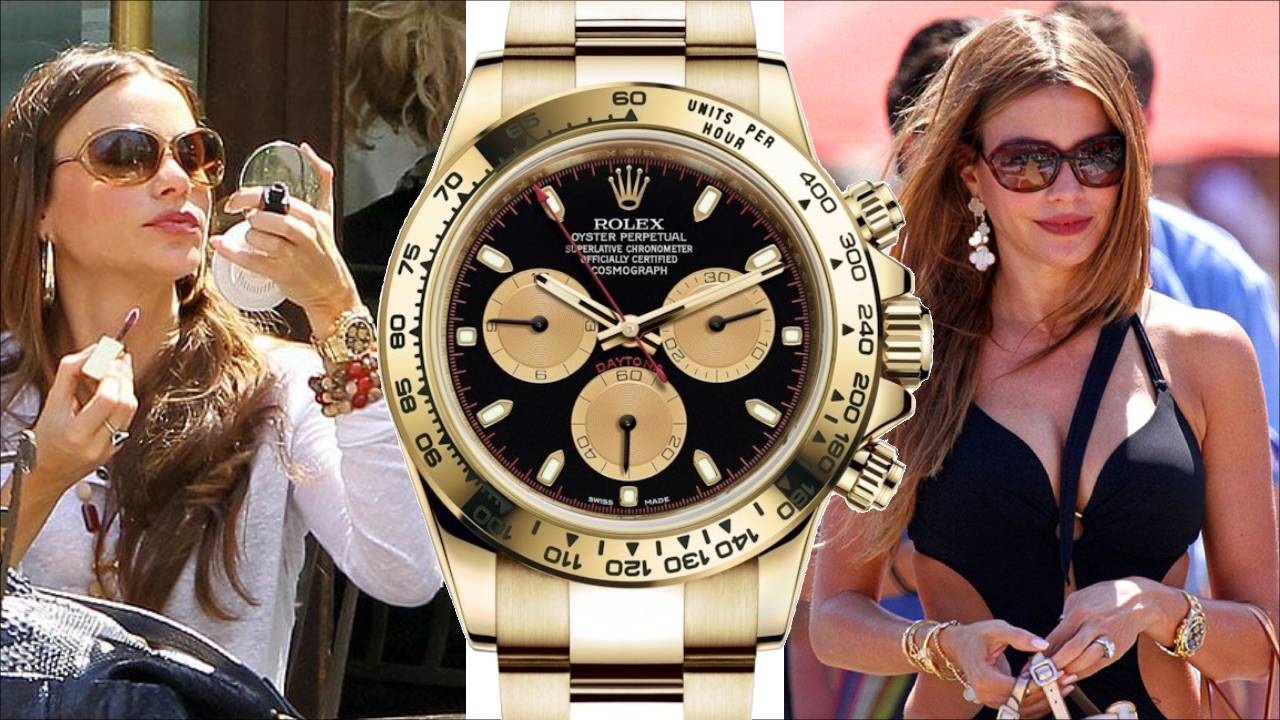 Finally, Sofia Vergara is known to many for her acting role in 'Modern Family', but her modelling work and various fashion-related sponsorship deals have also helped her to become a style icon. Among her various preferences, she is known to be a big fan of Rolex watches, and is yet another example of a woman opting for men's sizes.
In total, it is believed the Colombian-American has at least three different 40mm Rolex Daytona watches – one in rose gold with a pink dial, and two in yellow gold. The first of these yellow gold models has a black mother of pearl dial, while the second has a 'Paul Newman Tribute' dial, combining black, white and red.
While the 'Paul Newman Tribute' Daytona is perhaps the most interesting watch in Vergara's collection, she has been seen most commonly sporting a 36mm Rolex Datejust. The particular model she favours has a diamond bezel and a white mother of pearl dial, providing it with a clear sense of femininity, even if it is technically a men's size.
The Last Word
In recent times, there has been great interest in the Rolex watches worn by female celebrities, and the major trend has been for women to wear models that were traditionally considered to be men's sizes. This trend is likely to continue, although some do still prefer smaller models, such as the Lady Datejust.
Regardless of the look you prefer, you can find ladies' and men's Rolex watches on the Jaztime.com online store.