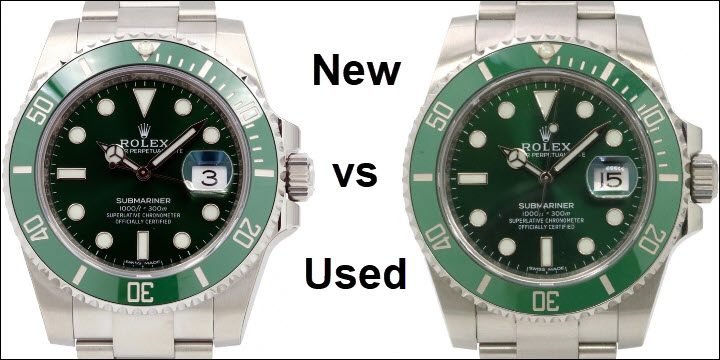 Launched in 1953, the Rolex Submariner is one of the most iconic timepieces in the entire Rolex collection. A sports watch, designed for use by professional divers, the Submariner was also worn by Sean Connery, George Lazenby, Roger Moore and Timothy Dalton in several James Bond films, including 'Dr. No', 'Goldfinger' and 'Live and Let Die'.
If you are looking to buy a Rolex Submariner watch, your two main options are to buy a brand new model from an Authorized Dealer, or buy an authentic new or second hand model from a reputable grey market dealer like Jaztime.com. In this article, we explain why a used Submariner might be the best possible choice for you.
Lower Price: Buy more Submariner for your Money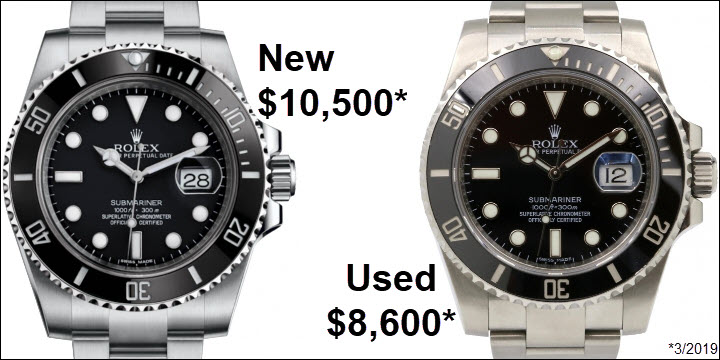 The first and most obvious reason why you should buy a used Rolex Submariner is because of the lower price. As soon as a brand new watch is purchased, it immediately becomes 'pre-owned', losing much of its value. For a buyer of a pre-owned watch, this means you pay much less than the retail pricing and can get more watch for your money.
If you have a particular budget you cannot exceed, you might find that certain brand new Submariner models are out of your price range. Yet, if you browse the used watch market, you might find that you can suddenly afford those same watch models, and even models made from higher-quality materials.
Please Note: Professional Rolex Stock Images usually look better then self made product pictures. That does not mean you would be able to see the difference if you see both watches next to each other.
» Check out our selection of Pre-Owned  & Used Rolex Submariner Watches
Less Depreciation on Pre-Owned Rolex Submariner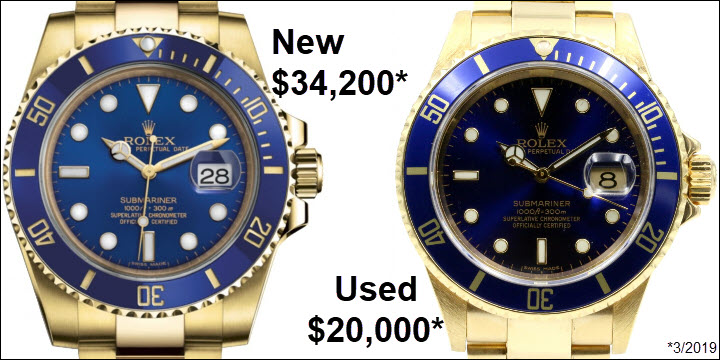 As previously mentioned, a brand new Rolex Submariner loses value the moment it is purchased and continues to lose money as it becomes used, shows minor signs of wear and tear, etc. All of this means that you can lose a substantial amount of your investment in the first year alone if you buy a new watch from an Authorized Dealer. Pre-Owned Two-Tone Yellow-Gold and Stainless Steel Rolex Submariners can lose up to 30% of their value, and full yellow Gold Submariner watches up to 40%. The reason for this is two fold. Firstly, full gold Rolex Submariner are not as popular as stainless steel. Secondly, yellow gold is much softer than stainless steel and thus shows wear and tear much faster.
Buying second hand has an advantage here, because the main loss in value has already occurred. As it is already a pre-owned model, you buying it does not lead to the same level of value loss upon purchase. So, to put it simply, if you buy a brand new watch and sell it immediately, you will make much less than you paid. If you buy a second hand watch and sell it immediately, it is likely you will be able to fetch a similar amount to what you paid.
» Check out our selection of Pre-Owned  & Used Rolex Submariner Watches
Long Lifespan: Vintage Submariners still keep time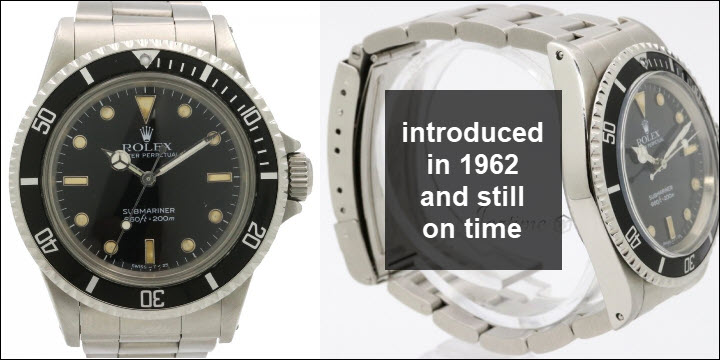 Many people are put off of buying used cars, because they know they might have to spend more on maintenance work, and the same can be said of many other mechanical devices. However, this does not apply to Rolex watches. After all, the company controls every aspect of the production life cycle, in order to guarantee supreme quality.
Ultimately, it is the production quality of Rolex timepieces that makes them such an attractive purchase, even on the second hand market. They last considerably longer than most other mechanical devices, and require far less continuous maintenance too. In fact, some of the very first Rolex models are still fully functional today.
Wider Selection: Discontinued Submariner Watches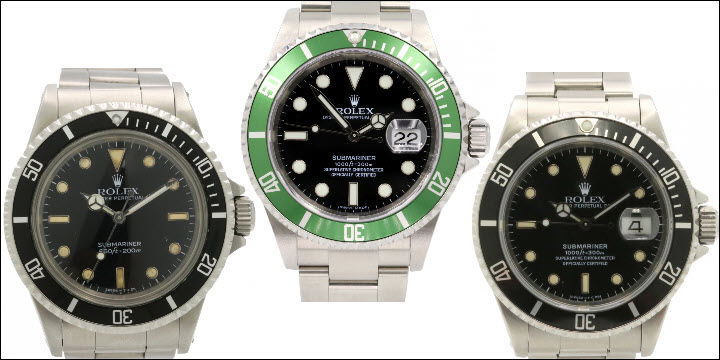 Another good reason to purchase a used Rolex timepiece is the wider selection of models that will be available. If you purchase a brand new Rolex, you are limited to the latest models only. With the Submariner, this means you will have to buy a Submariner with a ceramic bezel, while limited edition models are likely to be off-limits.
By contrast, the second hand market potentially contains any Rolex Submariner model still in existence. Certainly, you will be able to find plenty of Submariner timepieces with a classic aluminum bezel, and you will also be able to find a number of rare or discontinued models, giving you a far greater range of options. The 50th anniversary black dial and green bezel aka. Kermit is one Model you can not find at any authorized Rolex dealer.
» Check out our selection of Pre-Owned  & Used Rolex Submariner Watches
No Waiting List: For Used Submariner Watches in Stock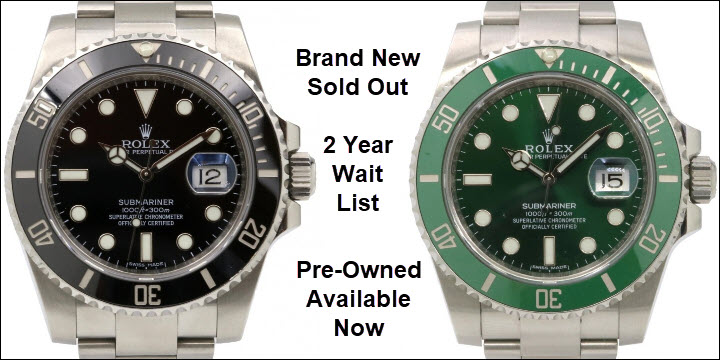 Some Rolex Submariner models, including basic stainless steel models, with a black dial and black bezel, are difficult to find from Authorized Dealers, as low stock levels are kept. As anyone who has tried to purchase a low stock model will attest, this can lead to frustratingly long waiting lists before you actually get your watch.
Yet, when purchasing a Rolex Submariner through Jaztime.com, you can get hold of these models with no waiting list whatsoever, either by paying a premium price for a new watch, or by purchasing a used model. In some cases, this can mean getting the same watch you originally wanted, for a much cheaper price, without the wait.
Difference between New vs Used almost invisible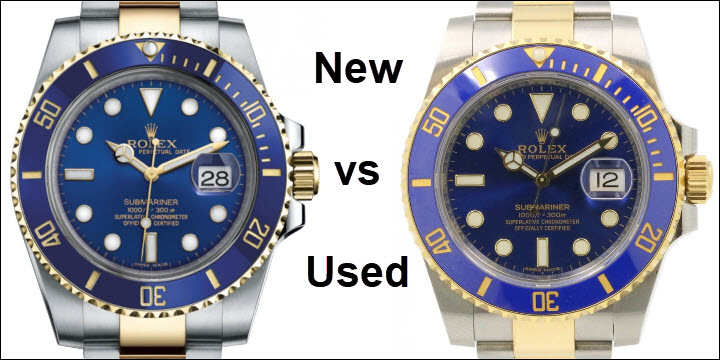 Finally, one of the things that makes some customers hesitant to purchase a used Rolex watch is that they fear the signs of age will be immediately apparent to everyone. However, at Jaztime.com, we take great care to inspect every used Rolex Submariner we receive, in order to ensure everything is in full working order.
All watches are also professionally polished prior to being sold, eliminating many of the obvious signs of use. In fact, it is likely that the used watch you receive from Jaztime will have few signs of wear and tear beyond what you would expect to see on a brand new watch that has been worn for a couple of weeks. In general Stainless Steel Rolex Submariner show less wear and tear then two tone or full gold models. Ceramic Bezels scratch less then Aluminum ones. The condition of every pre-owned watch is unique and is reflected in the price.
Warning!
Rolex watches are extremely valuable, which has led to a significant number of replica or fake models flooding the market. This can be a particular concern when buying a used Rolex Submariner from a private seller, meaning you could end up paying a large amount of money for a replica watch with no real value at all.
At Jaztime.com, however, our expert team certify the authenticity of every watch we receive and all used watches are sold with a one-year shop warranty. This warranty works in conjunction with any remaining warranty time the watch has left from Rolex itself, meaning many of the used Submariners we sell have two-factor protection.