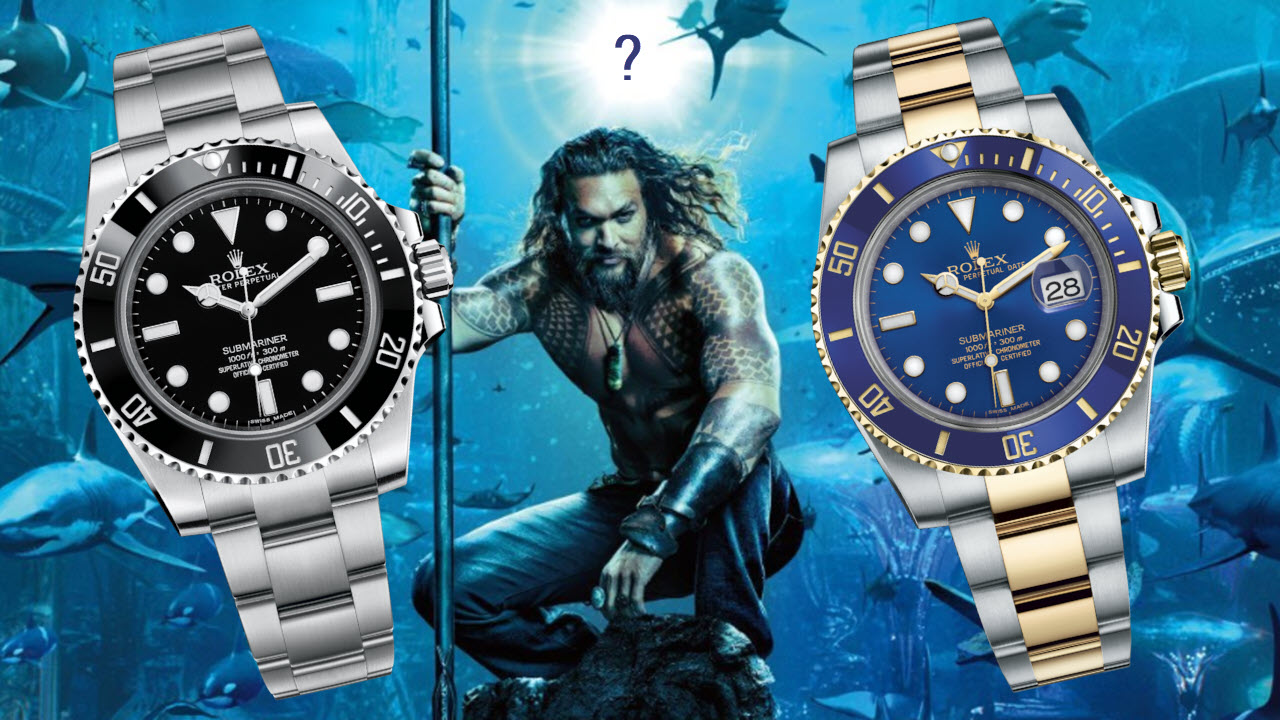 Originally introduced in 1953, the Rolex Oyster Perpetual Submariner collection is a line of sports watches that are equally well-suited for use in a board meeting. This diversity has helped to establish the Submariner as one of the most popular wristwatches in the world, with some individual models achieving true iconic status.
The Submariner was originally designed to accommodate the needs of professional divers, and this remains one of the collection's main selling points. Yet, throughout the years, the Submariner has also become a symbol of luxury, associated with James Bond, as well as celebrity wearers like Steve McQueen and Al Pacino.
In this buying guide, we take a closer look at the various Submariner models available to buyers.
Understanding the Rolex Submariner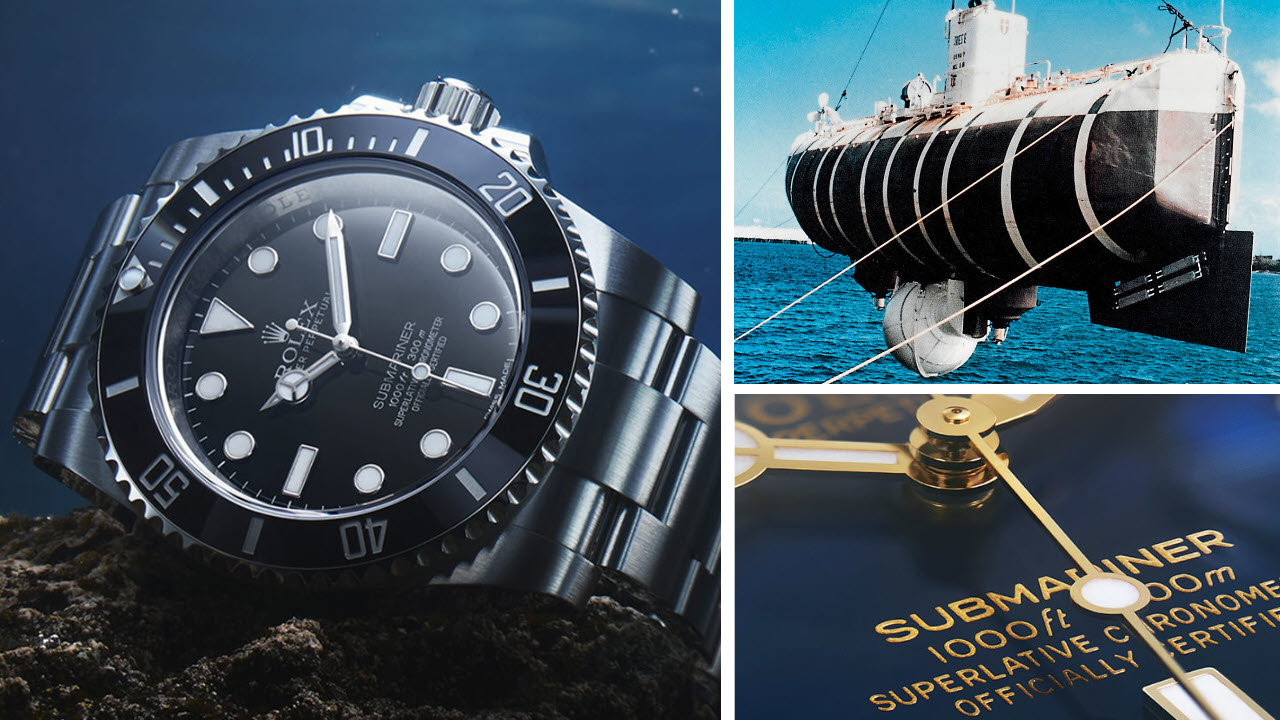 In terms of function, the Rolex Submariner is primarily defined by its high level of water resistance, as well as the presence of a rotatable bezel. This bezel comes complete with minute markers, allowing professional divers to accurately measure the amount of time they have been immersed underwater.
One of the key aspects of the Submariner's bezel, when compared to other rotatable bezels, is that it only rotates anti-clockwise, rather than rotating both ways. This is significant, because it means accidental bezel movement can only make remaining dive times shorter, preventing divers from spending too much time under the surface.
Broadly speaking, the Submariner models can be divided into six categories and these are outlined below:
1. Date vs. No Date Rolex Submariner (steel & black dial)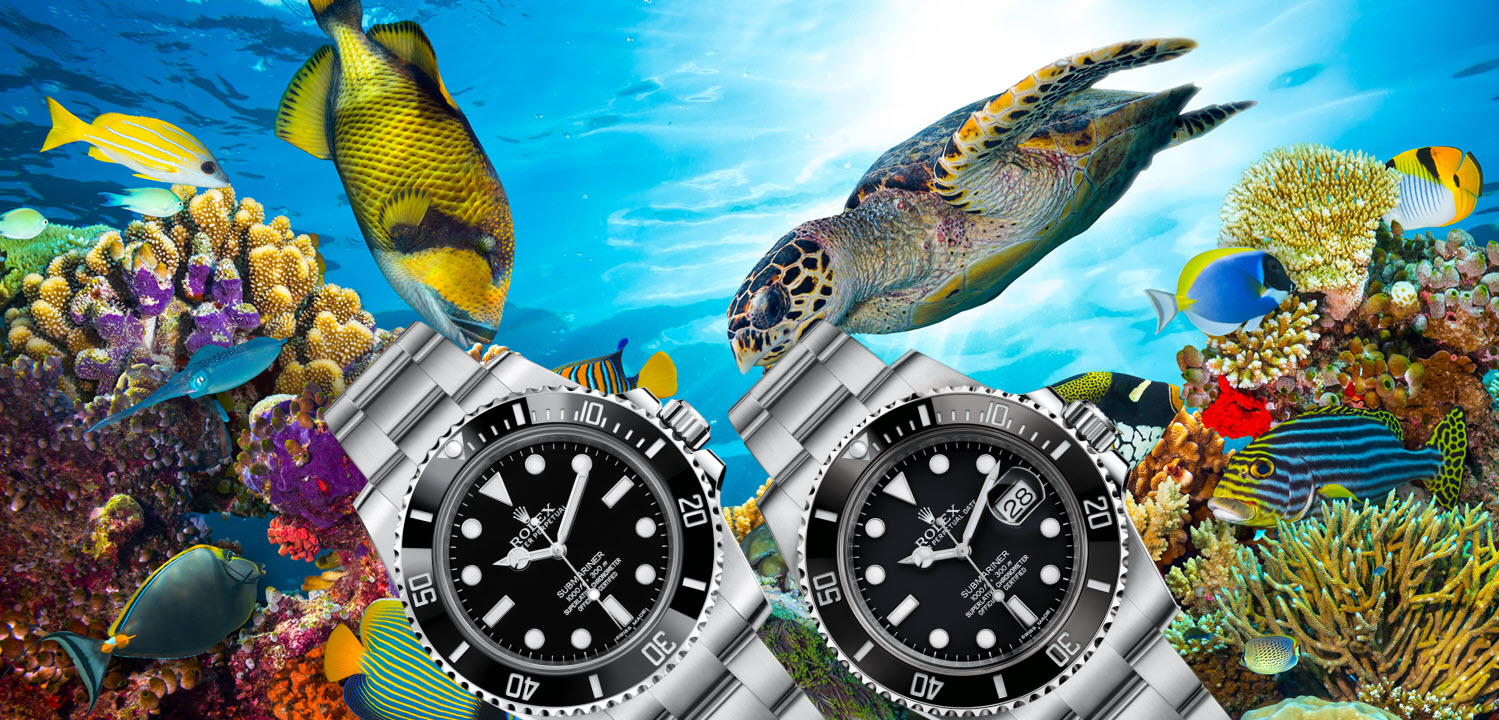 The cheapest and most basic models within the Submariner collection are the No Date models and, as the name suggests, the defining trait of these watches is the absence of a date display window. All of these models are constructed from stainless steel, with no option for another case material, and all also have a black dial colour.
However, it is more common to find steel Rolex Submariners with a black dial and a date display window at the 3 o'clock position. The presence of this date display window, complete with a 'Cyclops' magnifying lens, tends to make these models slightly more expensive, although there is not always a huge difference on the grey market.
Regardless of which of the options you choose from this category, these models are considered to be entry-level Rolex Submariners. They are, therefore, ideal for those buying their first Rolex watch, those operating on a slightly restricted budget, or those who simply appreciate a more understated design.
2. Stainless Steel & Green Rolex Submariner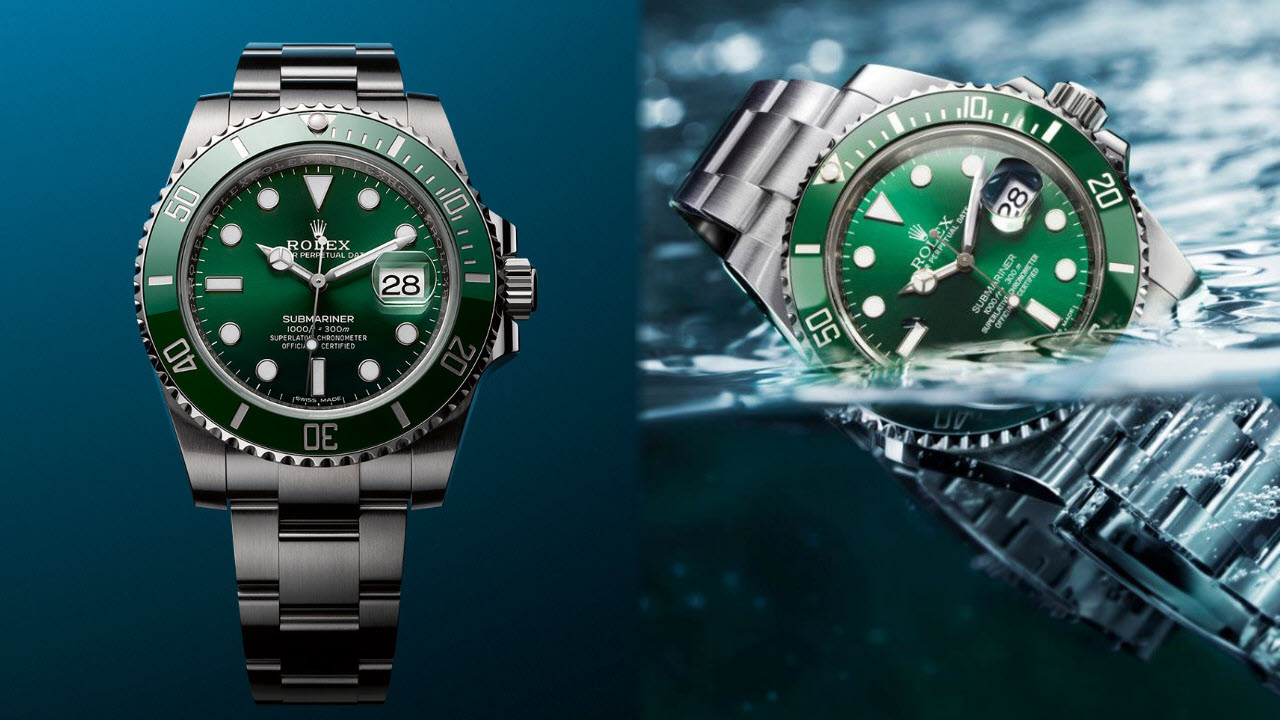 Rolex celebrated the 50th anniversary of the Submariner in 2003 and, to mark the occasion, the brand released a special black dial version of the watch, with a green bezel. This model, which became known as the Submariner 'Kermit', is no longer in production and so it is now reasonably difficult to get hold of.
However, in 2010, the manufacturer released its second stainless steel Submariner with a green bezel. This time, however, the dial was also green. This model is affectionately nicknamed the 'Hulk' and has emerged as one of the most popular watches in the entire collection, owing to its unique colour scheme.
Typically, if you attempt to purchase a Rolex Submariner 'Hulk' from an authorised dealer, you are likely to be put on a waiting list for around two or three years. One of the key advantages of buying through the grey market (learn more), such as here at Jaztime.com, is the fact that you can get hold of one right away, for a fair market price.
3. White Gold & Blue Rolex Submariner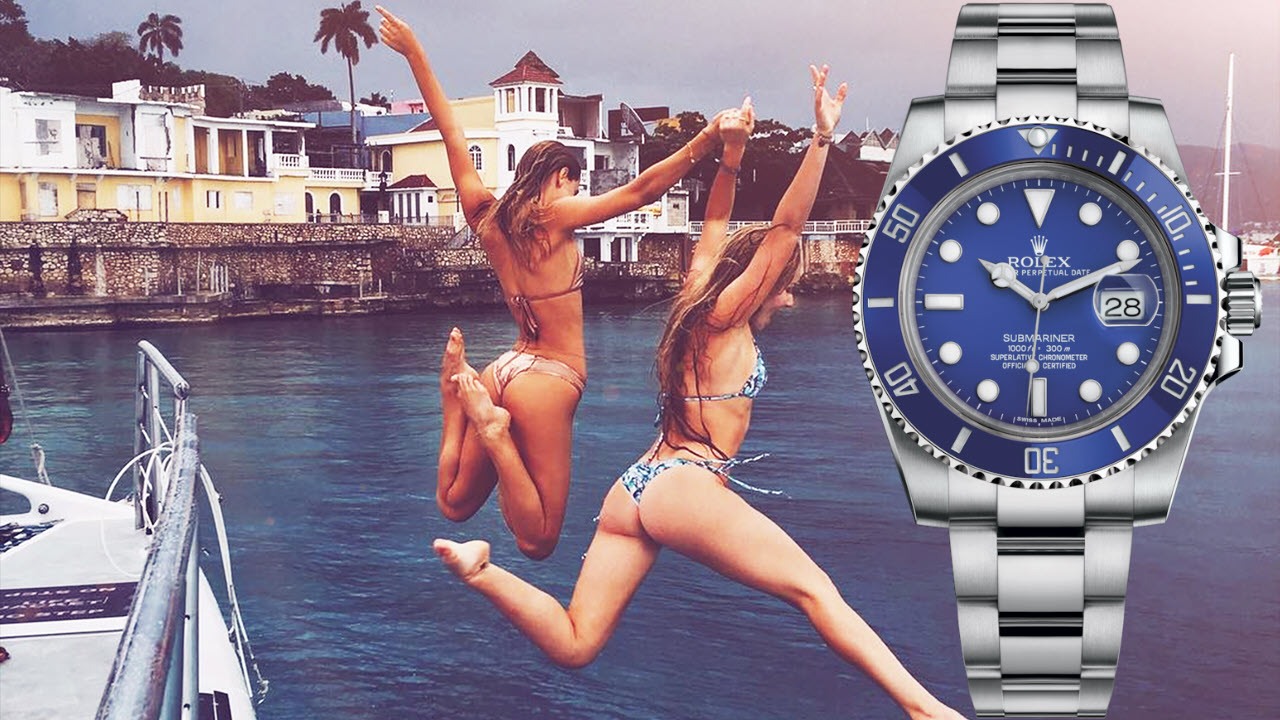 On a purely visual level, it is difficult to see the difference between white gold and stainless steel. With that being said, identifying a white gold Rolex Submariner is actually very easy, as there are no stainless steel Submariner models with a blue dial. Therefore, if you see a model with a silver case and a blue dial, it is almost certainly white gold. The exception would be if the original dial of a stainless steel model has been customized.
In terms of why a customer might select white gold instead of stainless steel, the material is worth more and is also more resistant to corrosion, which is especially important for those using the watch during salt water diving. With that being said, the 904L steel Rolex use does not have any problems with salt water either.
White gold also has a subtle luxury quality, making it a great option for those who want a more prestigious luxury watch, but without the more 'flashy' aesthetic of a yellow gold model. It is worth noting that the white gold and blue dial version is currently the most expensive of all Submariner models, with a higher price than yellow gold options.
4. Yellow Gold & Steel Two-Tone Rolex Submariner (Black or Blue)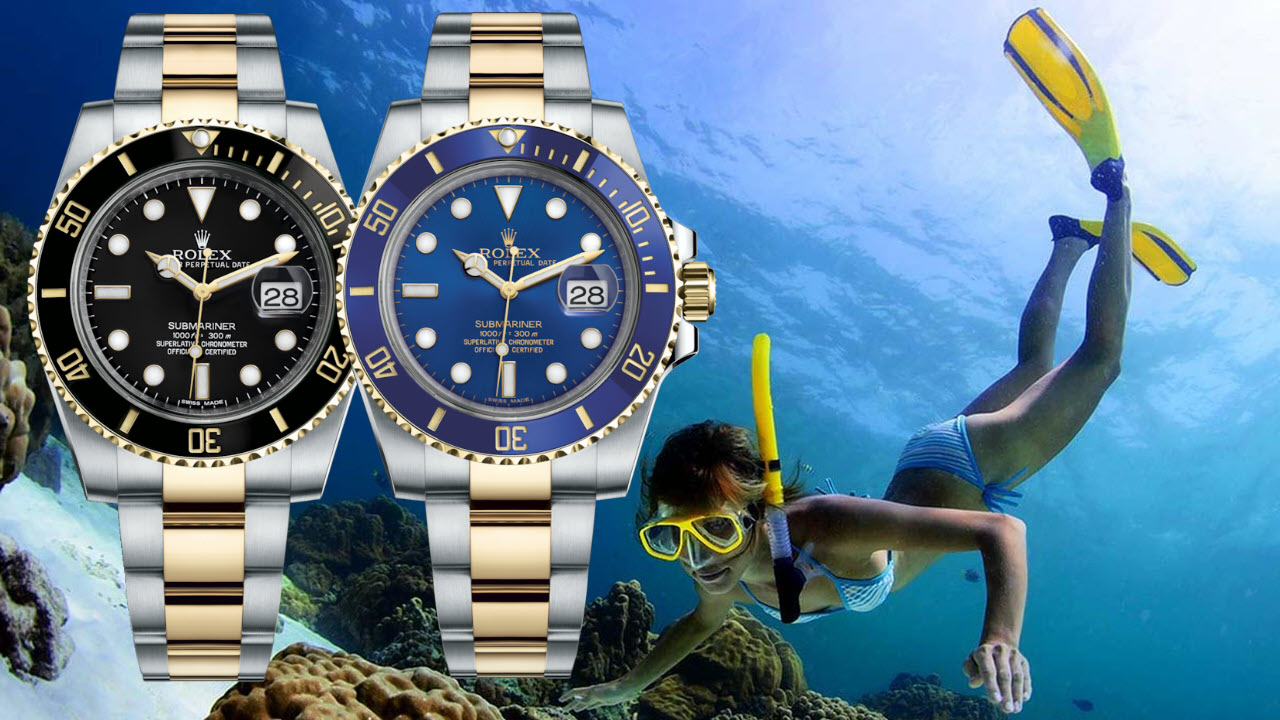 Two-tone 'Rolesor' Submariners combine yellow gold with stainless steel, offering the best of both worlds. The bi-colour nature of the timepieces draws instant attention, which makes these models ideal for buyers looking for an attractive watch that will stand out, turn heads and get people talking.
Within this category, there is a choice of either a black or a blue bezel, while the main dial colour options are also black and blue. Those seeking something a little more extravagant may also be interested in a model with a champagne dial, and diamond dial markers. Each of these options offers a different overall aesthetic, with black being more dressy, blue being more sporty and the champagne diamond dial being more luxurious.
In terms of price, the two-tone models represent something of a middle ground option between the most expensive options, which are full white gold models, and the cheapest options, which are full stainless steel models.
5. Full Yellow Gold Rolex Submariner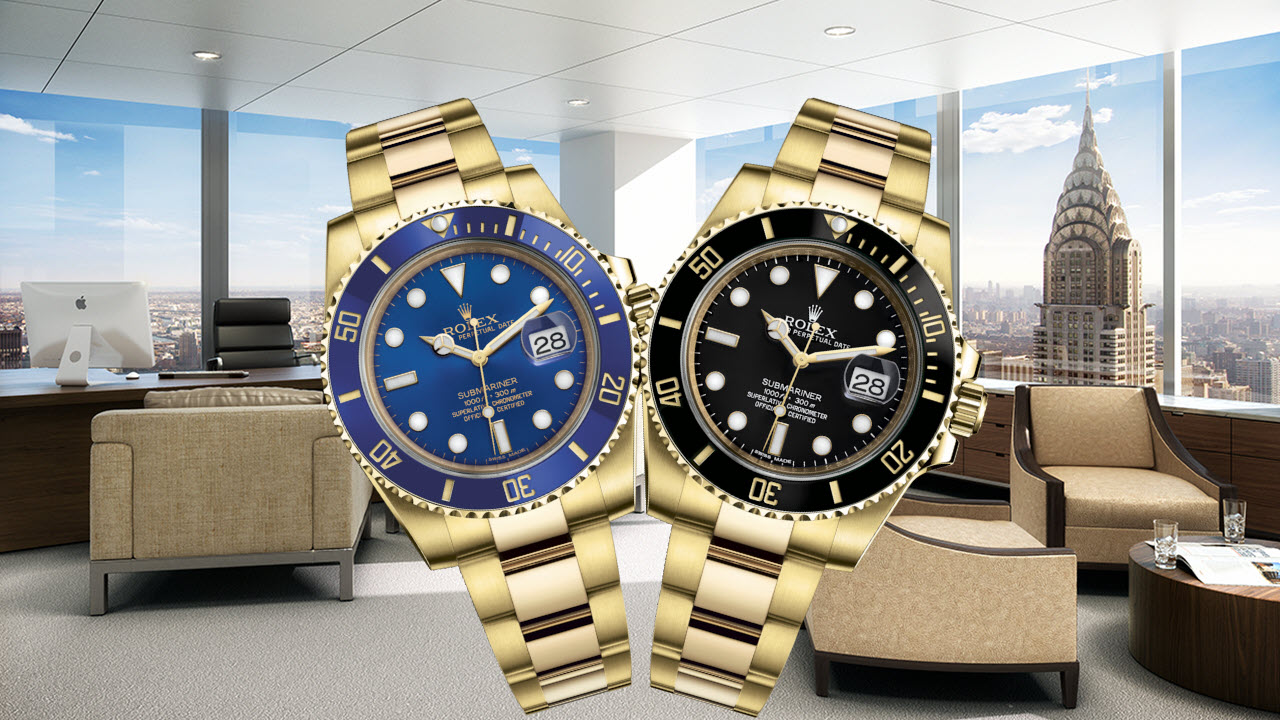 Although full yellow gold may seem like an unusual choice for a sports diving watch, due to the material being a lot softer than 904L stainless steel, it is actually more resistant to corrosion than steel. Nevertheless, in truth, the majority of people wearing this kind of watch are unlikely to use it for diving purposes anyway.
Full yellow gold Submariners make excellent dress watches, especially with a black dial and black bezel, and primarily appeal to those looking for a timepiece that is more overtly luxurious. The alternative to the black dial and black bezel is a blue dial and blue bezel, and this provides the watch with a slightly sportier edge.
Although the models in this category are not the most expensive in the Submariner collection, they do rank in the top three most expensive options and are primarily aimed at those with a higher budget, looking for a status symbol.
6. PVD DLC Rolex Submariner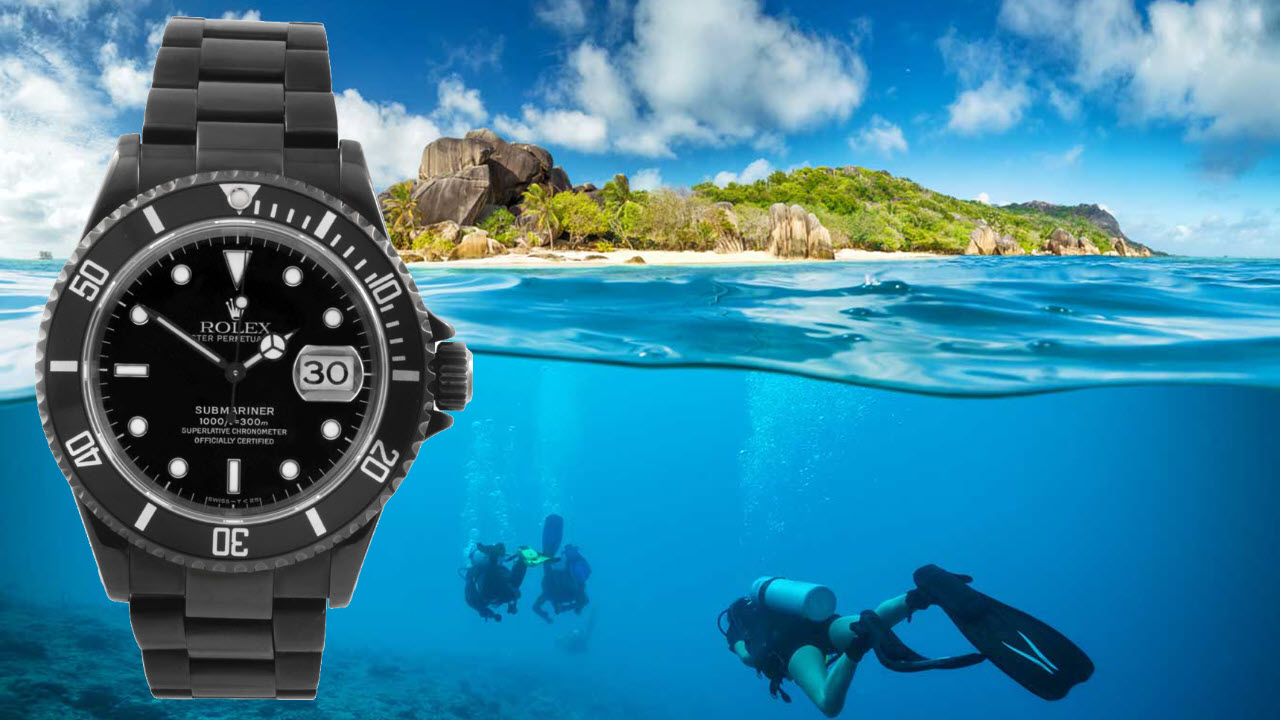 Finally, for those seeking a Rolex Submariner that is a little more exotic than the aforementioned models, a good option would be one of the stainless steel timepieces with a PVD/DLC coating. This provides the timepieces with a distinctive aesthetic, which is guaranteed to attract attention and spark conversation.
In fact, the coating on these models gives them an appearance that resembles a Navy Seal stealth diver watch, and this makes it an excellent choice for those with a real passion for diving, who want a watch which reflects this.
The black ceramic bezel on these models matches with the darker shade provided by the PVD/DLC coating, creating a coherent appearance. Additionally, the models feature luminous dial markers and bezel markers, which helps to guarantee legibility at all times, even in situations where access to light is restricted.
The Final Word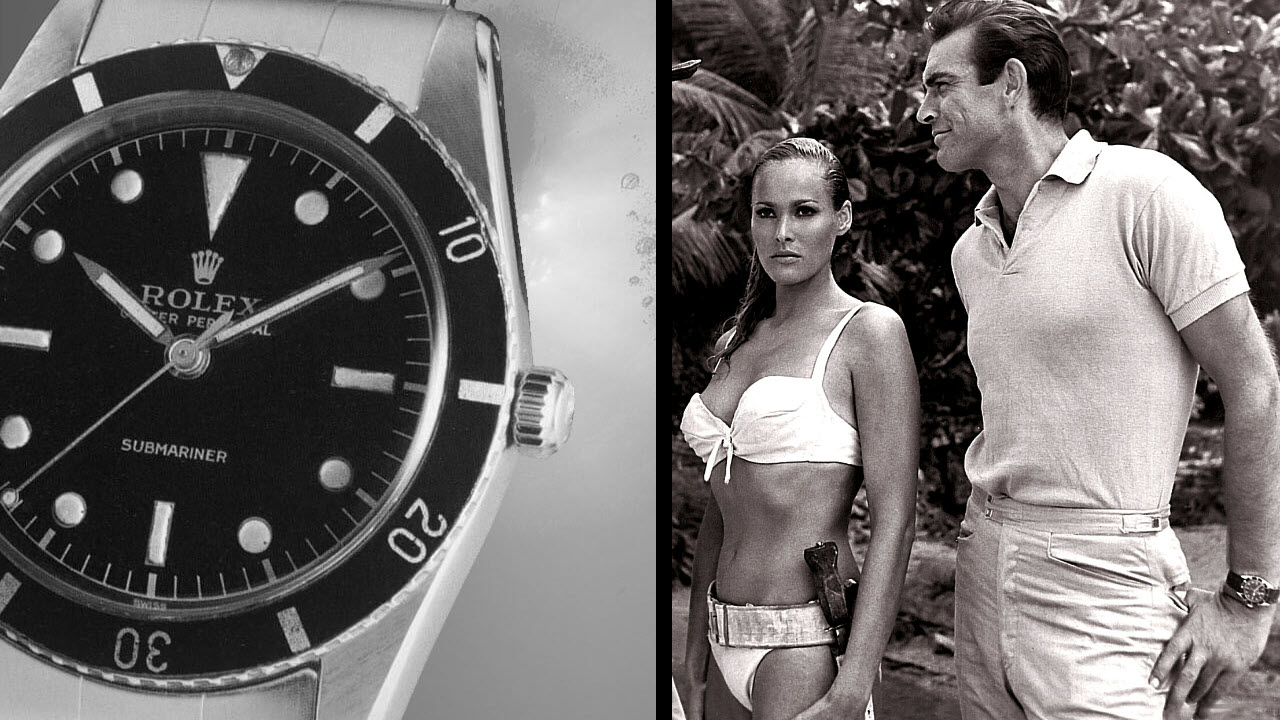 The Submariner line ranks among the most popular collections in the entire Rolex catalogue, functioning equally well as a professional diver's watch, or as a stylish fashion accessory for use in business settings. This versatility has helped the watch to enjoy success that has spanned eight decades…and counting.
Within the collection, there is significant variety, catering for different tastes and budgets. No matter which Rolex Submariner you wish to buy, however, you will find it for sale at the best price at our Jaztime.com online shop (visit now).