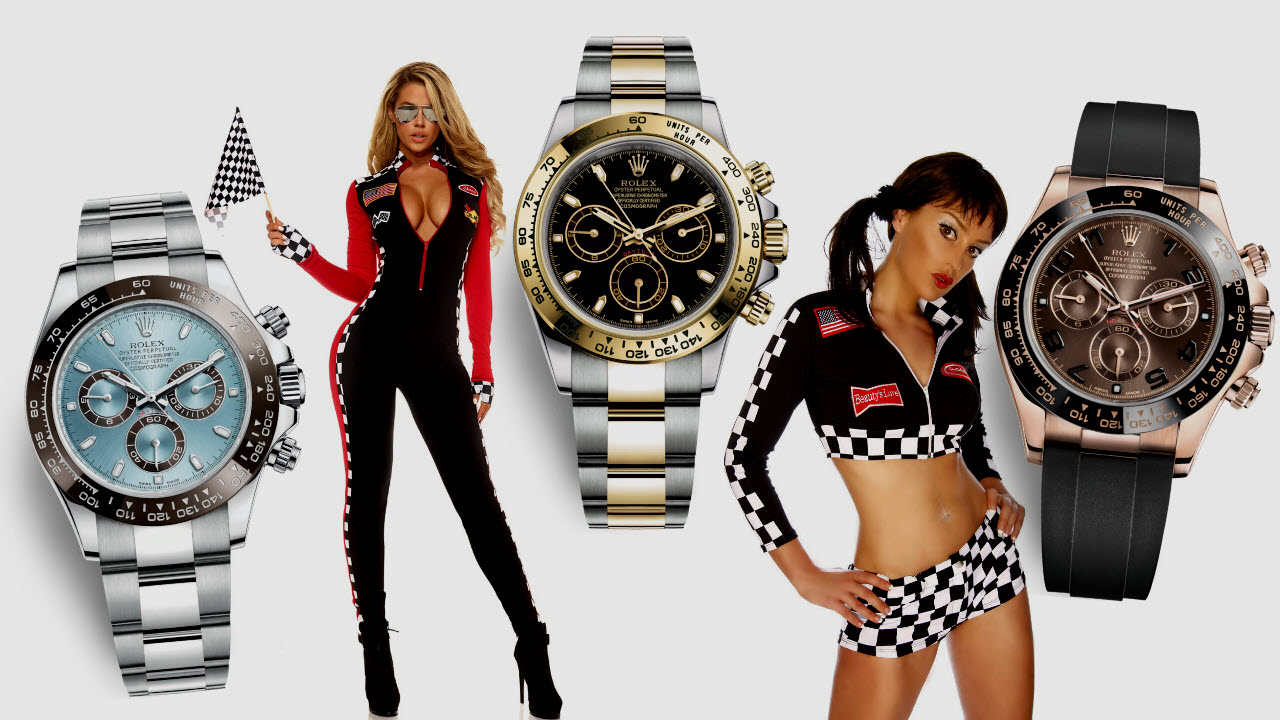 Since its introduction in 1963, the Rolex Daytona collection has achieved legendary status in the luxury watch field. Named after the Daytona International Speedway circuit in Florida, and designed to meet the needs of professional motor racing drivers, the watch is recognized as an iconic fashion accessory, largely thanks to actor Paul Newman, who wore his Daytona timepiece almost every day between 1972 and his death in 2008.
With high levels of demand and limited production, the Daytona also has lengthy waiting lists, which have helped to add to its mystique. This has also made it popular among buyers on the grey market, as they are able to get hold of one much faster. This buying guide takes a closer look at the Daytona collection and the various options available.
Understanding the Dial & Bezel Features of a Rolex Daytona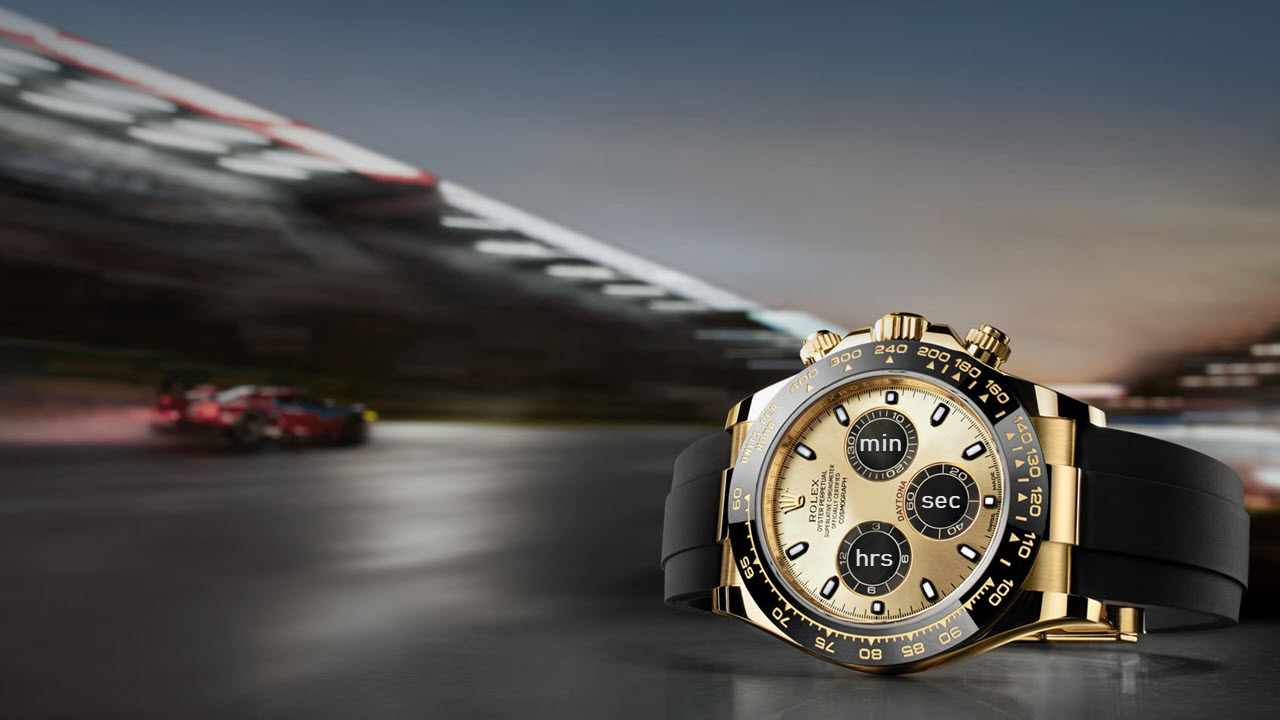 Rolex Daytona watches are equipped with a self-winding mechanical chronograph movement. This provides them with the ability to display the time and measure elapsed time, simultaneously functioning as a stopwatch and traditional watch. For this purpose the Rolex Cosmograph Daytona has 3 sub-dials at the 3, 6 and 9 o'clock position. The 6 o'clock position shows elapsed seconds, the 3 o'clock position shows up to 30 elapsed minutes, and the 9 o'clock subdial shows up to 12 elapsed hours. They are also certified chronometers by the COSC, guaranteeing their precision.
In addition to this, the Daytona is famous for having a tachymeter scale on the bezel, which can be used to either measure speed based on travel time, or measure distance based on speed. However, it is worth noting that since the expansion of the collection, not all Daytona models actually have this tachymeter scale on them.
Today, Daytona models can be broadly divided into seven categories, which are outlined below:
1. Stainless Steel Rolex Daytona – Steel vs. Ceramic Bezel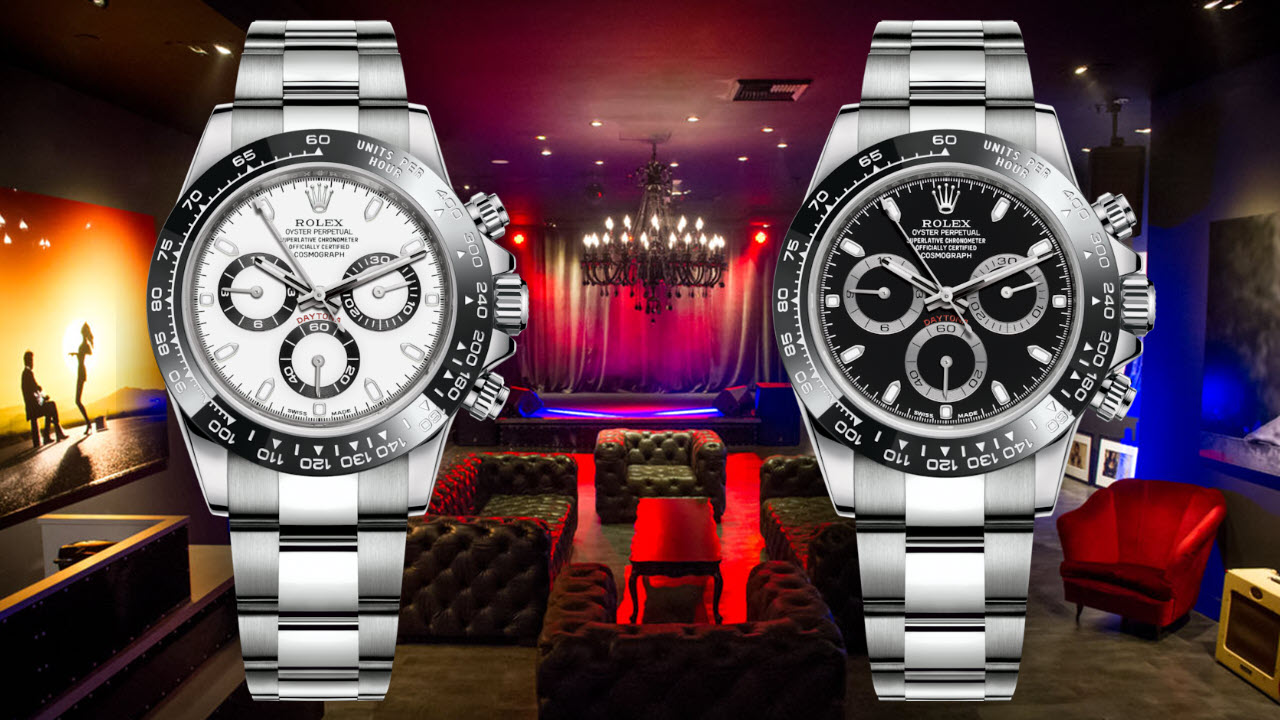 Theoretically, based on what occurs with other watch collections, the stainless steel Rolex models should be the cheapest options, ideal for entry-level buyers. However, with the Daytona, thanks to low production numbers and stainless steel models being the most popular, the price of a steel model is typically around $20,000.
Within this category, there are two main types: steel bezel Daytonas, which are difficult to find and usually have long waiting lists, although you can get them much faster at Jaztime.com; and ceramic bezel steel Daytonas, which are a relatively new design and significantly easier to find, even at authorised dealers.
The ceramic bezel is less likely to show scratches than the steel bezel, but it does not have the same level of exclusivity as the steel bezels. Regardless of which bezel you opt for, you will have the option of either a black or a white dial. The white face offers superior legibility, but black is popular for its visual appeal.
2. White Gold Rolex Daytona
Visually, the white gold Rolex Daytonas are not drastically dissimilar to the stainless steel options, but because of the quality of the material itself, they represent a more expensive alternative. For this reason, they are popular among those who like the aesthetic of steel models, but prefer a more precious material.
Within this category, there is a choice of a black ceramic bezel, or a white gold bezel. Moreover, buyers can opt for either a white gold bracelet or a black Oysterflex rubber strap, as well as a white dial, or a black dial. As a result of this, there is a broad range of choice in terms of the overall appearance of the watch.
For those seeking an added level of extravagance, the black diamond dial is very popular, while the most expensive white gold model is the sapphire rainbow set bezel Daytona, which features multi-coloured gems on the bezel.
3. Yellow Gold & Steel Two-Tone (Rolesor) Rolex Daytona
The next category within the Rolex Daytona collection is the two-tone 'Rolesor' models, which combine stainless steel with 18k yellow gold. This is a solid option for buyers who are looking for a Rolex Daytona that stands out and instantly draws attention, but at a cheaper price point than the full gold models.
Unlike some of the other categories, all 'Rolesor' Daytonas have a yellow gold bezel, with no option for black ceramic instead. However, many of the models can be enhanced by diamond dial markers.
In terms of dial colours, the most common options are white, black, white mother of pearl, black mother of pearl, and champagne. The golden colour of the champagne dial compliments the two-tone design very well, but the black dials provide a stronger contrast, and the white dials offer superior legibility.
4. Full Yellow Gold Rolex Daytona
Although full yellow gold models are not as scarce as steel models, they sell very well and provide a slightly more flashy appeal. This makes them best-suited to those who are willing to loosen the purse strings a little more, and splash out a little extra on a watch that attracts attention and serves as a real status symbol.
Within this category, black, white and champagne dial colours are the most popular choices, and diamond dial markers can also be selected, making the watch even more overtly luxurious. Full yellow gold Daytonas are also the only models in the entire collection that come with the option of a green dial.
Once again, buyers have the option of either a ceramic bezel, or a yellow gold bezel, as well as a black Oysterflex rubber strap, or a yellow gold bracelet. The most expensive full yellow gold Rolex Daytona timepieces are the ones that come with sapphire rainbow set bezels, providing them with added colour.
5. Full Rose Gold Rolex Daytona
Full rose gold Daytonas are similar to the full white gold or full yellow gold models in terms of their appeal, although the Everose gold colour provides a slightly more understated quality than yellow gold. It is also worth noting that there are no two-tone Everose gold and steel options, so buyers either go full rose gold or no rose gold.
Options exist for a rose gold bracelet or a black Oysterflex rubber strap, as well as a rose gold bezel or a black ceramic bezel. When combined with the various options for dial colours, this ensures that buyers have a great choice within this category in terms of the final appearance of their watch, ranging from dressy to extremely sporty.
With Everose gold Daytonas, the most popular choices for dial colours are black, chocolate, ivory and pink, as these all compliment the case material nicely. The diamond set hour marker models add a bit of exclusiveness. Finally, for those with a little more cash to spend, the sapphire rainbow set bezel Daytona can provide a greater sense of flair and originality.
6. Platinum Ice Blue Ceramic Bezel Rolex Daytona
Another glamorous option within the collection is an 'Ice Blue' Dial Platinum Rolex Daytona, with these models being constructed from 950 platinum. With the silvery-white colour, the material itself does not look drastically dissimilar to the steel or white gold models, but platinum is dense, heavy, robust and offers exceptional resistance to corrosion.
Furthermore, one aspect that does stand out on these models is the ice blue coloured dial, which is not available on Daytona watches with any other case material. Combining excellently with the platinum, this gives the watch a very 'cold' aesthetic – almost the complete opposite of the warmer appeal of a rose gold model.
All watches within this category have black ceramic bezels. Buyers do, however, have the option of either ordinary index hour markers, or baguette cut diamond hour markers, depending on personal preference.
7. Diamond & Rainbow Bezel Rolex Daytona
Finally, the most expensive Rolex Daytona watches are the various models with either diamond or rainbow sapphire bezels. These are also by far the most colourful and vibrant options within the collection, but they are not seen very often, due to a combination of the price and the style being so different from more simplistic Daytona designs.
For example, the 'Leopard' Daytona features a leopard skin design on the dial and strap, with orange sapphires on the bezel. This provides a very distinctive aesthetic, but it might not appeal to those looking for the kind of classic, masculine style associated with people like Paul Newman.
At present, the most expensive of all of these models are the yellow gold Daytonas with rainbow bezels, and it is not uncommon for such models to exceed prices of $200,000. For this reason, the diamond and rainbow Daytonas are best suited for buyers who are seeking extravagant watches, that really stand out from the conventional options.
The Final Word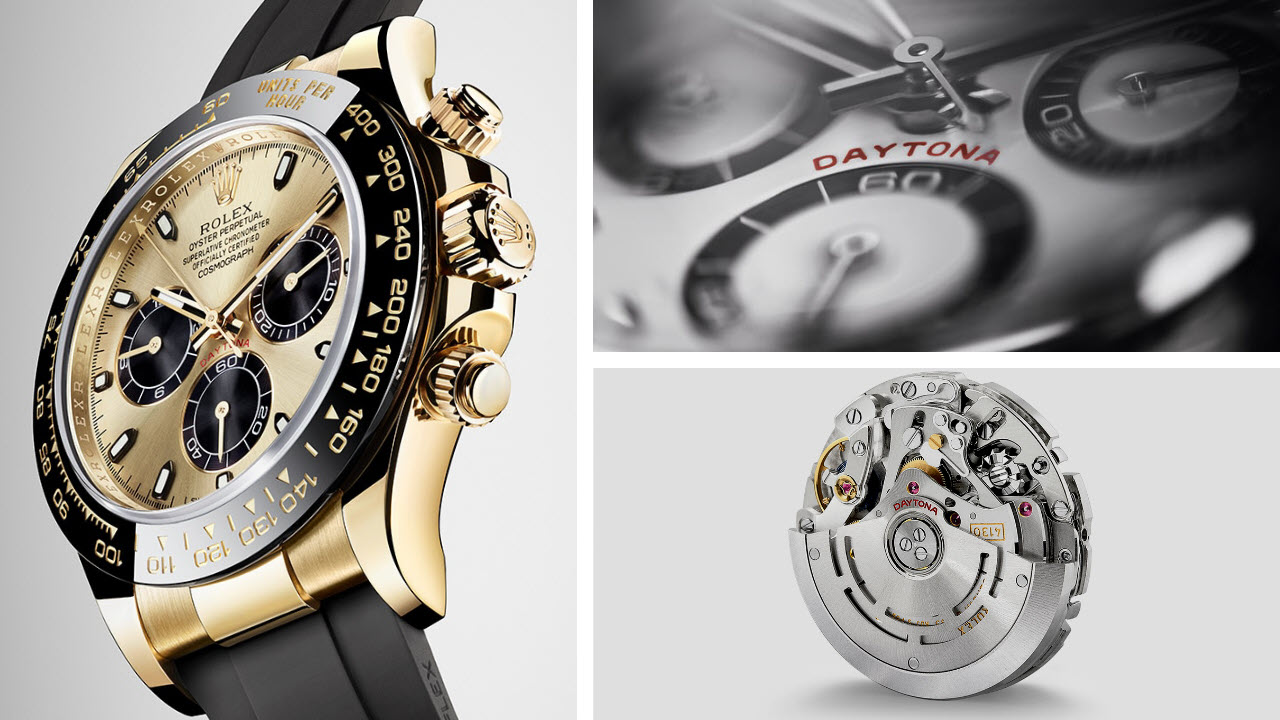 The Daytona is a legendary watch within the Rolex catalogue and strategic production runs have helped to ensure it retains both a sense of exclusivity and great popularity among luxury watch buyers. Since its début in 1963, the collection has been expanded to include a variety of different case materials, straps, bezels and dial designs. The latest innovation are the Daytona models with ceramic bezels and black rubber strap, which give a more modern and sporty appearance.
Regardless of the Daytona you opt for, however, you will find the best price for all Rolex Daytona at Jaztime.com (visit our shop).