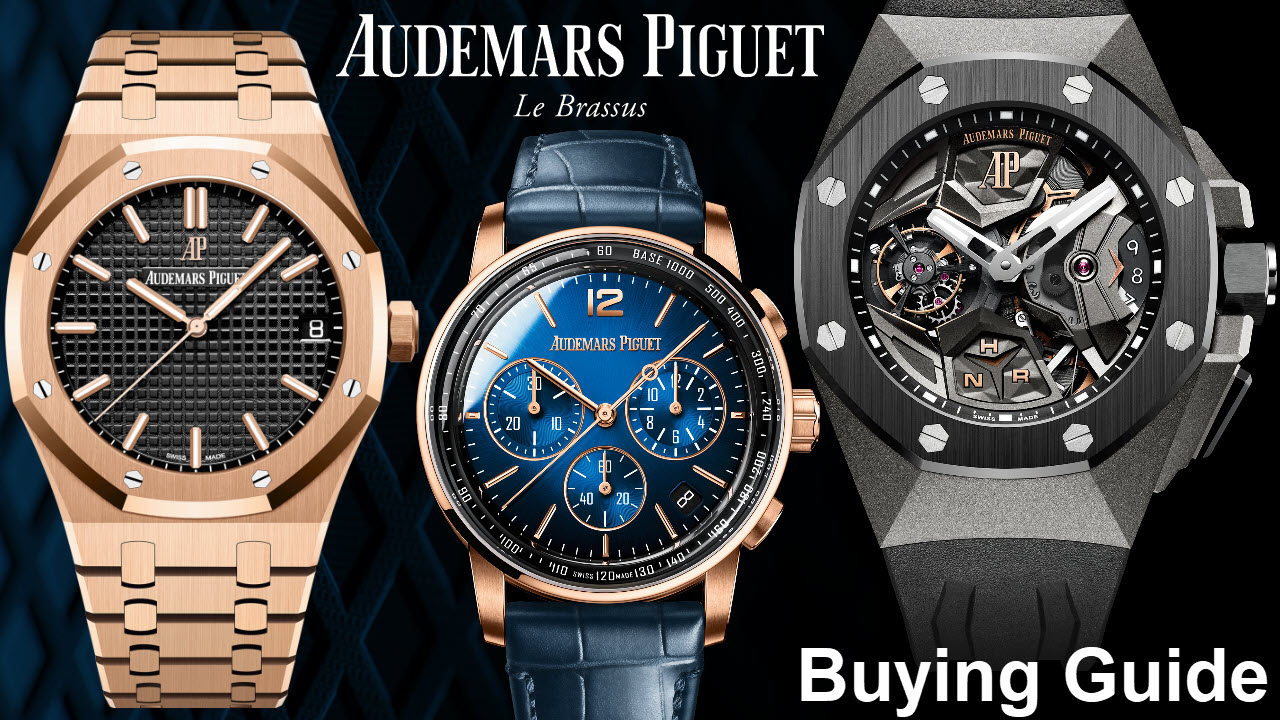 If you are interested in purchasing an Audemars Piguet watch, but would like to find out more about the luxury timepiece brand first, you have come to the right place. Here, we will provide you with an overview of the company itself, while also answering common questions. At the same time, we appreciate that understanding the different models can be confusing, so we will also offer information about some of the most popular models in the AP catalogue.
Why is Audemars Piguet Unique compared to other brands?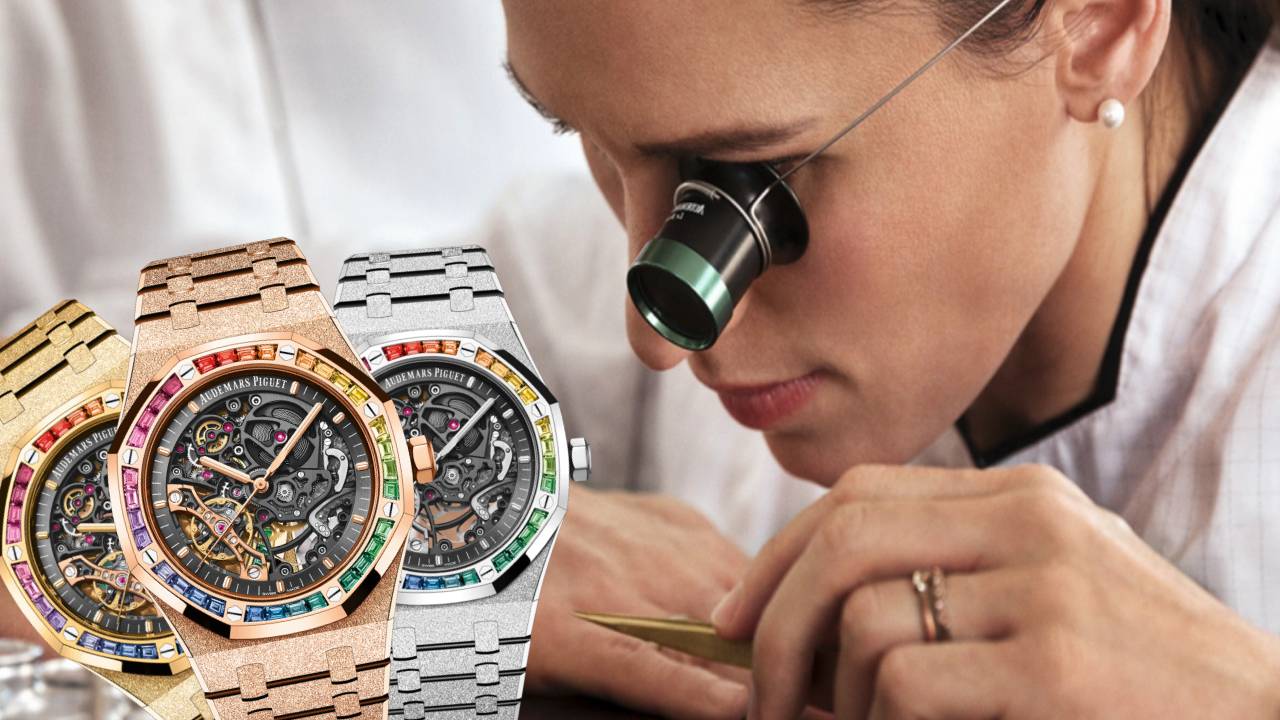 Some people are completely unfamiliar with Audemars Piguet, so it is worth starting off by exploring what is so special about the brand and why AP watches are so highly regarded. Despite lacking the level of fame of a brand like Rolex, Audemars Piguet is still part of the 'Big Three' of Swiss watchmaking, otherwise known as the 'Holy Trinity of Luxury Watch Brands'. The company is known for creating exquisite, innovative mechanical watches of the highest quality.
A Look Into Audemars Piguet History & Popularity
Audemars Piguet was founded in 1875 and is recognized as one of the top luxury watch brands in the world. The company has its headquarters in Le Brassus, Switzerland and is notable for the fact that it started as an independent, family-owned business and remains one to this day. Many of the brand's watches are available in extremely limited numbers, which provides a sense of exclusivity to each timepiece and helps to add to their value too.
The vast majority of AP watches have an octagonal shape, which can help to make them more instantly recognizable, although this is not true for every model, as evidenced by the 'Code 11.59' collection. The brand also enjoys a strong reputation for innovation, creating the first minute repeating movement for wristwatches back in 1892 and developing the first skeleton watch in 1934. Famous wearers include Tom Cruise, LeBron James, Lionel Messi and Kim Kardashian.
How Much can an Entry-level AP watch cost?
As a general rule, we are not keen on naming prices in blog articles, because prices can change significantly in a relatively short space of time. Of course, the price of an AP watch also depends entirely on the model in question and the material it is made from. The most inexpensive Royal Oak in stainless steel has an official retail price of around $22,900, as of 2021, but demand outstrips supply, which means the retail prices are not always accurate.
Many Audemars Piguet timepieces have a waiting list and this is especially true with popular entry-level options, like stainless steel Royal Oak models. While waiting lists for some watch brands may be a year or two, you can read online luxury watch forums and find users who have been waiting anywhere from five years to eight years for an AP watch. You can also buy from grey market online shops, such as Jaztime.com, but you will need to pay a premium.
Does Audemars Piguet Make Better Watches Than Rolex?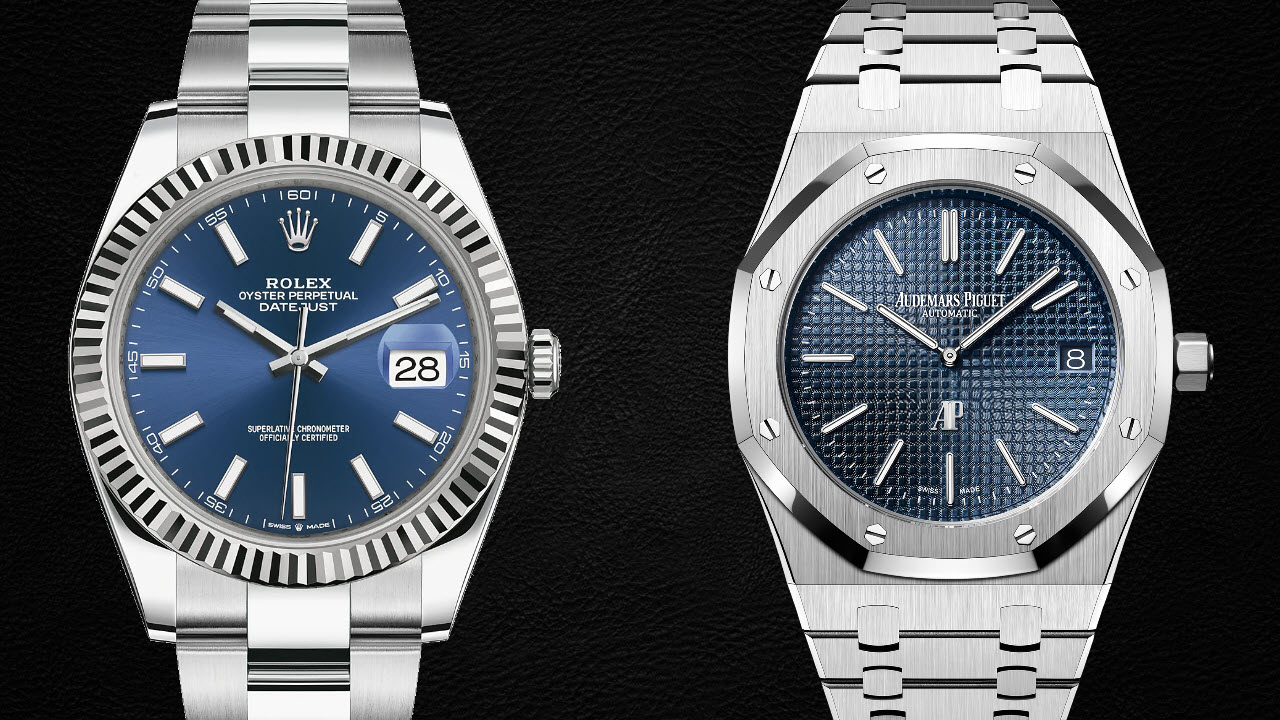 It is best not to get too far into material and mechanical comparisons between the two brands, and personal preference is going to be a major factor when comparing pure design features too. It is fair to say, however, that both Rolex and Audemars Piguet are generally regarded as two of the top three watchmakers in the world and you can rest assured that the quality will be excellent regardless of which of the two brands you opt for.
One thing that does need to be understood is that Audemars Piguet generally begins where the most popular Rolex watches end in terms of pricing. In this sense, it could be argued that Audemars Piguet is a level above Rolex in terms of luxury and watch value. On the other hand, Rolex is a more recognized brand, which means casual observers are much more likely to see a Rolex watch and immediately appreciate it for being a luxury watch.
With that being said, Audemars Piguet has some breathtaking yellow gold and rose gold models, and the brand also offers more in the way of open work or 'skeleton' watches. The priorities of the two brands also differ. For instance, while Audemars Piguet does offer water resistant watches and even a divers' model in the form of the Royal Oak Offshore Diver, none of these models have the level of functionality of a Rolex Submariner, for example.
At the same time, Rolex is much less likely to spend time perfecting the sound of a minute repeater. The best way to think of this is not as one of the two brands being superior, but as two ultra high-quality brands with different priorities. As a result, their designs and features may appeal to slightly different customers.
Audemars Piguet Movements Clockwork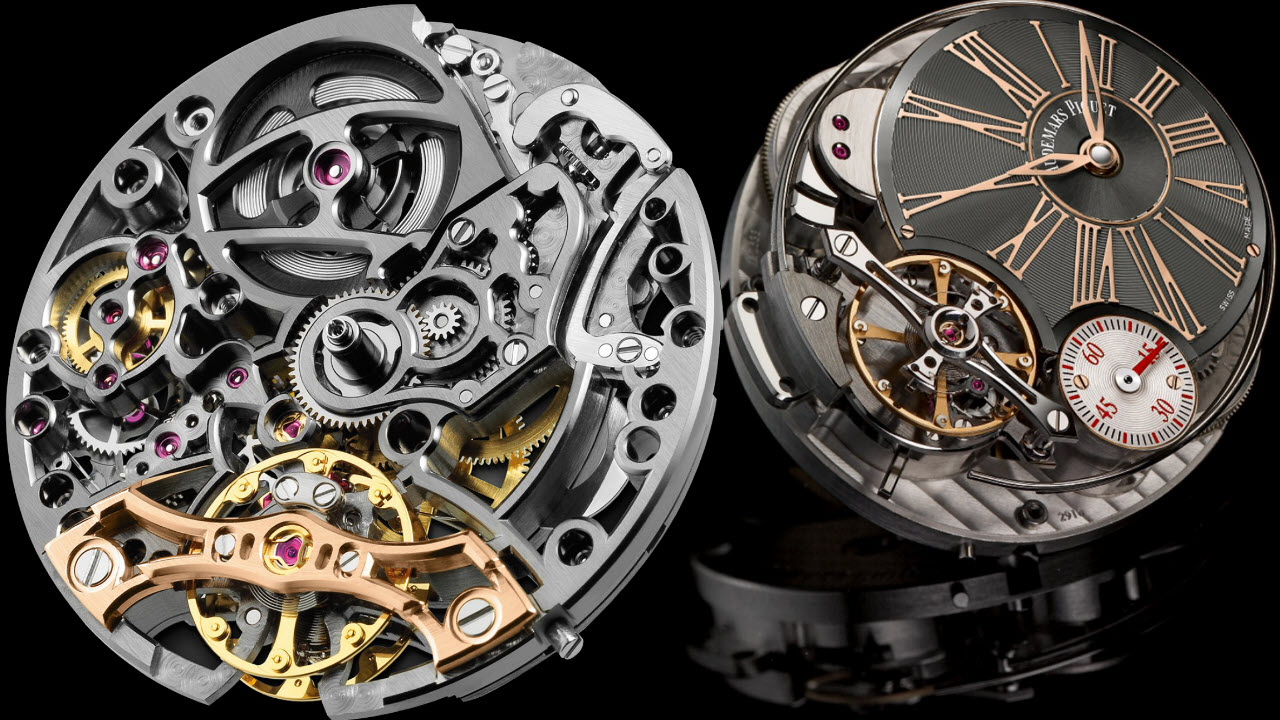 Prior to delving into the various designs, functions and complications, it is worth talking about what actually makes Audemars Piguet timepieces tick. Unlike Rolex, which exclusively produces automatic, self-winding watches, Audemars Piguet offers a much wider variety of options. While the majority of AP watches are self-winding too, there are some manual wind models as well, and there are even AP models that have a battery-powered Quartz movement.
It is worth noting that AP is not a complete outlier here and Patek Philippe is another example of a watch brand that offers a similar range of movements. However, it is one way in which the brand separates itself from Rolex.
The different Audemars Piguet watch variations:
In this section of our Audemars Piguet buying guide, we will take a much closer look at the different collections that exist within the AP catalogue, so you can gain a clearer sense of which model to buy and why.
Most AP models carry the 'Royal Oak' name and the Audemars Piguet Royal Oak was first introduced in 1972, becoming the world's first stainless steel luxury sports watch in the process. Today, AP sells Royal Oak models for men and women in a variety of sizes. The most common models are between 33mm and 41mm, but some are as large as 44mm.
Classic Royal Oak Selfwinding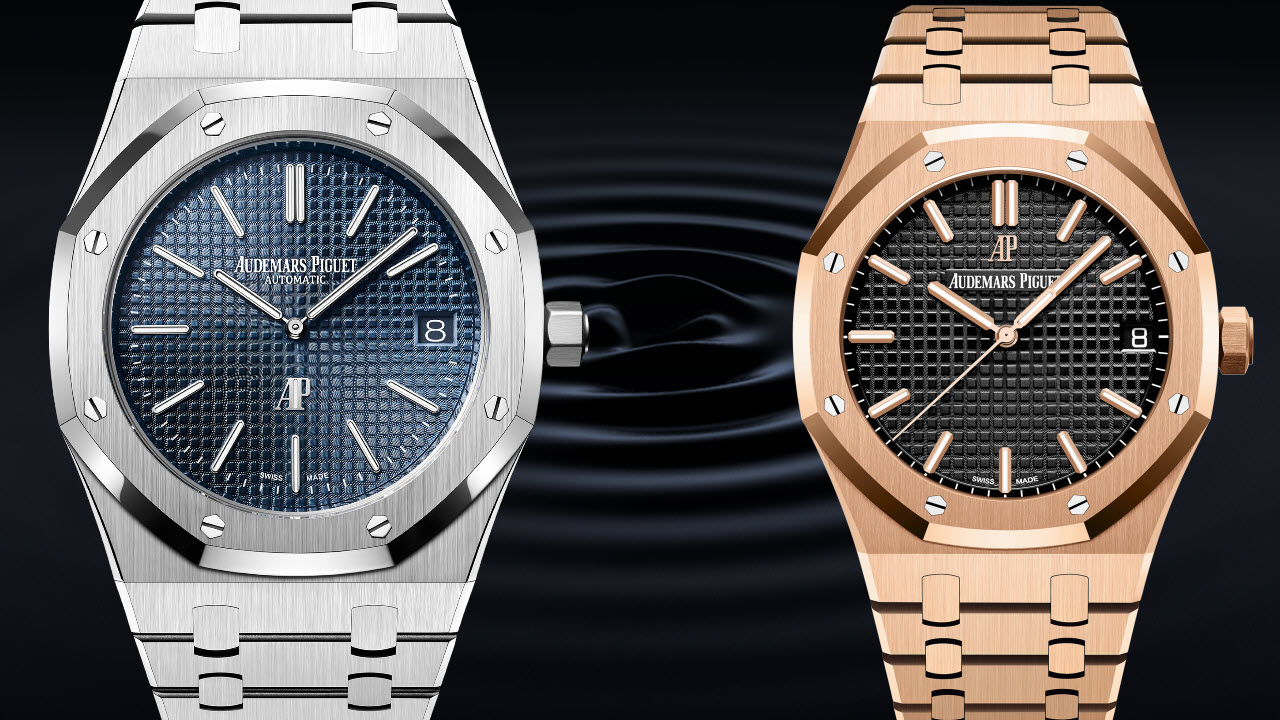 The classic Royal Oak features index dial markers and has a date display at the 3 o'clock position. It features the collection's trademark eight-sided bezel, complete with exposed screws and an octagonal crown located on the right. However, within this collection, there are a number of different options in terms of watch material.
Obviously, there is the stainless steel option, but as we mentioned earlier, this might be difficult to find in your average Audemars Piguet boutique. If you are looking for an alternative to stainless steel, there are options in yellow gold, rose gold, white gold, titanium, platinum and ceramic, while there is also the option of a leather wristband.
Small Seconds Royal Oak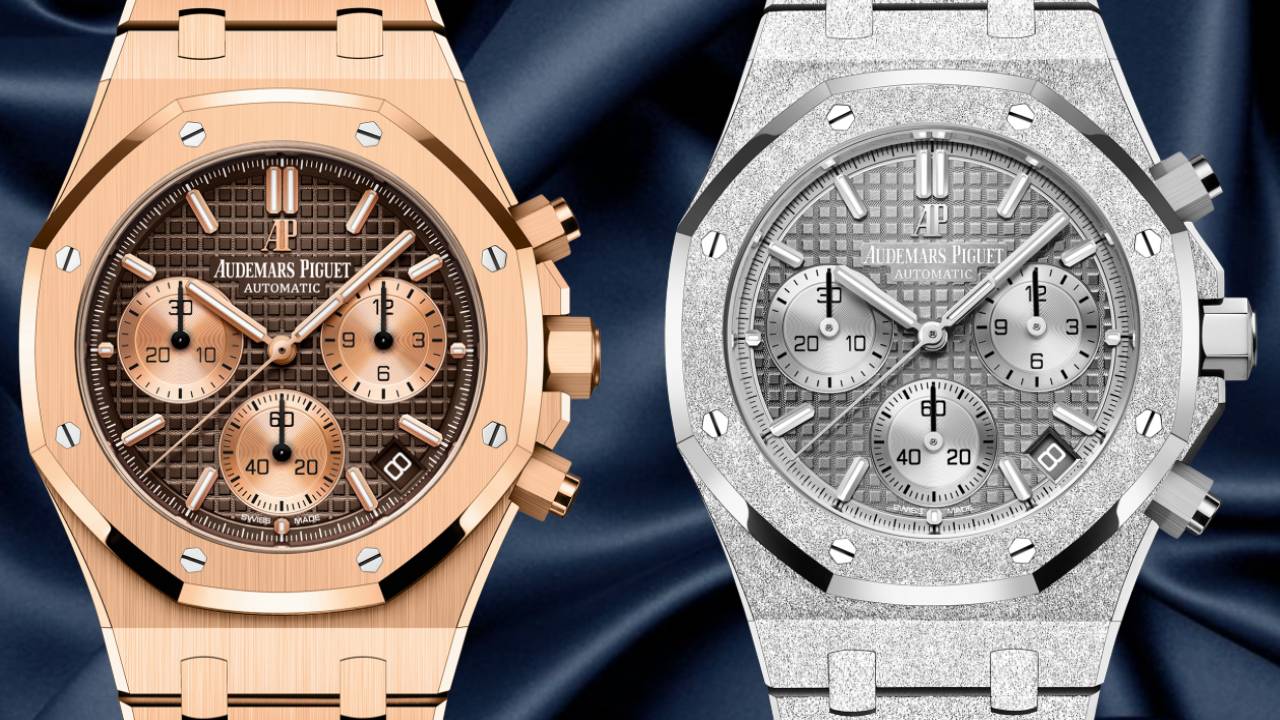 If you believe that every second counts, you might wish to purchase a Royal Oak that features an extra 'small seconds' dial. This will be located at the 6 o'clock position on the watch.
Again, you will have a range of options to choose from in terms of materials. It is also important to note that most small seconds Royal Oak models will also feature a range of additional complications. With this in mind, to find the best Royal Oak model for your needs, it is worth thinking about what other complications you might want.
Royal Oak Chronograph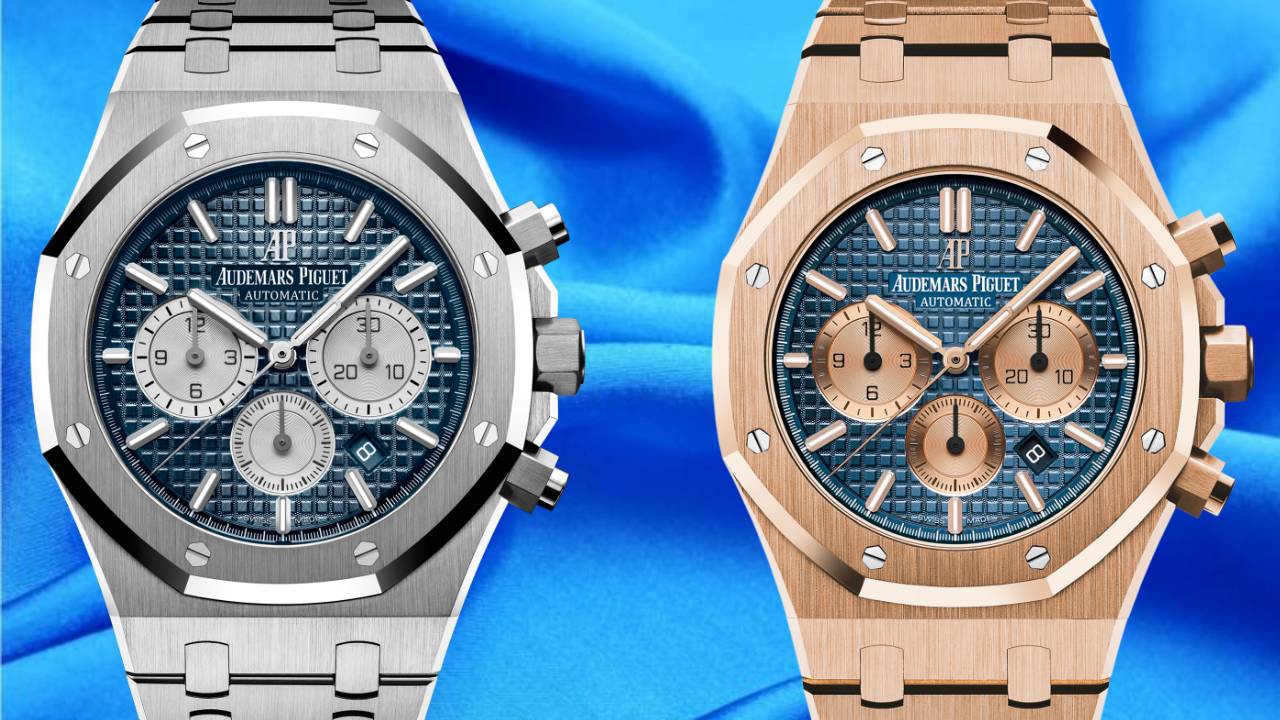 If you are seeking a luxury stop watch, you might opt for an Audemars Piguet Royal Oak Chronograph. It is easy to recognize most chronograph watches, because in addition to the crown on the right side of the timepiece, they will typically have two other buttons, which are usually positioned above and below the crown. A chronograph watch is similar to any stop watch, but enjoys greater elegance. An equivalent Rolex model would be the Rolex Daytona.
Chronograph watches are usually larger than other timepieces, due to the extra buttons. In addition, the dial often looks busier or more crowded, because it will feature three sub-dials. On these models, the date display window can be found between the 4 o'clock and 5 o'clock position, although it is usually not at the exact mid-point between the two, due to the positioning of the sub-dials. Some Royal Oak Offshore Chronographs did fix this, resulting in a neater look.
Royal Oak Jumbo Extra Thin
The Royal Oak Jumbo Extra Thin models were considered large when they were first introduced, hence the name. However, at 39mm in diameter, they can be considered a fairly modest size by modern standards, although large enough to be fully legible and small enough to retain their sense of elegance.
Jumbo Extra Thin models are partly defined by their ultra-thin movement, which allows for the extra thin case. The result is a luxury sports watch, which could easily function as a dress watch, and which is extremely comfortable on the wrist. A model from this collection could be the ideal choice if you are seeking a sophisticated, understated option.
Royal Oak Openwork "Skeleton"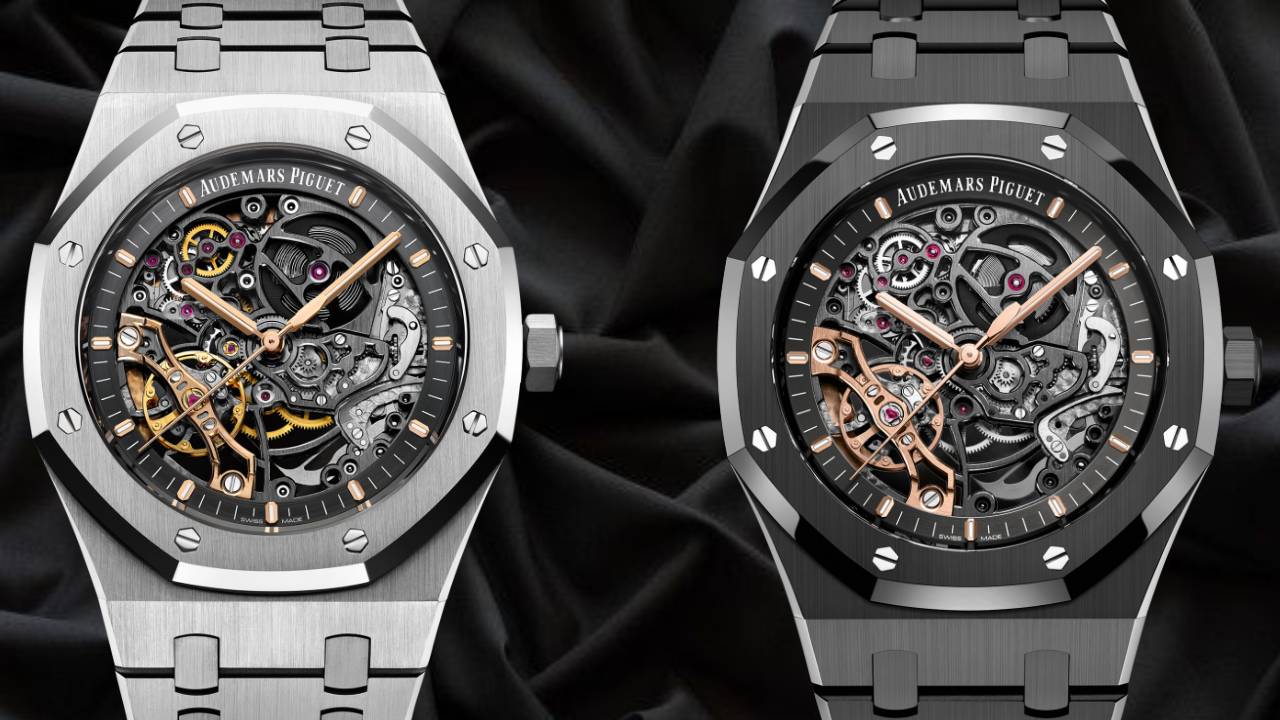 As stated earlier in this guide, Audemars Piguet developed the first luxury skeleton watch in 1934 and open work or skeleton designs have remained a firm fixture in the brand's catalogue of watches ever since. Examples of open work and skeleton watches can be found in the main Royal Oak line, the Royal Oak Offshore line, and in other collections.
The primary appeal of open work or skeleton watches is the ability to see the inner workings. Therefore, if you are interested in the technical side of luxury watchmaking, these represent a great choice of AP watch.
Royal Oak Perpetual Calendar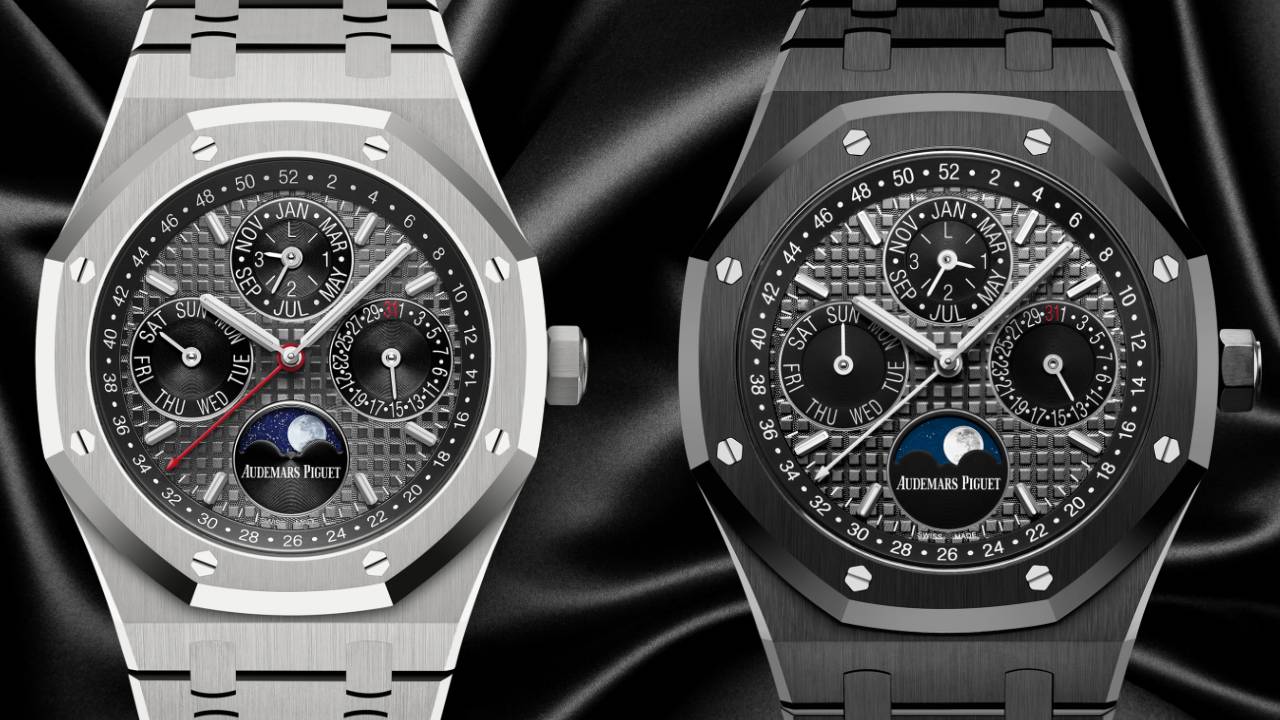 Day and date displays are relatively common on modern luxury timepieces, with one of the more obvious examples being the Rolex Day-Date. However, unlike most of these other models, the Audemars Piguet Perpetual Calendar models display the day, date, month and astronomical moon phase all at the same time.
Additionally, the outer ring of the watch serves as a week display, with 52 dial markers helping to indicate which week of the year you are currently in. The date display also includes a leap year indicator and these models are available in a variety of materials too, including stainless steel, rose gold, yellow gold, and ceramic.
Tourbillon AP Watches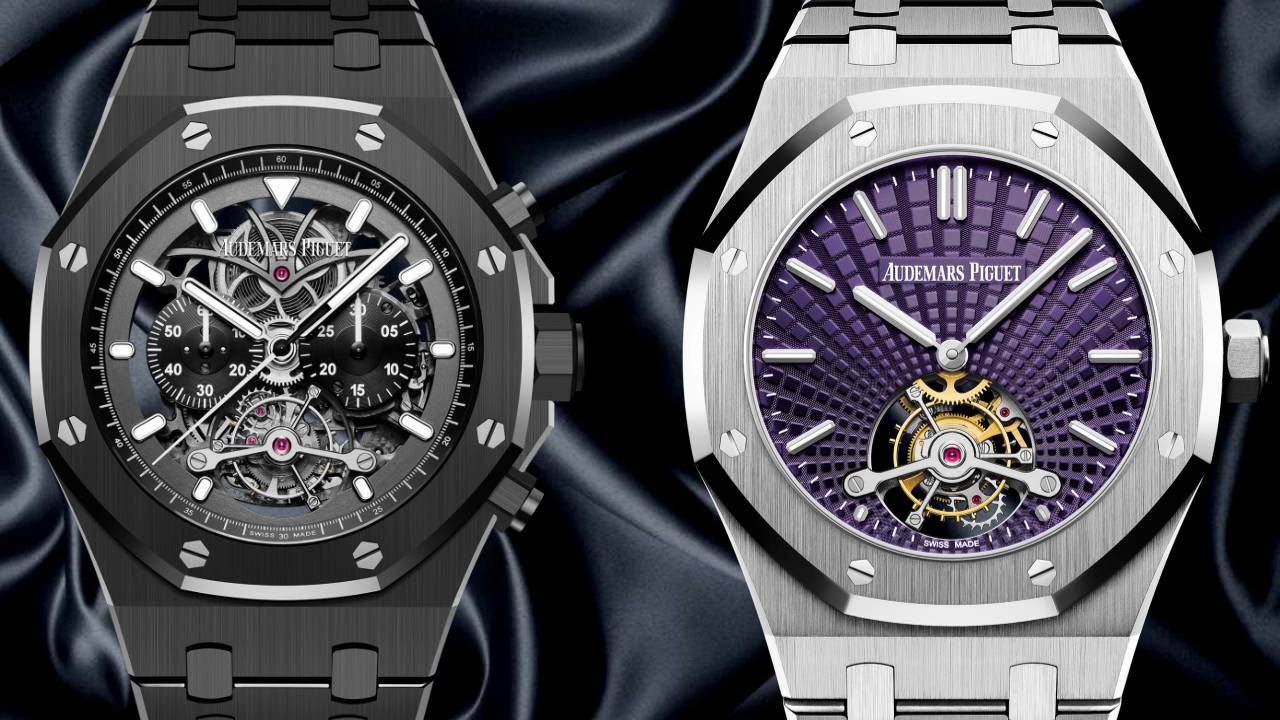 A tourbillon is a mechanical complication, which can be found in the movements of some high-end luxury watches, including various Audemars Piguet Royal Oak and Royal Oak Offshore models. Originally created with the intention of improving the accuracy of pocket watches, the complication uses a rotating cage to mount the escapement and balance wheel. The original idea was that this would reduce the negative impact of gravity on timekeeping accuracy.
While the need for a tourbillon on a modern wristwatch is greatly reduced, the complication still enjoys great popularity among luxury watch aficionados and is sometimes perceived as one of the best examples of the art of watchmaking. For this reason, Audemars Piguet Tourbillon watches are open worked, allowing you to actually see the tourbillon.
Minute Repeater Supersonnerie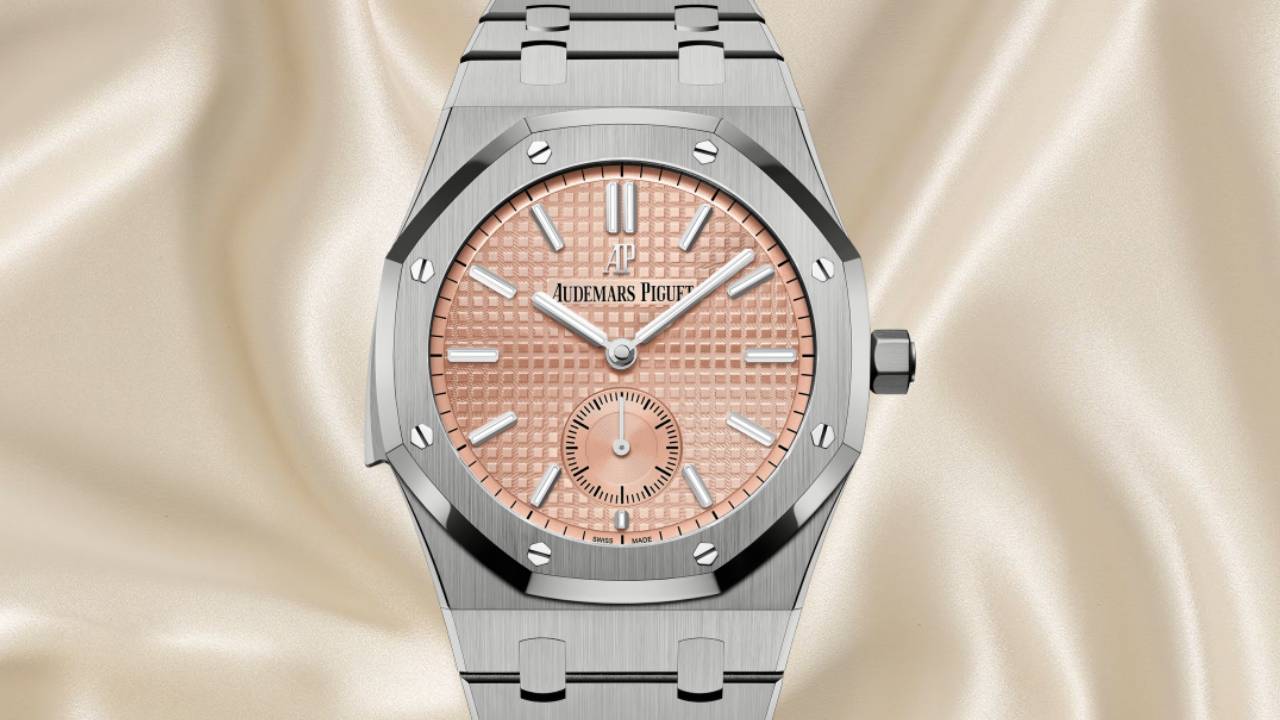 For buyers who like the sound of pendulums, such as those seen in grandfather clocks, the Audemars Piguet Minute Repeater Supersonnerie models could be just what you are looking for.
This unique and ingenious Swiss design makes it possible for the Royal Oak wristwatch to create clear sounds to indicate the time to the wearer. Models in this particular collection are popular with traditionalists and those who have a fondness for watchmaking excellence. However, the price for those models is extremely high.
Grande Complications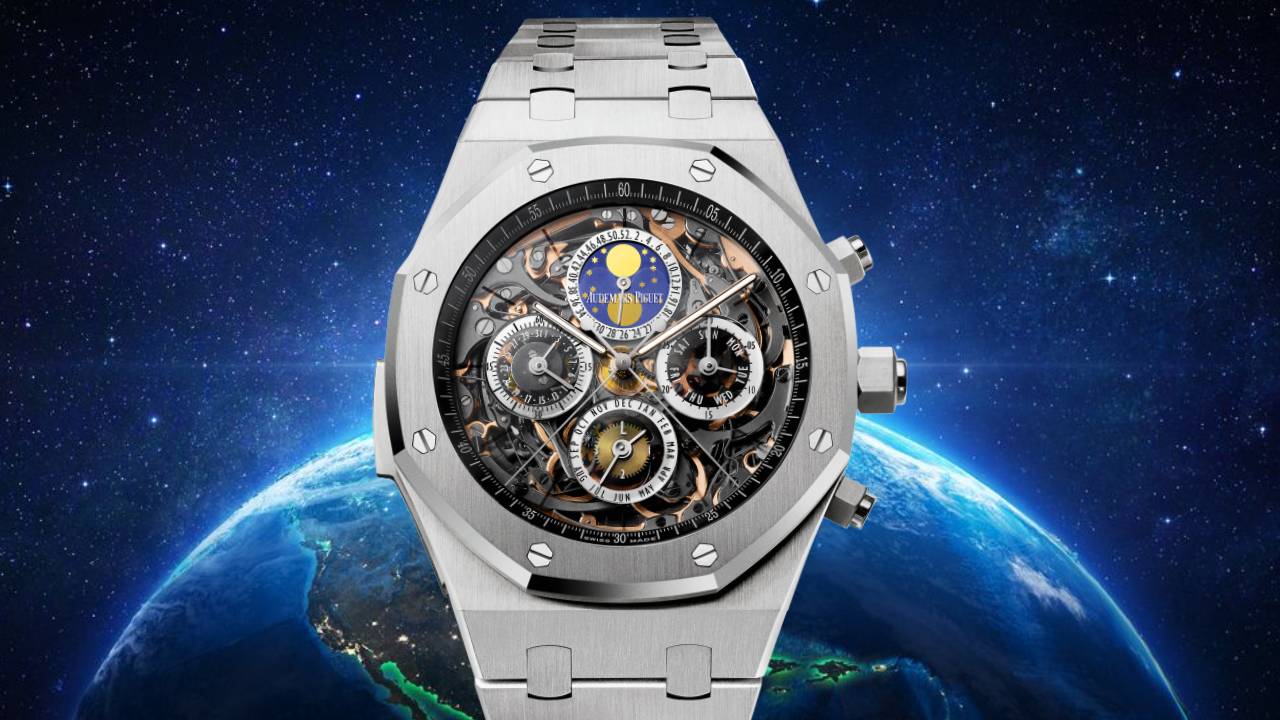 To be considered part of the Audemars Piguet Grande Complications collection, a timepiece must offer two or three special features or functions at once. Most commonly, this will mean the inclusion of a split seconds chronograph, a minute repeater and a perpetual calendar, displaying the day, date, month and moon phase.
The first Grande Complication wristwatch was released by AP in 1996 and it has become a trademark of the brand in the years since. These models are especially popular with buyers who value the skill and technical excellence that goes into creating a luxury timepiece with multiple complications.
Royal Oak Offshore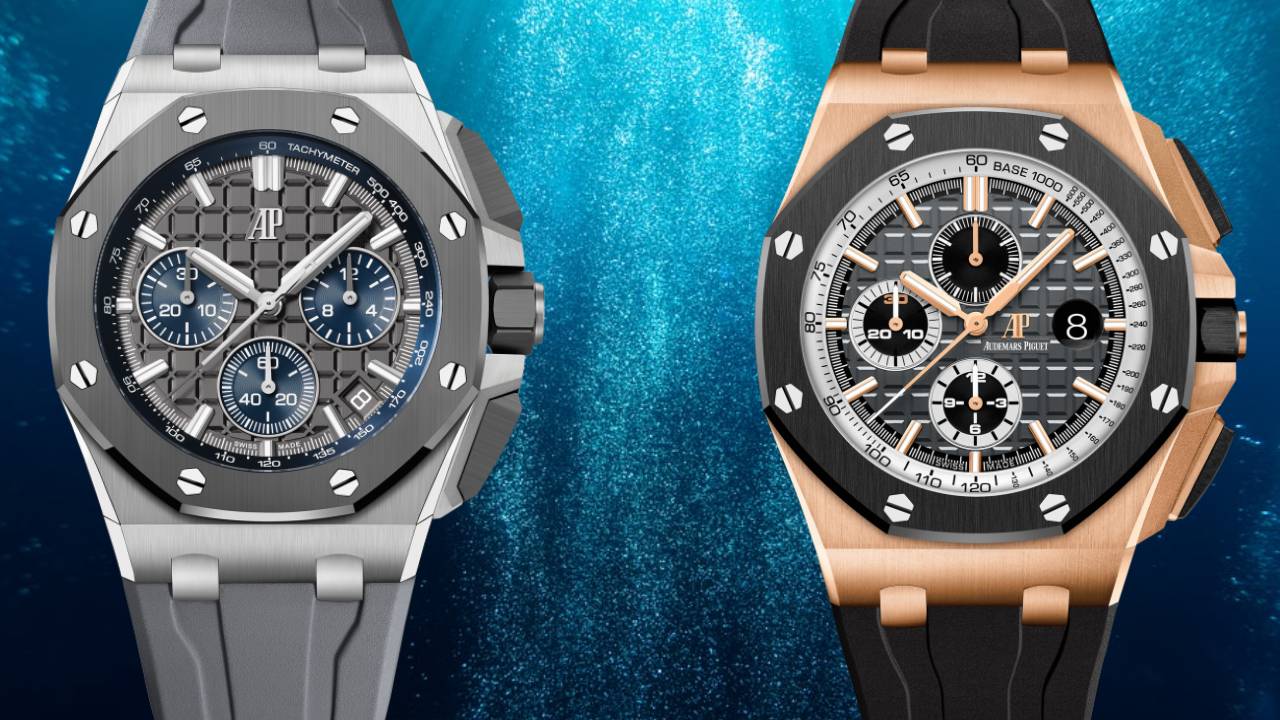 The Royal Oak Offshore collection was unveiled in 1992, as a way of marking the 20th anniversary of the main Royal Oak line. Since then, the watches have become some of the most popular in the entire AP catalogue.
Models in this collection retain some of the key features of the Royal Oak, such as the octagonal shape, but they are also a sportier and bulkier take on the core design. Part of the reason for this additional size is the fact that Royal Oak Offshore models are also chronographs, allowing you to benefit from stopwatch functionality.
Royal Oak Offshore Diver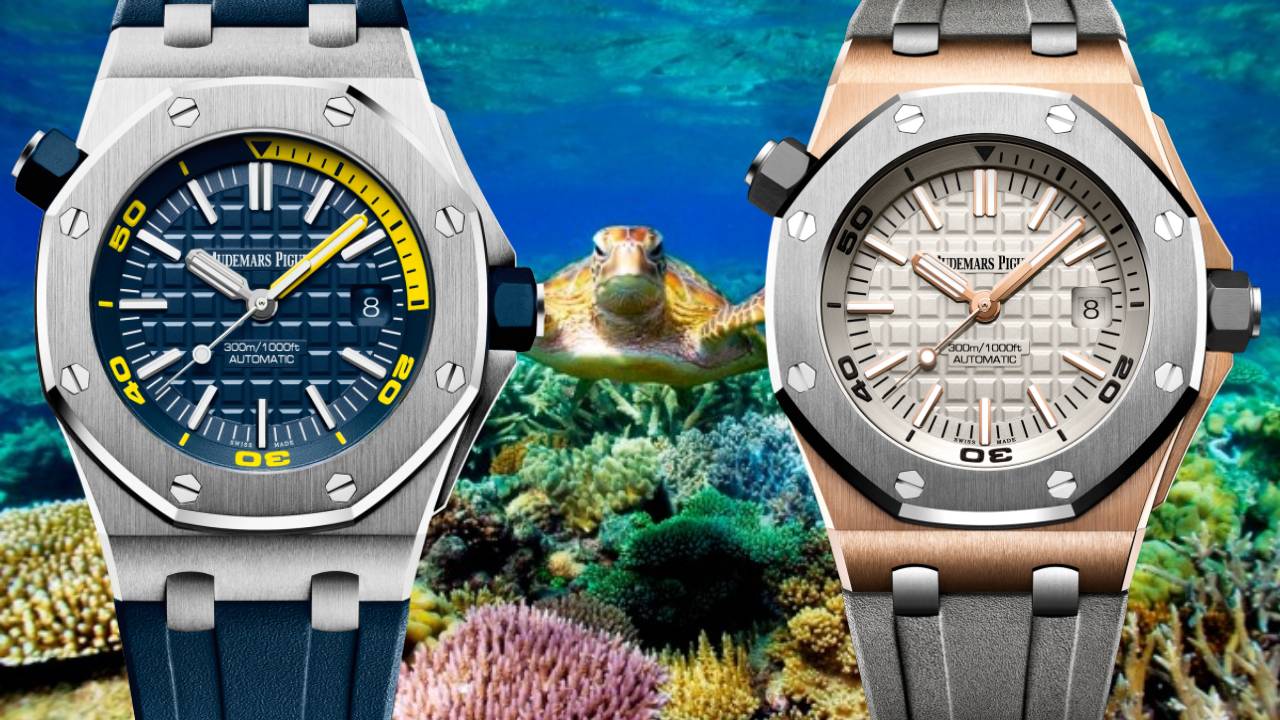 Alongside the Royal Oak Offshore chronograph watches, you can also find the Royal Oak Offshore Diver collection. As the name indicates, these timepieces are designed with the needs of professional divers in mind. For this reason, water resistance at depths of up to 300m is on offer, alongside dive time measurement.
Visually, these watches are actually quite simple to identify, as they do not feature the push buttons associated with the chronograph function. Instead, a gas release valve can be found on the outer edge, at around the 10 o'clock position.
Royal Oak Concept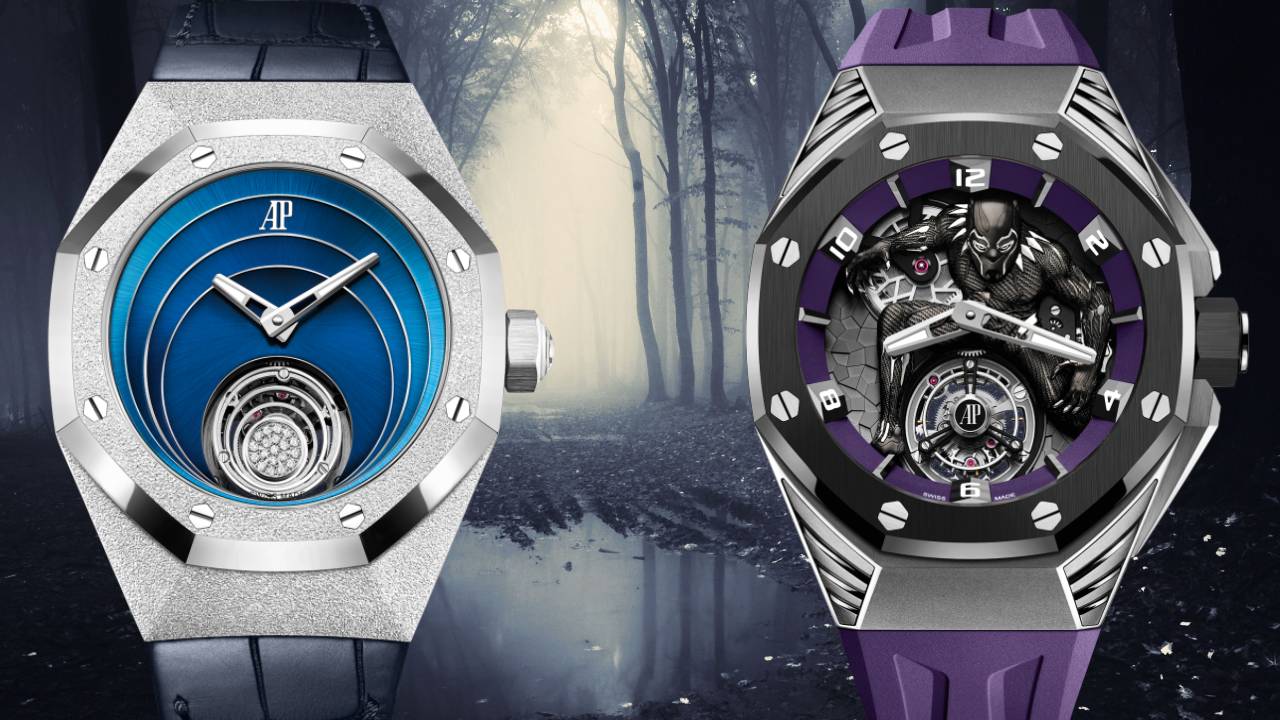 The Royal Oak Concept is an ultra-modern re-imagining of the classic Royal Oak design. It was launched in 2002 and helped Audemars Piguet to bring the Royal Oak aesthetic into the 21st century.
Watches in this collection feature cases that measure up to 44mm in diameter and there is a focus on more unusual materials, such as titanium, ceramic and rubber. Most models are open worked, allowing you to see the high levels of effort and craftsmanship via the inner workings. However, overall numbers are low, so the prices tend to be high.
Audemars Piguet Code 11.59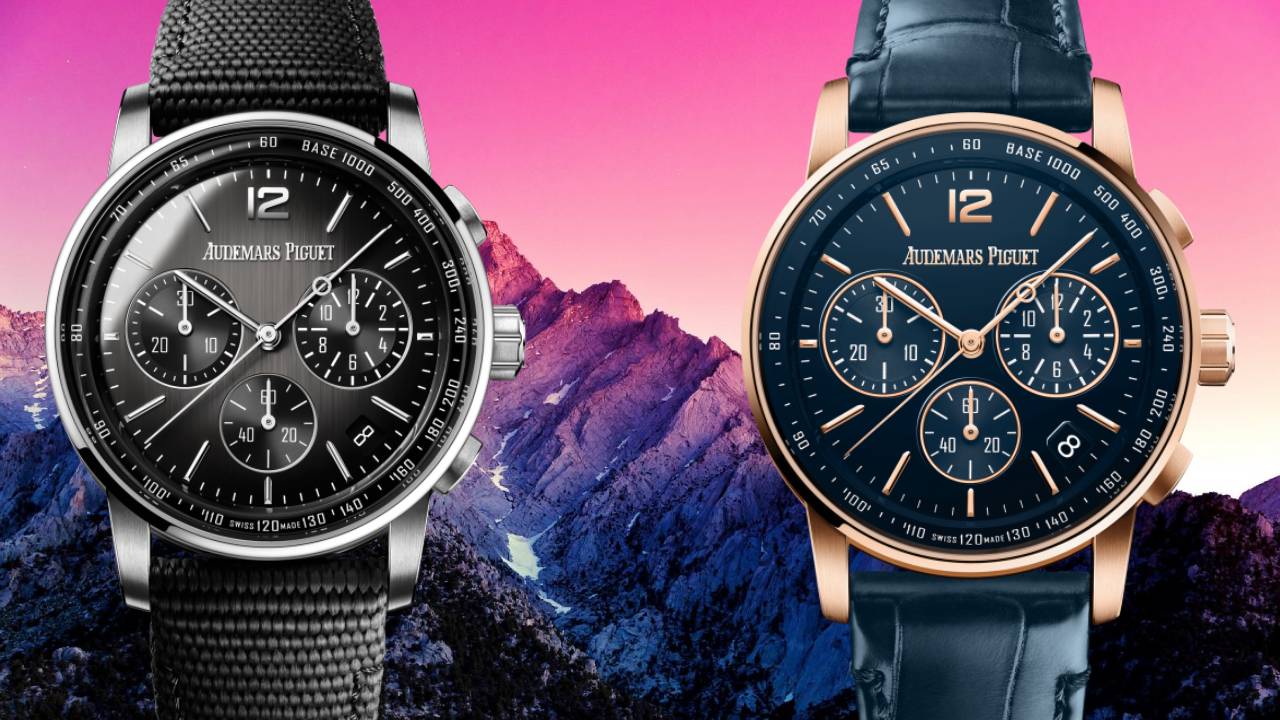 A common mistake that some people make is to assume that every Audemars Piguet watch has the brand's trademark octagonal design. Yet, in reality, AP does also sell a line of classic dress watches, which all have a more conventional appearance – the Audemars Piguet Code 11.59 collection.
In many ways, this particular collection can be compared to the Rolex Cellini line, which is a break from the conventional appearance of Rolex watches. The most basic models in the Code 11.59 range feature date display windows and minimalist features, while other options boast chronograph and tourbillon complications, and open worked designs.
AP Rubber Wristbands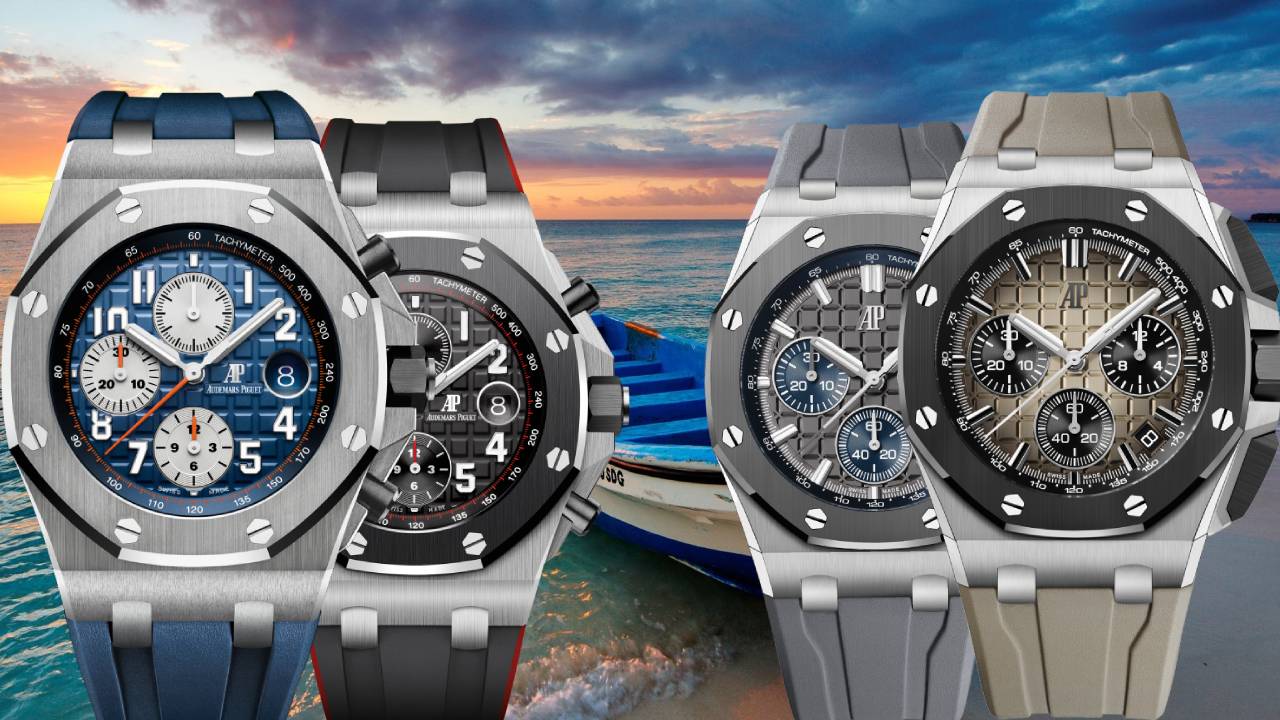 One aspect of purchasing an Audemars Piguet model that may surprise you is the fact that many Royal Oak Offshore models are available with a rubber wristband. Logically, because rubber is not as valuable a material as the other options, this may seem out of place, but the option is there for a number of key reasons.
Firstly, comfort is an important consideration, as some people dislike the feel of metal wristbands. Leather is a possible alternative, of course, but this comes with ethical considerations and leather may also be more likely to display signs of wear and tear. By contrast, rubber is comfortable, resilient and relatively easy to clean. At the same time, it also helps to add to the sportier appearance associated with the Royal Oak Offshore collection.
Where to buy an Audemars Piguet watch near me?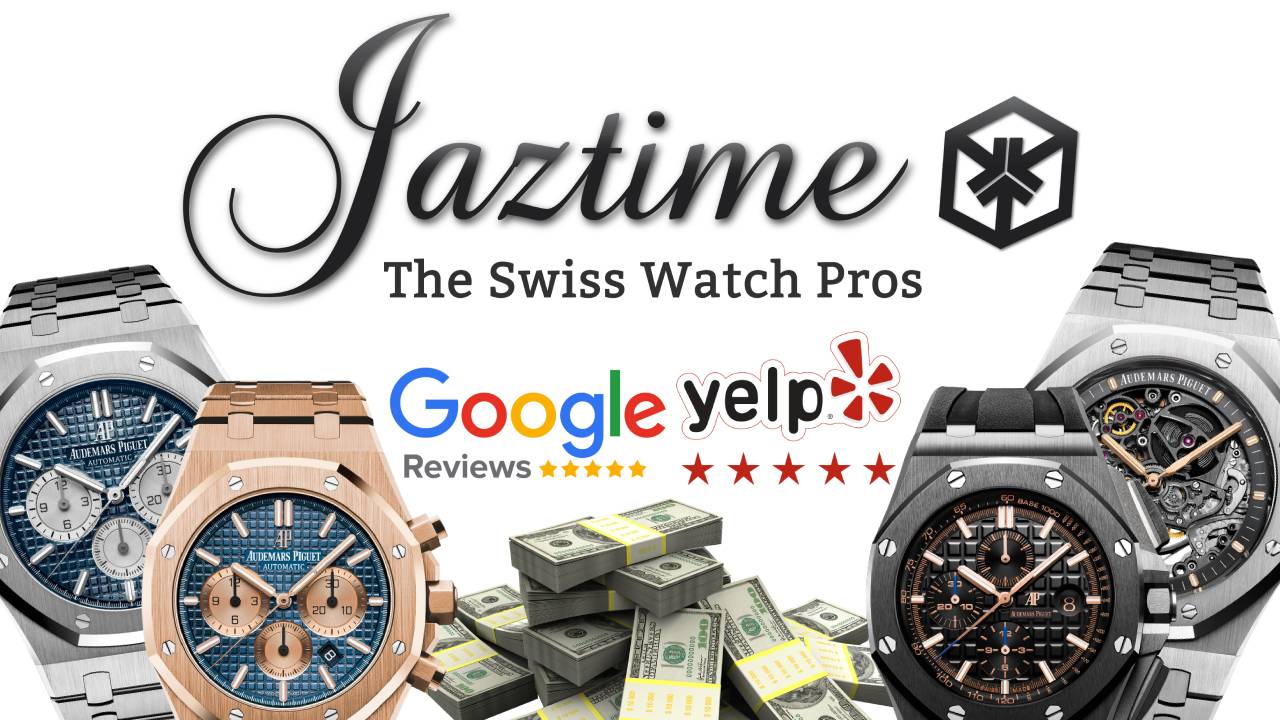 In many ways, Audemars Piguet watches are even more exclusive than Rolex watches, because there are fewer boutiques. Even if you do live near a boutique, you may have to make an appointment in advance, you are likely to have a limited range of options available to you and you may face a significant period on a waiting list too. None of this is particularly helpful if you want to buy an AP timepiece in the near future, but there is a solution.
Here at Jaztime.com, we sell authentic Audemars Piguet watches online. We have a large selection of watches to choose from, including some that would typically have a waiting list. However, our prices are at market value; Meaning the price for the piece you are looking for and have to pay is the average cost of the day and what any customer has to pay for these hard to get pieces. Additionally our delivery is lightning fast, in which we can have a beautiful AP watch to your door step within 1-2 business days upon full payment.
Jaztime.com even offers free quotes for your previous luxury timepieces in the case you're looking to upgrade to an Audemars Piguet watch. If you want to outright sell your Audemars Piguet watch or other previous luxury watch for cash, we can do that hassle free at Jaztime.com with a streamlined easy process. Additionally, you can also use the value of your luxury watch towards another piece jsut as easily. Click the link below to see how simple it is!
But if you're looking to just buy an AP model, that's no worries either. The best prices for AP models can be found in our 'On Sale' section.
➤ Check out our Audemars Piguet 'On Sale' for price list
The Last Word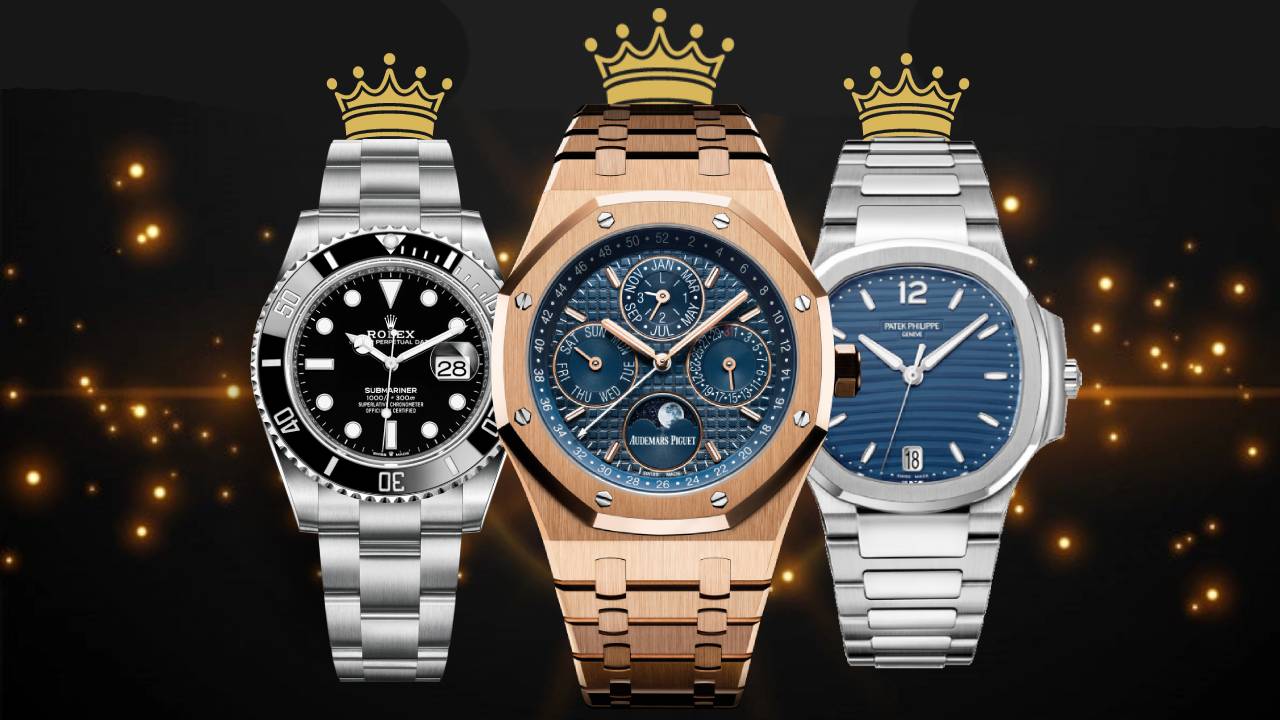 Audemars Piguet is a part of the 'Holy Trinity' of watch brands. No matter which Audemars Piguet watch you buy, you can rest assured it will be of the very highest quality. We hope you now have a good overview of the brand and its most important models, along with explanations for why you might not be able to purchase an entry-level AP watches for the official retail price.