Film star Brad Pitt is one of the most famous celebrities in the world, as well as a style icon. As a result, there is a natural interest in the things that he wears, especially when they are obvious status symbols like his luxury watches. The Hollywood actor is known to have an extensive watch collection and is a keen admirer of Rolex, in particular.
Indeed, over the years, Pitt has been seen wearing Rolex models for photo shoots and in his movies, as well as when out and about in everyday life. In 2000, he even starred in a marketing campaign entitled 'Nothing But Rolex' for a Japanese Rolex dealer. In this article, we take a closer look at some of the models he has worn.
Personal Rolex & Patek Philippe Collection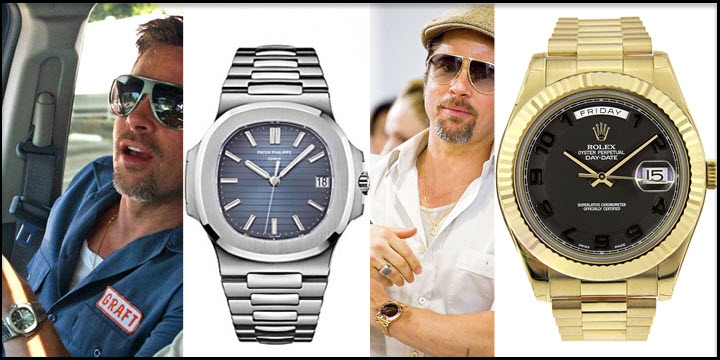 Among the most recognizable watches in Brad Pitt's own personal collection are a gold Rolex Day-Date 'President' and a Rolex Day-Date II. The latter model is a yellow gold watch, with a black dial and black Arabic numerals and this is the timepiece he wore to the premier of his 2009 film 'Inglorious Bastards'.
Pitt is also said to have a fondness for the Rolex GMT Master II, as well as the Rolex Daytona, which he owns in stainless steel, with a white dial. Other Rolex models that are believed to be in his collection, or which he has owned in the past include a Rolex Submariner and a yellow gold Rolex Yacht-Master. Both of these models have been worn by the actor for professional photo shoots for magazines.
Away from the Rolex brand, Brad Pitt's collection of watches includes models from the top names in the industry, including Patek Philippe, Cartier and TAG Heuer. His favorite Patek Philippe model is believed to be a classic stainless steel Nautilus, with a dark blue dial, while he once bought Angelina Jolie a Patek Philippe Ref. 7500.
Rolex Watches Worn in Films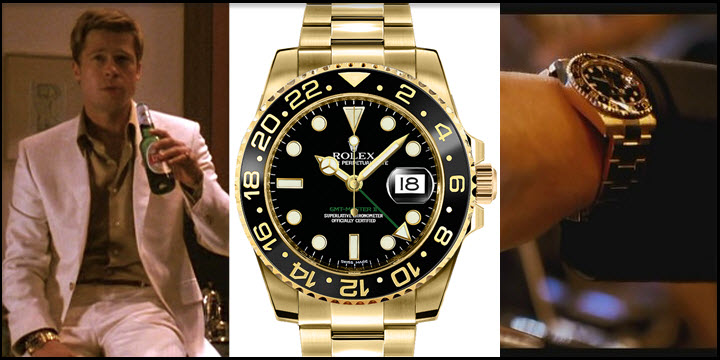 Aside from the watches that he wears for movie premiers, shopping trips and magazine photo shoots, people also have an interest in the timepieces Brad Pitt's characters wear in films. In particular, the models worn by the character of Rusty Ryan in the 'Oceans' films have attracted significant interest.
In the first of these films, 'Oceans Eleven', Pitt's character sported a two-tone 'Rolesor' Rolex Submariner, with a black dial. This model then returned in 'Oceans Twelve', although the character also wore a 36mm Rolex Day-Date with a 'glacier' dial at another point in the same movie.
Most interestingly, Rusty Ryan returned in 'Oceans Thirteen' with two different watches. The first was a yellow gold GMT Master II, while the second watch was a vintage dial attached to his own custom 'Red Monkey' brown leather watch band. Both of these timepieces are believed to be from his own collection.
Again, aside from some of the best-known Rolex models, Pitt is known to have worn a Terra Cielo Mare Orienteering PVD on his wrist for the film 'World War Z', as well as a TAG Heuer Carrera for the movie 'Babel'.