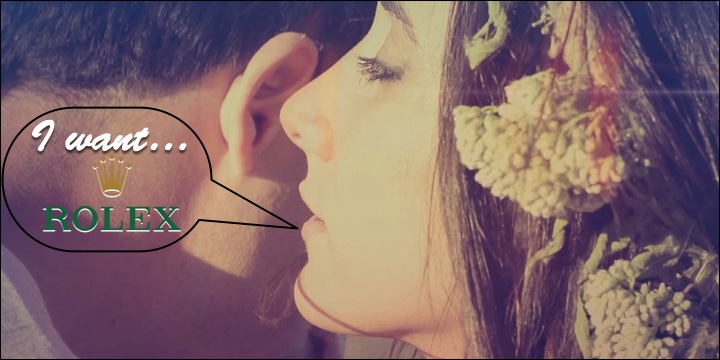 Wearing outfits that match or compliment one another can be the ultimate sign of a harmonious relationship, whether it is wearing the same clothing style, the same color, the same shirt, or the exact same outfit. Regardless of your couple's outfit ideas, matching luxury wristwatches is a great way to take your look to the next level.
However, the majority of Rolex models are created for men, so not all timepieces have a matching ladies' version. Nevertheless, this buying guide will assist you in finding appropriate 'his and hers' matching Rolex watches.
>> His & Hers Rolex Oyster Perpetual
The Oyster Perpetual collection is the oldest and most basic collection offered by Rolex today. Oyster Perpetuals are exclusively available in stainless steel, with a smooth domed bezel, while only a handful of colors are available. Men have the choice between the 36mm or 39mm case size, but women can choose a small 26mm model, a mid-size 31mm model, or a 34mm model. Please note, we have an article for figuring out the right Rolex size for you.
In addition to choosing the same style of Rolex, albeit in different sizes, you can also choose matching colors. White, black and blue dials are available in all sizes, but there is no pink dial in the men's sizes, so you should steer clear of that particular option. Matching Oyster Perpetual watches are the cheapest Rolex couples watch option.
>> Rolex Datejust Watches for Couples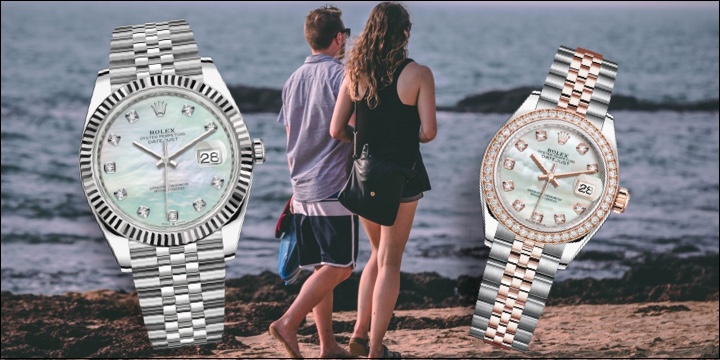 The Rolex Datejust collection is the most popular Rolex dress watch option, and as the name implies, it shows the date in addition to the time. In fact, when it was first introduced, it was the first wristwatch with an automatic date function on the dial. The men's Datejust models come in 41mm and 36mm sizes, while women can choose 28mm, 31mm or 34mm sizes. In fact, with the trend towards larger models, some women even opt for the 36mm models.
As a collection, it includes a wide range of options. For instance, you can choose between stainless steel or gold/steel two-tone models, although there are no full gold Datejust models in the men's sizes. Buyers also have the choice of a smooth, fluted or diamond bezel, along with either an Oyster or Jubilee bracelet.
Not all dial colors are available in all case sizes, so you should take care when making your selection. Nevertheless, couples should have no real issues with finding matching colors that appeal to them.
Note: There are Lady-Datejust watches in full gold, but since they use the 'President' bracelet, they are actually a better stylistic match with the men's Rolex Day-Date collection, rather than the men's Datejust watches.
>> Matching Rolex Yacht-Master Watches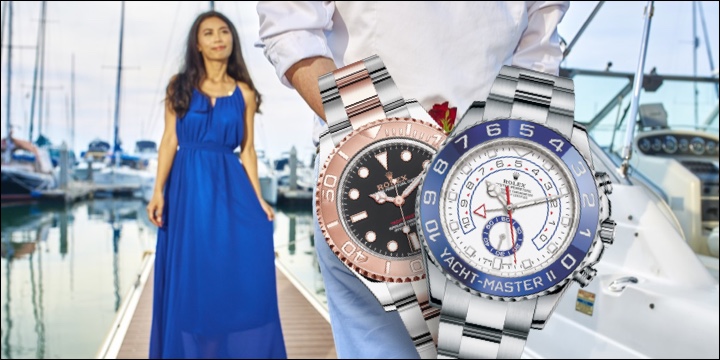 As you might know, the 44mm Yacht-Master is among the largest Rolex models of all, and has a distinctive look that will not match precisely with another watch. Yacht-Master watches also come in 42mm, 40mm and 37mm case sizes, although 37mm is quite big for women. There used to be a 35mm Yacht-Master, but it is no longer in production. With some luck, you may be able to find a pre-owned one. Nevertheless, Yacht-master is the only sports Rolex with distinctive size differences that has matching sets for ladies and gentlemen.
Sadly, the latest 42mm Yacht-Master model in white gold does not match the material and color combinations of the Yacht-Master 37mm. The best matching pair is the Yacht-Master 37 and 40 in rose gold.
>> Explorer I Rolex for Him and Her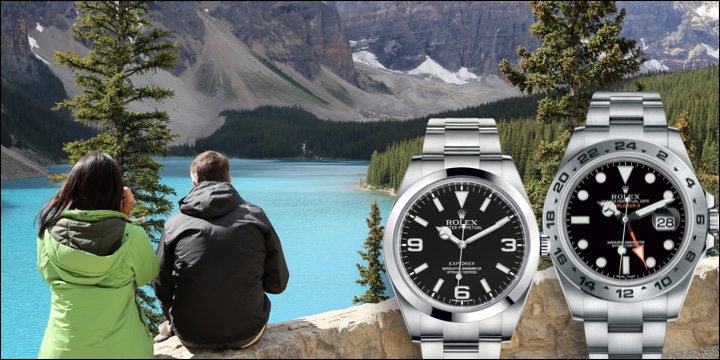 Depending on a couple's matching outfit style and personal preferences, both could simply wear the same Rolex model in the same size. Options here include the 36mm Datejust or 36mm Oyster Perpetual. Along these lines, the 39mm Rolex Explorer I may also be a good choice, albeit as long as the woman is happy with a large model.
The Explorer I is similar to the Oyster Perpetual models, in that it is very basic and does not have a date display window. However, the presence of Arabic numerals at the 3, 6 and 9 o'clock positions give it a distinctive edge along with being luminous, allowing for visibility in the dark.
>> Day-Date President & Lady-Datejust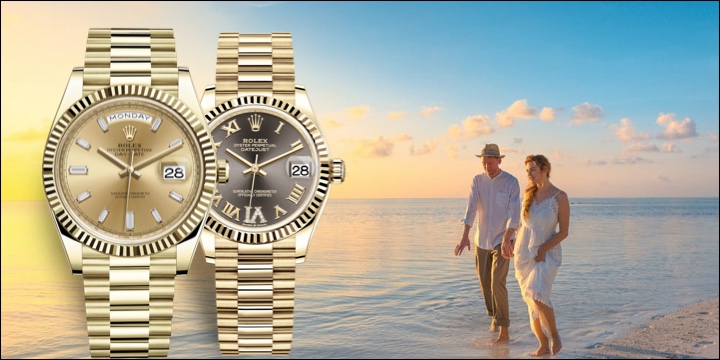 In addition to displaying the time and date, the Rolex Day-Date also displays the day of the week. It is available in 36mm and 40mm options, so if you want a precise size match, the 36mm option is likely to be the better choice. If 36mm feels too big for a ladies' watch, you could also choose a matching full gold Lady-Datejust in 31mm or 28mm.
Full gold Lady-Datejust watches do not show the day of the week on the dial, so they are not an exact aesthetic match. However, they are available with the 'President' bracelet, which is the same bracelet used on the Day-Date. To get the look just right, you can select a matching material, dial color and bezel.
With this particular combination, there are also a variety of matching diamond Rolex options to explore.
>> Matching Yellow Gold Men's & Ladies' Rolex Watches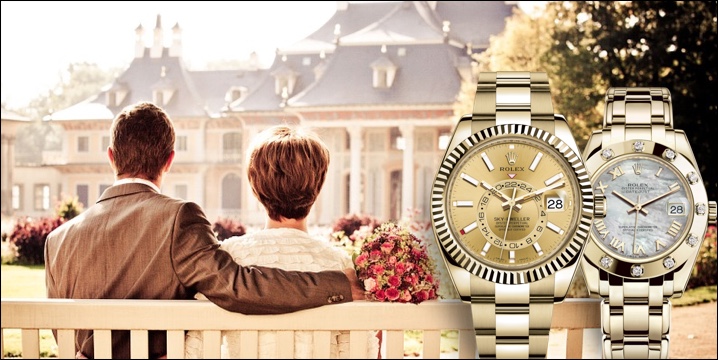 For some couples, the model design does not need to be a 100 percent much and instead they are simply seeking matching materials and dials. As an example, let's say you agree on yellow gold watches, with the popular champagne dial color. For men, options here would range from the 42mm Sky-Dweller, to the 40mm Day-Date,
Women, on the other hand, might opt for a unique Rolex Pearlmaster, or a more classical Rolex Datejust. The ladies' Pearlmaster watches come in 34mm and 39mm sizes, and the special Pearlmaster wristband actually matches the Oyster Perpetual wristband of the Sky-Dweller more than the 'President' bracelet of the Day-Date.
>> Matching Rose Gold Men's & Women's Rolex Watches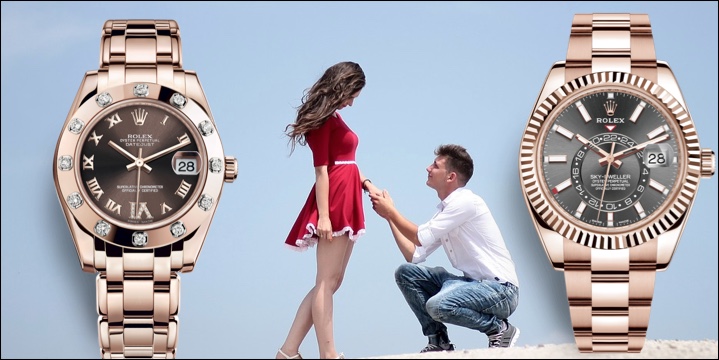 Other couples prefer the slightly more understated, warmer tone of a rose gold Rolex to either a steel or yellow gold timepiece. The good news is, a matching look with these is also possible via the Sky-Dweller and Day-Date collections for men, and the Lady-Datejust and Pearlmaster collections for women.
To offer an example here, you might match a rose gold, rhodium dial Sky-Dweller with a Pearlmaster model that has a black mother of pearl dial. Alternatively, you could pair a rose gold, chocolate dial Day-Date men's watch with either a Pearlmaster or Lady-Datejust watch that also has a chocolate dial.
>> His & Hers Matching Rolex Diver Sports Watches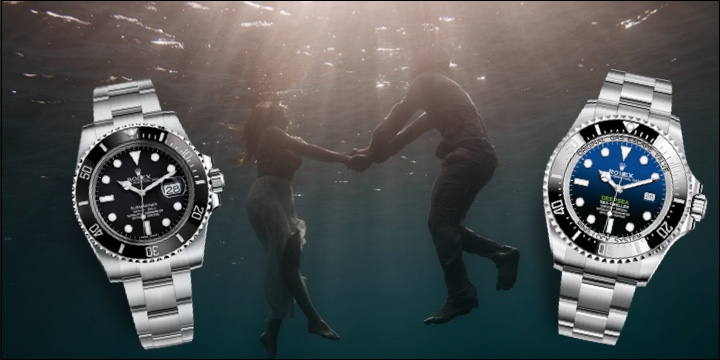 Finally, for those couples who are interested in pairing up with two diver's watches, it is worth noting that the smallest Rolex Submariner model has a 40mm case size. If this is an acceptable women's size, matching men's options would include the 43mm Rolex Sea-Dweller and 44mm Rolex Deepsea.
All three of these diver's watches are available with a black dial and black bezel. Since March 2019, the Sea-Dweller has also been available in a yellow gold/steel two-tone configuration, matching the Submariner Date 'Rolesor' model.
>> The Last Word
Matching Rolex watches for him and her are great for purchasing as a gift set, and as you have hopefully seen, Rolex offers a great variety of models, materials and dial colors that can be effectively paired with one another. This allows couples to create an extremely fashionable matching look, which will turn heads for the right reasons.
You can buy matching Rolex watches for the best possible price at the Jaztime.com online store.