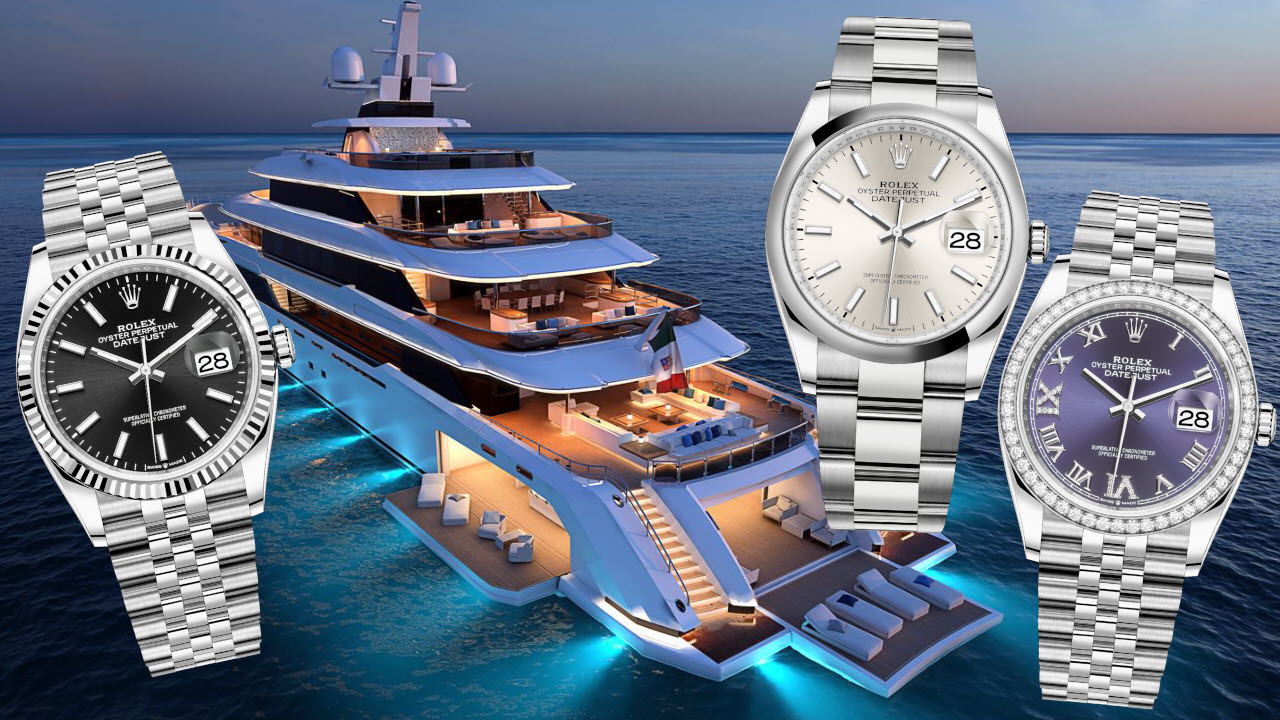 Initially introduced in 1945, the Rolex Datejust 36 was the first model ever released in the manufacturer's iconic Datejust collection and it remains one of the most popular options for buyers looking for a Rolex timepiece.
However, over the years, the Datejust 36 line has been expanded and now includes a wide variety of different options, with multiple different case materials and color schemes. In this guide, we take an in-depth look at the various options that are available, so that you can make a more informed purchase and buy the best watch for you.
What Makes the Rolex Datejust 36 Unique?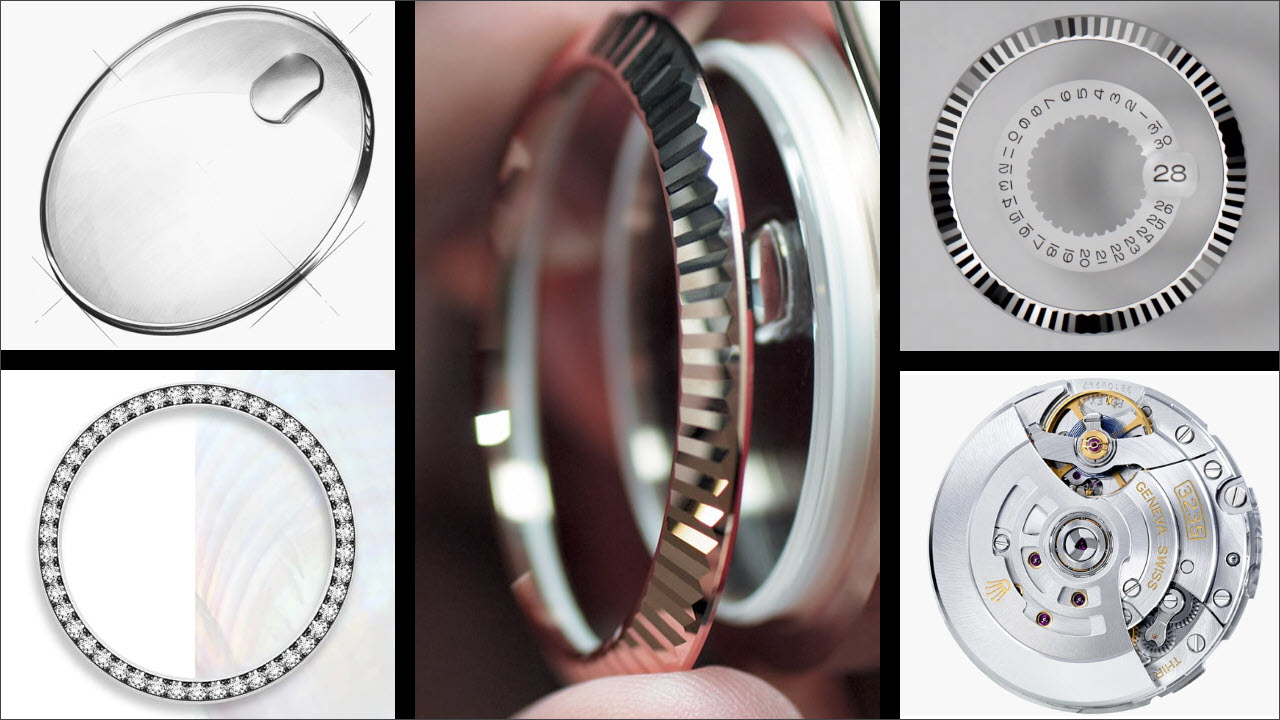 The Rolex Datejust is regarded as one of the brand's flagship models. When it was first introduced, it was the world's first wristwatch with a date display that automatically changed. Later, in 1954, the Datejust concept was improved with the addition of a 'Cyclops' magnifying lens, improving the legibility of the date display.
Initially, the Datejust 36 was the standard size for the collection, so it remains a popular option among traditionalists. In more recent times, the Datejust 36 has also enjoyed popularity among women, thanks to the more modern trend of larger ladies' watch sizes. Moreover, the watch enjoys a unique place in pop culture, having been worn by iconic figures like Paul Newman, Winston Churchill, Dwight D. Eisenhower and Michael Jordan.
1. Rolex Datejust 36 – Stainless Steel Smooth Bezel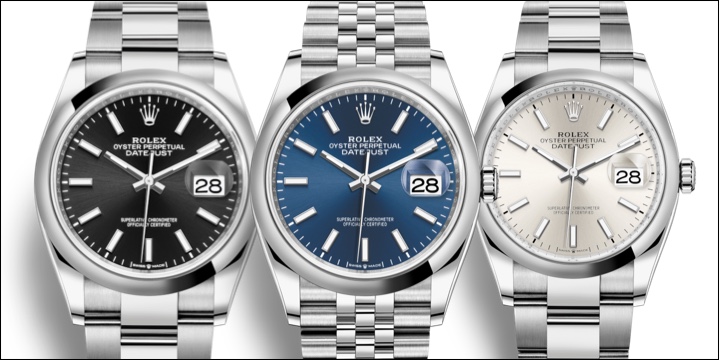 As with most other Rolex collections, the full stainless steel Datejust 36 models represent an excellent entry-level option for buyers, offering classic appeal and affordability, with prices starting from around the $6,000 mark. It is worth mentioning that the stainless steel Datejust 36 models all have smooth bezels, with no alternative options.
These models are ideal dress watches, as they can be worn for any occasion, and they will hold particular appeal for those who prefer a sophisticated sense of style. A variety of different dial colors are available, including black, white, silver and blue, while buyers also have the option of dials with either Roman or Arabic numerals.
Perhaps the main difference to be aware of is the choice of either an Oyster or Jubilee bracelet. Generally speaking, the Oyster is seen as a more classic, understated option, while the Jubilee bracelet is more elaborate. The latter option was specifically designed for the Datejust collection and was introduced in 1945.
In-keeping with what you might expect, models with a Jubilee bracelet are typically more expensive.
2. Rolex Datejust 36 – White Gold/Steel Fluted Bezel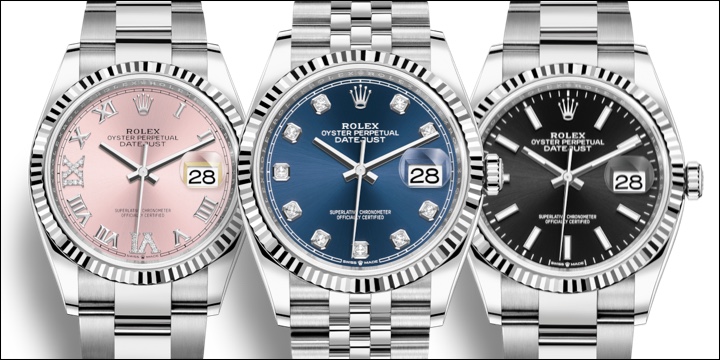 If you like the overall aesthetic of a full stainless steel Rolex Datejust 36, but prefer the appearance of a fluted bezel, the white gold/stainless steel two-tone Datejust models may represent a solid option. While these are generally more expensive than full steel models, they do benefit from the presence of a more precious material.
One thing to be aware of here is that Rolex does not currently produce any full white gold Datejust 36 models. Furthermore, unlike with other two-tone combinations, the white gold and steel two-tone models only feature white gold on the bezel, meaning there is no white gold on the bracelet, or anywhere else on the watch.
Essentially, this means that the models are almost entirely constructed from stainless steel, and visually resemble full steel models. Again, buyers also have a straight choice between the Jubilee or Oyster bracelet.
Dial colors include black, silver, bronze, blue, pink and white mother of pearl, while there are also models with diamond dial markers. The cheapest options tend to be those with silver dials an standard dial markers, while the most expensive models are those with mother of pearl or pink dials, along with diamond dial markers.
3. Rolex Datejust 36 – Yellow Gold Two-Tone 'Rolesor'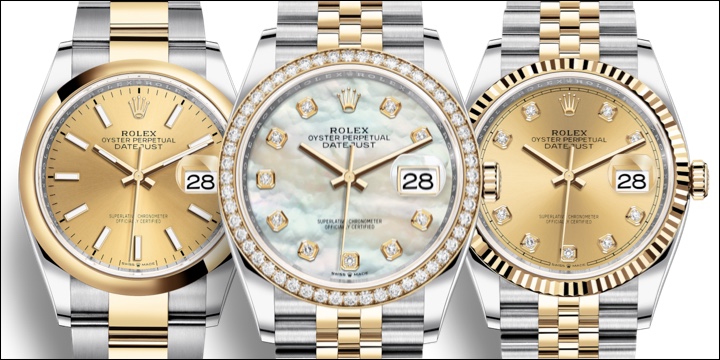 The two-tone yellow gold and stainless steel Datejust 36 models are more overtly luxurious in appearance, with a clearly visible contrast between the two materials. Unlike with the two-tone white gold models, these yellow gold 'Rolesor' options also feature gold on the bracelet, as well as the bezel.
In addition to buyers having the choice of either a Jubilee or Oyster bracelet, this category also provides a direct choice between smooth, fluted or diamond bejeweled bezels. As a general rule, smooth bezel models are the most affordable, fluted bezels are slightly more expensive, and diamond decorated bezels are the most expensive.
Dial color options within this category include black, white, silver, champagne, green and white mother of pearl. The white mother of pearl dial models tend to be more pricey, while the black, white, silver and champagne dials are the most popular options. The champagne option enjoys popularity, in part, because it compliments the gold so well.
These two-tone yellow gold and stainless steel Datejust 36 models offer enormous variety. For example, a model with a white mother of pearl dial, diamond dial markers and a diamond bezel is one of the most extravagant Datejust options of all, while a smooth bezel and a white dial with baton dial markers offers a more subtle elegance.
4. Rolex Datejust 36 – Everose Gold Two-Tone 'Rolesor'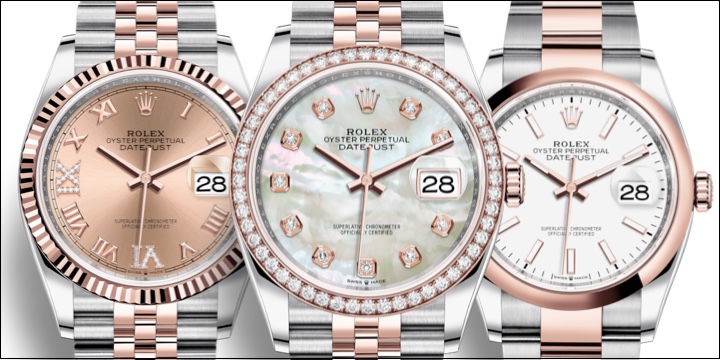 Finally, the range of two-tone rose gold and stainless steel Datejust 36 timepieces follow many of the same rules as the yellow gold two-tone alternatives. However, the use of rose gold serves to provide a slightly more subtle sense of luxury, retaining the visible contrast, but with a less immediately eye-catching quality.
There is a choice between the more elaborate Jubilee bracelet, or the more iconic, functional Oyster bracelet. Standard dial markers, Roman numerals and diamond dial markers are all options, while the various dial colors to choose from include black, white, chocolate, rose and white mother of pearl.
Again, buyers can choose between a fluted or smooth bezel, while diamond bejeweled bezels are also available. The latter is an ideal choice for those who like the rose gold aesthetic, but want an undeniable sense of luxury.
The most expensive models in this category are those with a diamond bezel, white mother of pearl dial and diamond dial markers. By contrast, the most affordable options are those with a smooth or a fluted bezel and either a white or black dial, with standard or Roman numeral dial markers.
The Final Word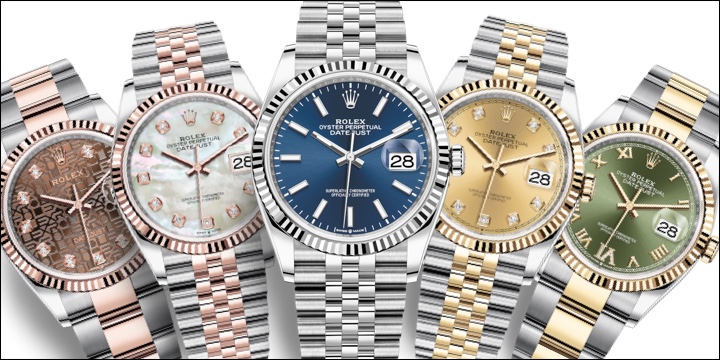 With its ground-breaking automatic date display window and iconic 'Cyclops' magnifying lens, the Rolex Datejust is one of the most popular Rolex models of all, and the Datejust 36 is one of the most appealing sizes. Since its initial release in 1945, the collection has been expanded significantly with even an update in to the models in 2019.
The Rolex Datejust 36 is currently available in a choice of full stainless steel, steel and white gold two-tone, steel and yellow gold two-tone, or steel and rose gold two-tone(rolesor). Within these categories, you also have decisions to make on dial markers, dial colors, bracelet types and bezel types, depending on your personal preferences.
» Price list of Rolex Datejust 36 Watches