Nautilus Moonphases - Patek Philippe Nautilus Watches
Launched in 1976, the Patek Philippe Nautilus is an elegant, luxurious sports watch, which offers water resistance, and design features inspired by the portholes on a boat. As the iconic collection has grown, new complications have been added and one of the most intriguing is the moonphase indicator, displaying the different lunar stages. Patek Philippe's moonphase indicators make use of a 'bosom' style display. When the waning moon disappears from view on one side of the display, the waxing moon begins to appear on the other side. This complication is popular within the luxury watch market, because it requires careful engineering and helps to enhance the appearance of the dial. Moonphase Nautilus models may also include other complications, such as date or annual calendar display. Watches within this category are available with black, blue or grey dial colors, while there is also a choice of stainless steel, rose gold or white gold for the case material, depending on your personal preference and available budget.
Patek Philippe Nautilus Top Sellers:
Patek Philippe Nautilus Watches by Model Numbers:
Patek Philippe Nautilus Watches by Dial Color:
Patek Philippe Nautilus Watches by Case Size:
Patek Philippe Nautilus by Complication:
Patek Philippe Nautilus Watches by Material:
Patek Philippe Nautilus Watches by Bracelet/Strap:
Patek Philippe Watches by Material & Size:
Patek Philippe Nautilus Ladies Watches:
Comprehensive buying guide for the
Nautilus Moonphases - Patek Philippe Nautilus watches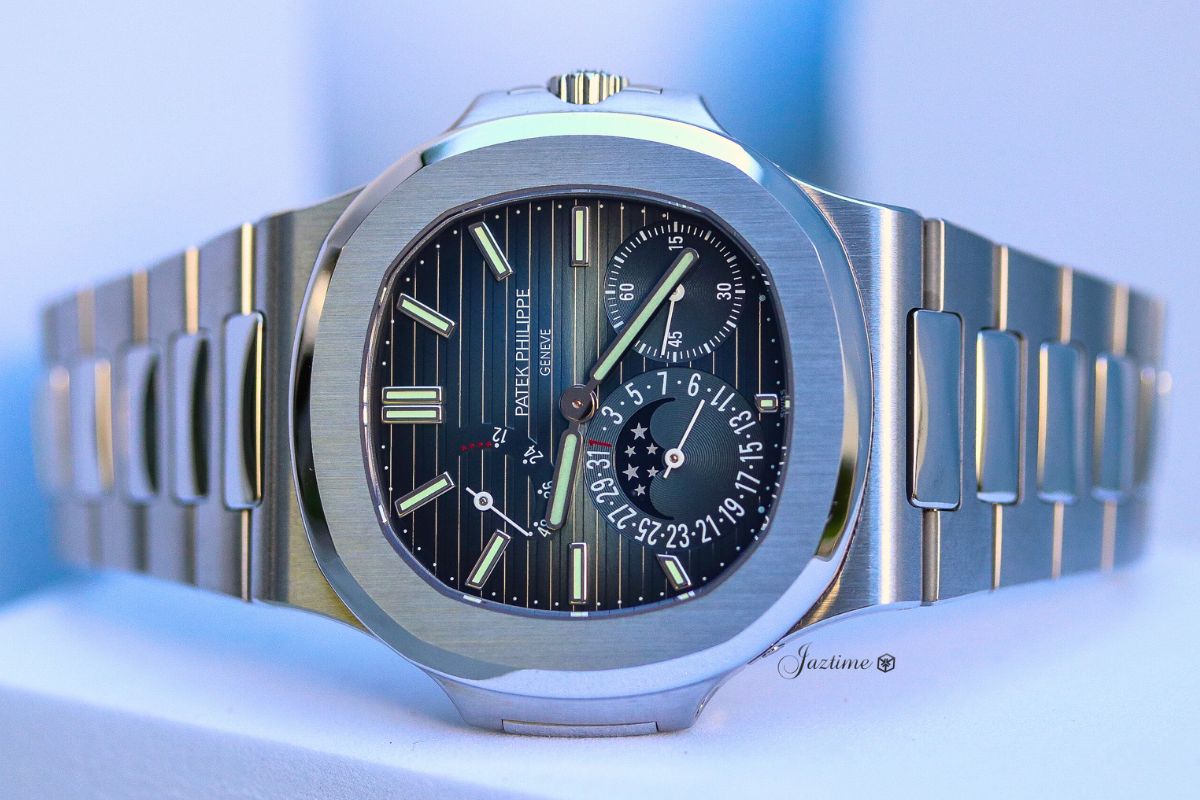 Patek Philippe and the Nautilus Collection
Welcome to the world of Patek Philippe, a name synonymous with luxury and precision in watchmaking. Since its inception in 1839, Patek Philippe has set standards in the world of timepieces, and its Nautilus collection is no exception. Unveiled in 1976, the Nautilus range represents a harmonious blend of robust functionality and elegant design, becoming a benchmark in luxury sports watches.
The Legacy of Patek Philippe and the Nautilus Collection
Patek Philippe has been a leader in watchmaking since Antoine Norbert de Patek and Jean-Adrien Philippe joined hands. The Nautilus collection, inspired by maritime themes, marked a significant shift in luxury watch aesthetics with its distinct porthole-shaped case. The introduction of the Moon Phases added an enchanting celestial touch to this line.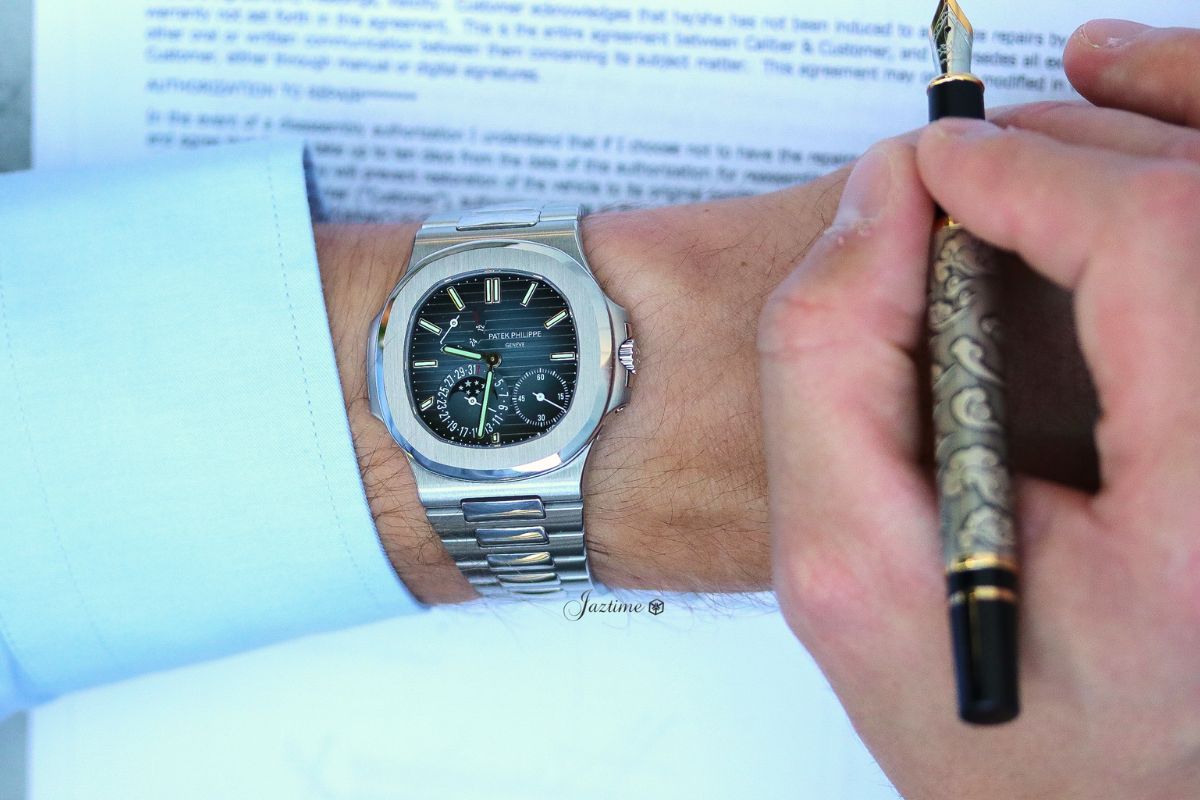 What Sets Nautilus Moon Phases Apart
The Nautilus Moon Phases collection stands out with its signature octagonal bezel and exceptional craftsmanship. These watches are available in various materials, like stainless steel and rose gold, catering to diverse tastes. The blend of a sporty feel with luxurious elements makes these timepieces sought-after in the world of high-end watches.
Exploring Individual Models in the Collection
Each model in the Nautilus Moon Phases collection has its unique charm. For instance, the 5712/1A-001 shines in its stainless steel elegance, making it a perfect blend of durability and style. Meanwhile, the 5712R-001, with its warm rose gold casing, offers a more classical appeal. The varying dial colors, from deep blue to rich black, add to the individuality of each piece.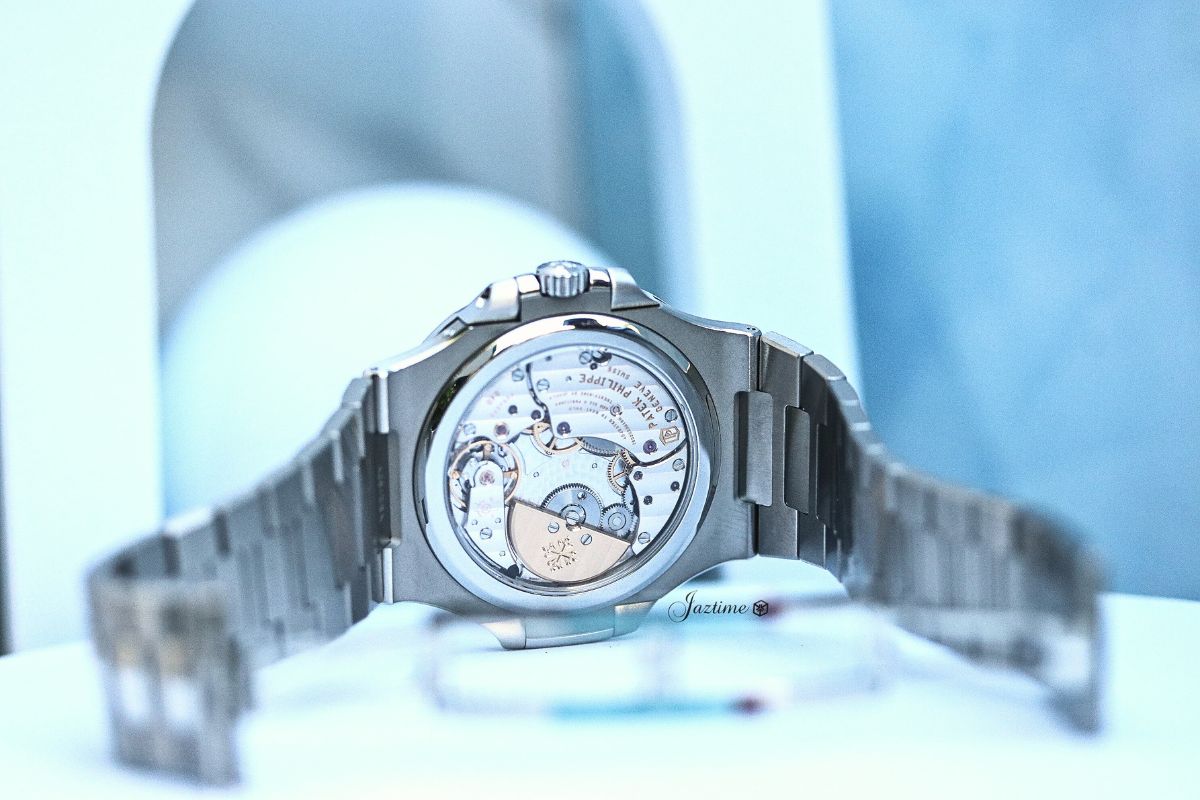 Straps and Clasps: Comfort and Security Combined
The Nautilus Moon Phases watches come with various straps, including sophisticated leather and robust metal options, ensuring both comfort and style. The clasps are meticulously designed for secure closure, blending seamlessly with the watch's overall design.
Intricacies of Complications and Movement
The term 'complication' in watchmaking refers to any feature beyond the simple display of time. The Nautilus Moon Phases showcases this beautifully with its moon phase display, adding a poetic dimension to timekeeping. These watches are powered by self-winding mechanical movements, ensuring precise timekeeping and reliability.
Crown and Water Resistance: Practicality Meets Elegance
The crowns in the Nautilus Moon Phases collection are not just about aesthetics; they play a crucial role in time-setting and winding. Additionally, these watches boast impressive water resistance, making them suitable for swimming and everyday wear.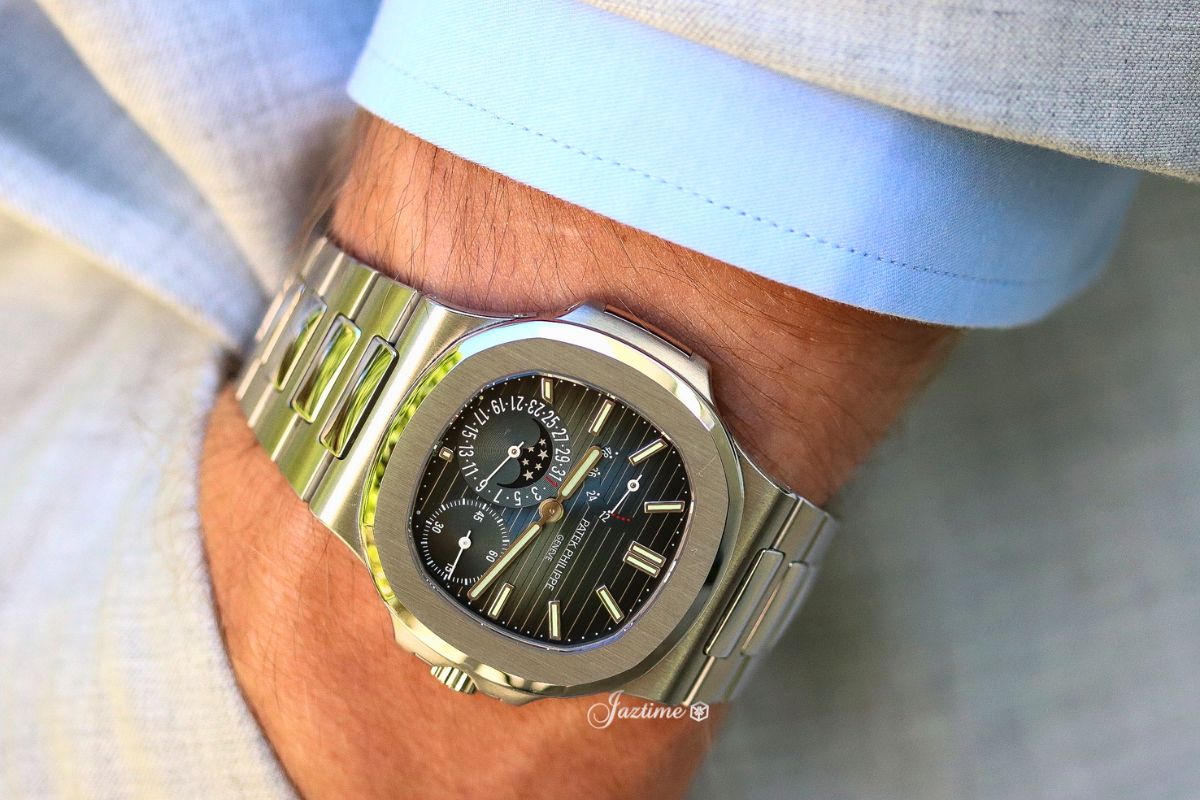 How much is the Nautilus Moonphases watch?
Patek Philippe watches are known for their value retention, and the Nautilus Moon Phases collection is no exception. While the price range is premium, these timepieces are more than just accessories; they are investments in craftsmanship and heritage. Prices start around $70,000 and go up into the $200,000's. As prices are always changing for this watch, please let us know if you would like to purchase and we can get you the most current price.
Why Choose a Nautilus Moon Phases Watch?
Choosing a Nautilus Moon Phases watch means owning a piece of watch making art. It's a testament to Patek Philippe's commitment to excellence and a symbol of timeless elegance. Whether you're a seasoned collector or a newcomer to luxury watches, the Nautilus Moon Phases is a statement of refined taste and technical prowess.