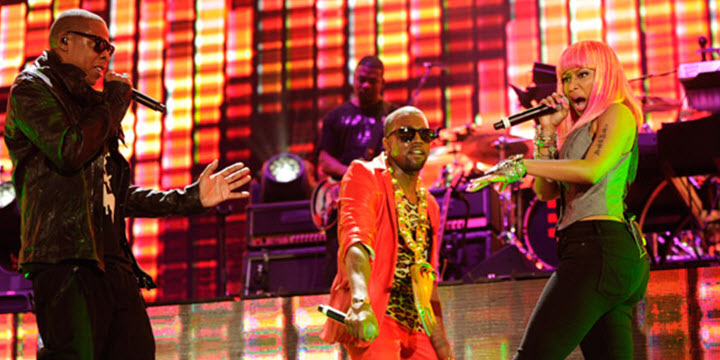 The themes of luxury, material wealth and status feature prominently in hip hop music, with rap stars often making reference to the products they own in their songs, or showcasing them in their music videos. Indeed, many rappers are far from shy when it comes to talking about or showing off their luxury watch collections.
As a result, there is a great deal of interest in the types of watches rap stars wear, with Rolex being the most popular brand of them all. In this article, we take a look at some of the rappers who have been known to wear Rolex watches and detail precisely which Rolex watches they opt for.
Jay Z – Rolex Sky-Dweller 326938 18 Yellow Gold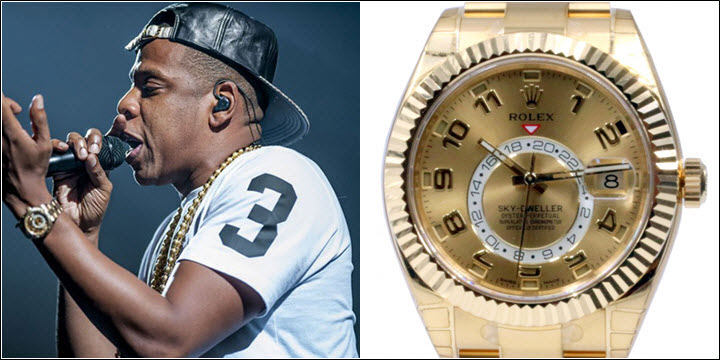 Rap superstar Jay Z is well known for having an extensive luxury watch collection, containing timepieces from Rolex, Hublot, Audemars Piguet and Jaeger-LeCoultre. The rapper became famous for wearing a platinum Rolex Day-Date during the 1990s and this is the watch he can be seen wearing on the cover of the album 'In My Lifetime'.
He has been regularly seen sporting a Rolex Sky Dweller, while at a Carnegie Hall show in 2012, he wore a Rolex Day-Date II. Most recently, Jay Z was seen at the 2016 NBA Finals wearing the new Rolex Daytona ref. 116500LN. Away from the Rolex brand, he has also collaborated with Hublot to create the Shawn Carter by Hublot range.
Kanye West – Rolex Day-Date II 118238 President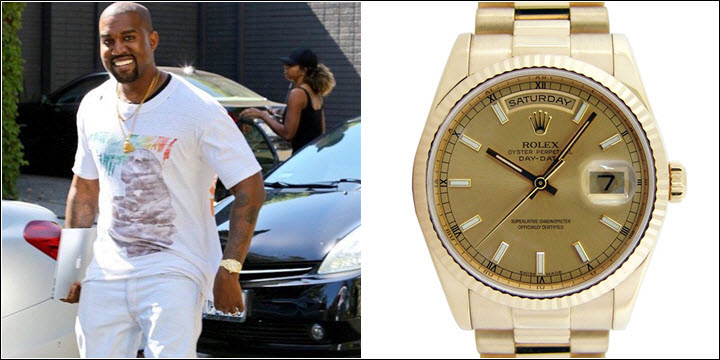 Another Rolex advocate in the rap world is Jay Z's long-time collaborator, Kanye West. In an episode of 'Keeping Up With the Kardashians', he was spotted wearing a gold Rolex Oyster Perpetual Day-Date II. He has also been frequently seen sporting a custom made all-black Rolex Submariner.
Kanye West has name dropped Rolex in several of his songs. In fact, he is such a fan that he gifted the sound crew who worked with him on one of his albums with custom GMT Master watches as a 'thank you'. Additionally, it is also believed that he owns watches from Cartier and Tudor.
Drake – Rolex Cosmograph Daytona 116505 Rose Gold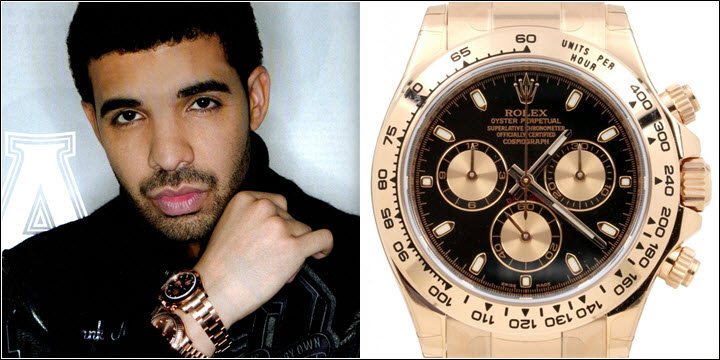 Canadian rapper Drake is widely recognized as one of the most popular musicians alive today, as well as fashion icon. He is also a noted Rolex fanatic. Over the years, Drake has been pictured several times, including at the 2012 NBA Finals, wearing a Rolex Yacht-Master II, while he also owns a Rolex Daytona Ref. 116528.
Perhaps the most interesting watch in his collection is a vintage Rolex Oyster Quartz from the 1970s. Some of the other Rolex models he has either been seen wearing, or is known to have in his private collection include a GMT-Master II Ref. 116758SANR, which is an 18k yellow gold bejeweled model, and a Sky-Dweller Ref. 326935.
Nicki Minaj – Rolex Day-Date II 218215 Rose Gold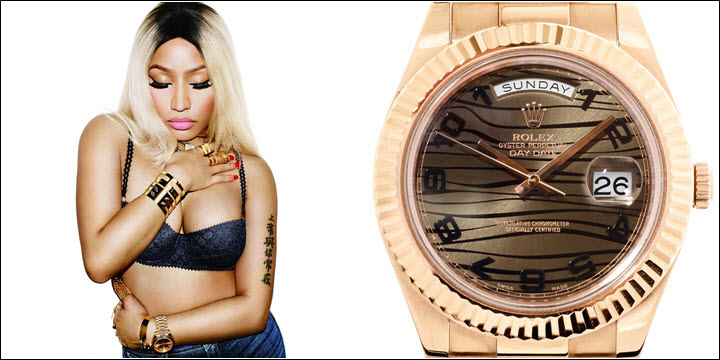 Although Nicki Minaj is often seen as more of an Audemars Piguet fan, she is also known to have owned and worn Rolex models over the years. The best known of these is a 41mm Rolex Day-Date on an President bracelet, which was reportedly given to her as a present by the fashion designer, Tommy Hilfiger.
This particular model was seen in a photo shoot she did for Nylon Magazine. Moreover, Minaj is known to have bought her ex-boyfriend, rapper Meek Mill, a custom yellow gold Rolex Sky-Dweller, covered in white diamonds.
Eminem – Rolex Datejust 116200 Silver Jubilee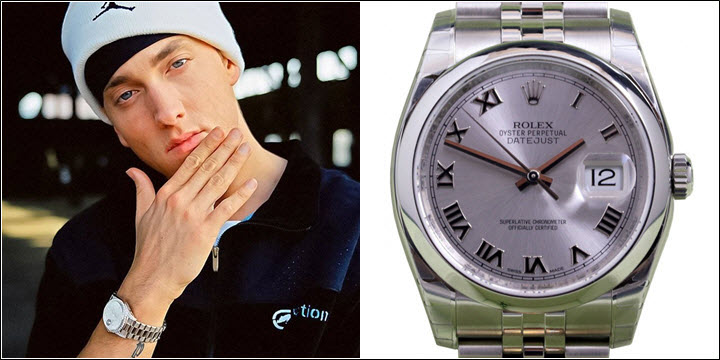 Finally, Eminem is the most successful rapper of all time and he is also a known Rolex aficionado. In several publicity shots, he has been seen wearing a Rolex Datejust, while he is also known to own at least one Rolex President Day-Date, a Ref. 18038, which he had on during a photo shoot from several years ago.
Of course, away from his love of Rolex watches, Eminem has a high-profile partnership with Casio and their G-Shock watch line, and can often be seen wearing their watches. He has served as a brand ambassador and even brought out his own limited edition timepiece, the GDX6900MNM-1.
» ROLEX and many other Brands ON SALE in our Watch Online Shop «