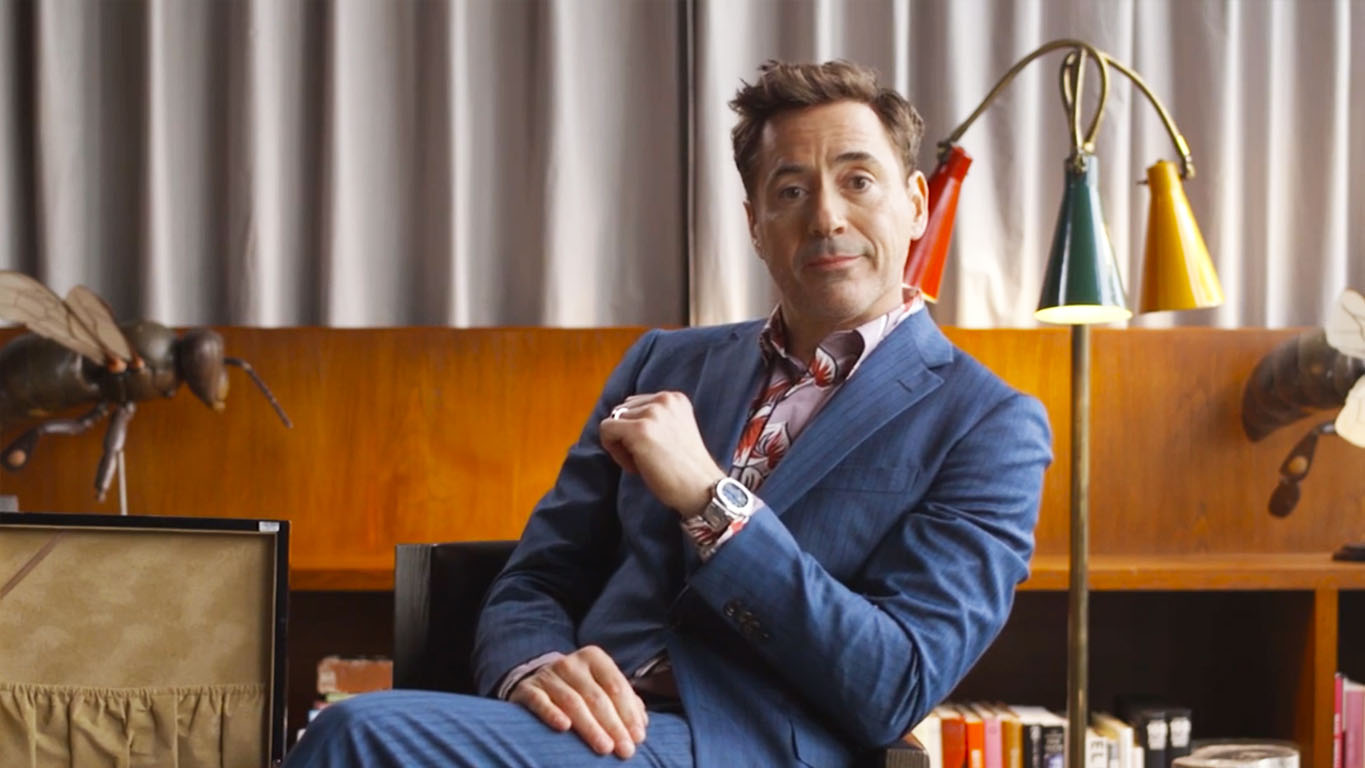 "I've always felt like you can learn a lot about a man if you open up his jewelry box," Robert Downey Jr. told GQ Style in an interview for the début issue of their new publication. In the case of the 'Iron Man' actor, his jewelry box contains exquisite watches from the likes of Rolex and Jaeger-LeCoultre, as well as some much rarer models.
With characteristic humor and wit, the Hollywood star offered up an exclusive look at his extensive collection of timepieces, as well as some of the back stories to how they came to be in his possession. So which models are included in his collection and what do they tell us about Robert Downey Jr. as a person?
Watch #1: Breitling 'Pathfinder' (pictured above, in center)
The first watch shown off by the actor is by far the most controversial in the collection, simply because the 'Pathfinder' collection does not appear to exist. This led to intense speculation online that Downey Jr. had been given a fake watch and the actor himself offers no clues as to where he got it from.
However, there have been occasional references to the Breitling Pathfinder online for years, and the Pathfinder Group is an elite group within the British Army's 16 Air Assault Brigade. With Breitling's history of providing very limited batches to elite military forces, this may be one possible explanation. Quite how a super rare watch – made for elite British military personnel – found its way into the actor's collection is anyone's guess.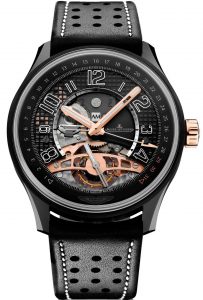 Watch #2: Jaeger-LeCoultre AMVOX3 Tourbillon GMT
Worn during the filming of 'Iron Man 2', Robert Downey Jr. describes this timepiece as "probably my best watch" and for good reason. The watch is constructed from a combination of black ceramic and platinum and has a 'grated' appearance, showing off its inner workings and linking the watch to Aston Martin, who are partners on the project.
The watch is fitted with the Jaeger-LeCoultre 988 calibre tourbillon and has a date pointer, as well as a GMT function, which is connected to a disc displaying either AM or PM, depending on the time of the day. It has an approximate price of $92,000, making it the most valuable watch in the Downey Jr. collection.
Watch #3: Omega Speedmaster Professional Chronograph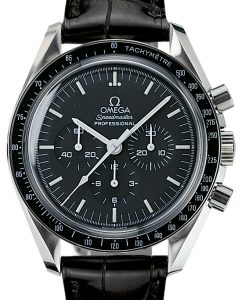 Known as the 'Moonwatch', the Omega Speedmaster Professional Chronograph has a unique place in history, as it was worn by astronaut Buzz Aldrin on the surface of the moon. The stainless steel timepiece has a 42mm case size, features Super-LumiNova coated hands and a new version of this watch would cost around $3,500.
However, it should be noted that the watch Robert Downey Jr. shows off on the video has the word 'professional' written with a lower case 'p', which is a key indicator of an inauthentic timepiece. As a result, there has been speculation online that it is actually a cheaper film prop, made to resemble the Speedmaster.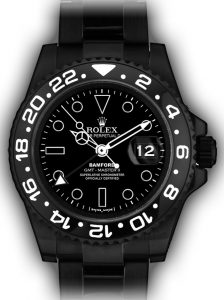 Watch #4: Custom Rolex GMT-Master II 'Ghost'
The next watch in the collection is a custom Rolex GMT-Master II 'Ghost', which is produced by the Bamford Watch Department. Robert Downey Jr. bought two of the watches, with one being given to a friend as a gift, and each of the modified timepieces have an approximate value of $17,825.
It is coated with DLC (diamond-like carbon), which is a technology derived from protective wear in motorsport. One of the major plus points is that it offers a jewel-like surface, while simultaneously making the timepiece more robust. In addition, it offers superb resistance to corrosion and contains no allergenic materials, protecting the skin.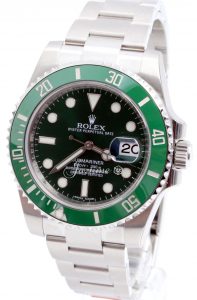 Watch #5: Rolex Submariner 'Hulk' Ref. 116610 LV
The Rolex Submariner is one of the staples of the Rolex catalogue and this particular model is quickly becoming one of the most sought after modern versions. Officially called the Submariner Ref. 116610 LV, the watch is referred to by RDJ as the 'Green Money Rolex', but is more popularly known as the 'Hulk Submariner'.
In terms of its appearance, the timepiece is primarily defined by its green dial and green ceramic bezel. The watch was unveiled at Baselworld 2010 as the successor to the highly popular 50th anniversary Ref. 16610 LV, which combined a green bezel with a black dial. The Rolex 'Hulk Submariner' is valued at around $9,050.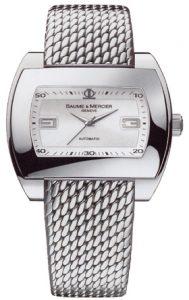 Watch #6: Baume & Mercier Hampton City Watch
A watch inherited from his grandfather, this Baume & Mercier is portrayed in the GQ video as a priceless vintage timepiece. However, in actual fact, the model in question is no more than a few decades old and has a retail price of around $2,495, meaning it is likely to be the least valuable watch in the collection, aside from the fake Omega.
The exact model is called the Baume & Mercier Hampton City Ref. 8340 and has a stainless steel case and bracelet. Its unusually shaped case measures 42mm X 39mm and the watch has an automatic movement, as well as water resistance for up to 30 metres. It is worth noting, however, that the timepiece is out of stock almost everywhere.
Watch #7: Bell & Ross BR01-94 Titanium Orange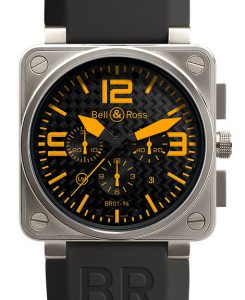 Also known as the Bell & Ross Carbon Orange, this titanium timepiece has a distinctive square case with a round dial face and is predominantly black. Nevertheless, it has bright orange dial markers and numerals, while the hands are also partially luminescent orange, offering excellent legibility and giving it a cool modern appearance.
It is a large timepiece, with its case measuring some 46mm, while the wristband is made of rubber. When speaking to GQ, Robert Downey Jr. mentions that the watch was given to him as a gift by Ben Stiller, after the pair finished work on the film 'Tropic Thunder'. The watch has a retail price of around $3,000 – $5,000.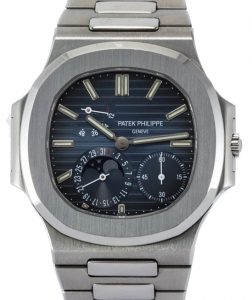 Watch #8: Patek Philippe Nautilus Moonphase Ref. 3712
Finally, the second most valuable watch in the actor's collection is this Patek Philippe Nautilus Moonphase Ref. 3712, which has an approximate value of $33,200. It is a stainless steel model, with a 42mm case size and a moonphase indicator. Essentially, it is a rarer predecessor to the Ref. 5712.
The watch in question was given to Robert Downey Jr. by his wife, the film producer Susan Downey. However, despite describing it as "easily the most glamorous watch a man can have," he also tells a funny story about how, when presented with the gift, he initially thought his wife had bought him a Seiko.
Watch the video here:
Further Reading:
Robert Downey Jr's Watch Collection Is Strange, Sordid, and Very Expensive | GQ
Robert Downey Jr. Shows GQ Style His Watch Collection | Hodinkee
Yes, We Saw Robert Downey Jr's 'Epic' Collection | Time and Tide
Is Robert Downey Jr's Breitling 'Pathfinder' Much Cooler Than We Previously Thought? | Time and Tide
Robert Downey Jr.'s Watch Collection | Best Products
What's In Robert Downey Jr's Jewellery Box? | Vishawatch
Robert Downey Jr. Shows Off His Extensive Watch Collection | Hype Beast
See more of Robert Downey Jr.'s collection at Jaztime :