AUDEMARS PIGUET ROYAL OAK PERPETUAL CALENDAR WATCHES
Audemars Piguet is a prestigious Swiss watchmaker renowned for its exceptional craftsmanship and timeless designs. Among its iconic timepieces, the Audemars Piguet Royal Oak stands as a symbol of luxury and innovation. Its trademark octagonal bezel, secured by eight hexagonal screws, sets it apart, while the hand-polished and satin-brushed finishes showcase the brand's attention to detail. The purpose of this page is to help people who are thinking about buying an Audemars Piguet Royal Oak Perpetual Calendar make a smart choice. We want to provide you with all the information you need to make an informed decision. We will guide you through the different aspects of the watch, such as its design, materials, size, and features.
Audemars Piguet Royal Oak Perpetual Calendar Options
While Audemars Piguet offers the Grande Complication edition of the Royal Oak, which boasts a perpetual calendar and comes in a 44mm size, we will be focusing on the 41mm Royal Oak model in this buying guide. The 41mm size strikes a perfect balance between presence and wearability, appealing to a wide range of watch enthusiasts.
What materials does the Royal Oak perpetual Calendar come in?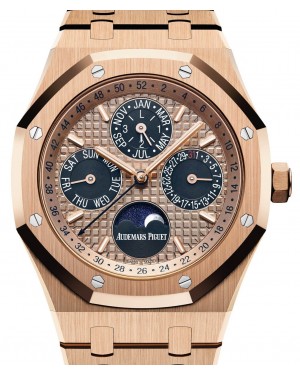 When it comes to materials, the Audemars Piguet Royal Oak Perpetual Calendar offers a variety ofoptions to cater to different tastes. Whether it's the lustrous 18-carat white gold, the warm tones of 18-carat pink gold, the sleek stainless steel, the striking blue ceramic, the sophisticated black ceramic, or the lightweight titanium, each material choice provides a unique aesthetic. Furthermore, the titanium version offers an ultra-thin design, combining elegance with exceptional comfort.
History of Audemars Piguet and the Perpetual Calendar
Founded in 1875 in Le Brassus, Switzerland, Audemars Piguet has established itself as one of the most esteemed and innovative watchmakers in the world. The company was founded by Jules-Louis Audemars and Edward-Auguste Piguet, who shared a passion for watchmaking and a commitment to exceptional craftsmanship. From its early beginnings, Audemars Piguet distinguished itself through its dedication to creating intricate and precise timepieces, combining traditional Swiss watchmaking techniques with innovative designs.
History of the perpetual calendar development at Audemars Piguet
The perpetual calendar, an extraordinary complication that tracks the date, day, month, and moon phases while automatically adjusting for leap years, has been an integral part of Audemars Piguet's history. 
In 1955, Audemars Piguet introduced the world's thinnest perpetual calendar wristwatch, showcasing its technical expertise and pioneering spirit. This breakthrough marked the beginning of Audemars Piguet's journey in crafting exceptional perpetual calendar timepieces.
Pushing the boundaries of watchmaking 
Over the years, Audemars Piguet continued to push the boundaries of watchmaking with its perpetual calendar innovations. In 1978, the company unveiled the iconic Royal Oak Perpetual Calendar,designed by the legendary watch designer Gerald Genta. This timepiece combined the intricate perpetual calendar complication with the bold and distinctive octagonal bezel of the Royal Oak, capturing the attention of watch enthusiasts worldwide. Since then, Audemars Piguet has continued to refine and enhance its perpetual calendar movements, incorporating modern advancements while honoring the tradition and precision that defines their craftsmanship. 
Today, the Audemars Piguet Royal Oak Perpetual Calendar stands as a testament to the brand's rich history and its commitment to producing exceptional timepieces that transcend generations.
What are the key things to consider when purchasing an AP Royal Oak perpetual calendar watch? How should we weigh these ideas?
When purchasing an Audemars Piguet Royal Oak Perpetual Calendar watch, there are several key factors to consider. Here are the main points and how to weigh them:
Style and Design:

The Royal Oak Perpetual Calendar is available in various materials and dial options. Consider your personal style and preferences, as well as the occasions you plan to wear the watch. Evaluate the aesthetics, such as the case material (e.g., gold, steel, ceramic), dial color, and overall design, to ensure it aligns with your taste and purpose. Weigh this factor heavily, as the watch should be a reflection of your personal style.

Movement and Complications:

When considering the Audemars Piguet Royal Oak Perpetual Calendar, you can have full confidence that you are investing in a timepiece of exceptional quality and craftsmanship. Audemars Piguet has a long-standing reputation as a prestigious Swiss watchmaker known for its uncompromising commitment to excellence. The Royal Oak Perpetual Calendar houses a high-quality movement that showcases the brand's technical prowess and attention to detail.

Size and Comfort:

The Royal Oak Perpetual Calendar comes in a 41mm size, which strikes a balance between presence and wearability. Consider your wrist size and comfort preferences to ensure the watch fits well and feels comfortable on your wrist. Weigh this factor moderately, as a watch that fits comfortably enhances the overall wearing experience.

Pricing and Value:

The price of the Royal Oak Perpetual Calendar can vary based on factors like materials and complications. Consider the pricing in relation to the craftsmanship, brand reputation, and long-term value. Assess the overall value proposition and how it aligns with your budget and investment goals. Weigh this factor moderately to heavily, as it depends on your financial situation and the perceived value you attribute to the watch.
Weighing these factors is subjective and depends on your individual priorities. Some individuals may prioritize style and design, while others may prioritize movement and complications. Consider your preferences, purpose, and budget to strike a balance that aligns with your priorities. It is recommended to research, seek expert advice, and even try the watch on in person to make an informed decision that ensures long-term satisfaction with your Audemars Piguet Royal Oak Perpetual Calendar purchase.
How rare are the AP Royal Oak perpetual calendar watches? 
The Audemars Piguet Royal Oak Perpetual Calendar watches are considered relatively rare and highly coveted within the luxury watch market. While Audemars Piguet produces a limited number of Royal Oak Perpetual Calendar timepieces each year, the exact production numbers are not publicly disclosed by the company. This limited availability adds to the desirability and exclusivity of the Royal Oak Perpetual Calendar models. Due to their intricate craftsmanship, meticulous attention to detail, and the complex nature of the perpetual calendar complication itself, these watches require a significant amount of time and expertise to manufacture. As a result, the Royal Oak Perpetual Calendar watches are often considered collector's pieces and are sought after by enthusiasts who appreciate both the rarity and the exceptional quality of Audemars Piguet timepieces.
How much does an Audemars Piguet Royal Oak Perpetual Calendar cost?
It's important to note that prices are subject to change over time and may vary based on factors like availability, location, and any customizations or special editions. 
At the high-end, the AP Royal Oak Perpetual Calendar can cost just shy of $500,000. The most expensive model at the time of this writing is the Ceramic Blue model at $479,000. 
At the lower-end, AP Royal Oak Perpetual Calendar starts at around $100,000. 
How does the AP Royal Perpetual Calendar movement perfectly keep track of everything? 
The Audemars Piguet Royal Oak Perpetual Calendar movement is widely regarded as one of the most remarkable and sophisticated movements in the world of watchmaking. The level of craftsmanship and technical complexity involved in creating this movement is truly extraordinary. 
At the heart of the movement is the perpetual calendar mechanism. This mechanism consists of a series of gears, levers, and cams that are carefully calibrated to account for the varying lengths of months and leap years. The movement includes additional discs or wheels to display the day, date, month, and moon phase. These components work together in harmony to ensure that the watch's indications accurately reflect the current time and date, taking into account both the months with 30 or 31 days and the leap years.