To many people, Scott Disick is best known as the on-again, off-again partner of Kourtney Kardashian and one of the many stars of the reality TV show 'Keeping Up With the Kardashians'. To others, he is a model and businessman in his own right, who also has the authentic British title of 'Lord of the Manor'.
Regardless of anything else, Disick has developed a big fan following. He has also become a style icon and one aspect of his sense of style that has generated a lot of interest is his taste in luxury watches. Indeed, he is known to be a keen collector of timepieces and owns a number of expensive and sought after Rolex models.
"My biggest choice of the day is the wristwatch," Disick told Haute Time during a 2013 interview, highlighting just how important his luxury watch collection is to him. In this blog post, we take a closer look at some of the Rolex timepieces that make his decision so challenging every day.
Rolex Yacht-Master II 116688 18ct Yellow Gold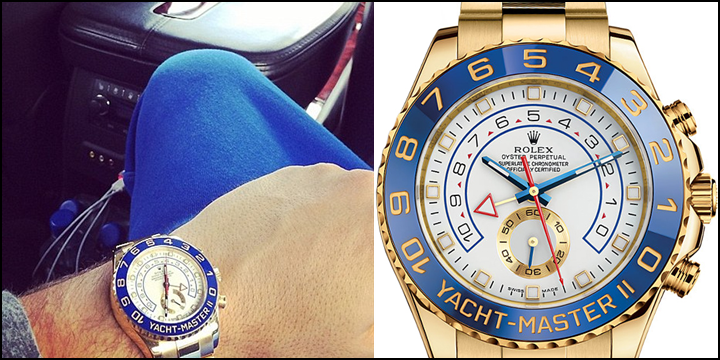 The Rolex model Scott Disick is most closely associated with is likely the Yacht-Master II. The reality TV star owns an 18k yellow gold model and he is known to be fond of wearing this particular timepiece on some of his more relaxed days. Disick also once included it in his own list of 'essential items for the summer'.
Rolex Sky-Dweller 326938 Champagne Arabic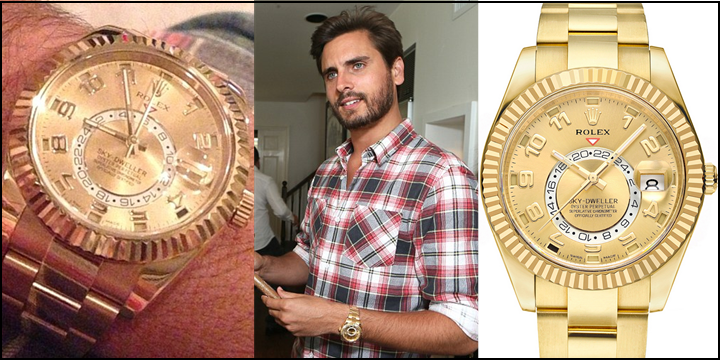 One of the things you will notice about Scott Disick's taste in Rolex watches is that he has a strong preference for yellow gold models. In 2013, he was spotted wearing an 18k yellow gold Sky-Dweller, while examining a box of some of the finest cigars money can buy. Not a bad way to spend the day.
Rolex GMT Master II 16718 18ct Yellow Gold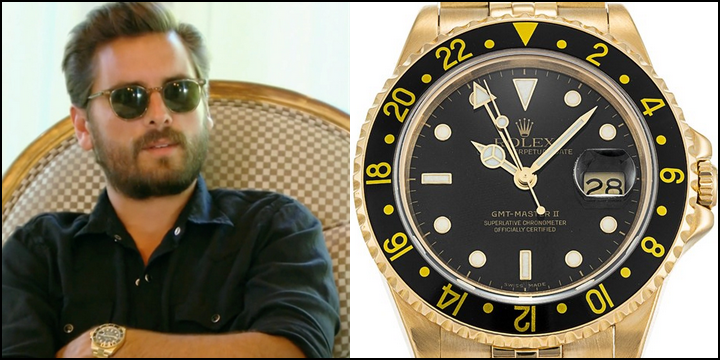 Another model that is strongly associated with Disick is the GMT Master II and he actually owns at least two. One of them, a Reference 16718 in yellow gold, with a black bezel and black dial, was seen in season 11 of 'Keeping Up With the Kardashians'. The other is a stainless steel GMT Master II with a 'Pepsi' bezel, which he once referred to as the best "bang for your buck" timepiece in his entire watch collection.
Rolex Day-Date President II & Other models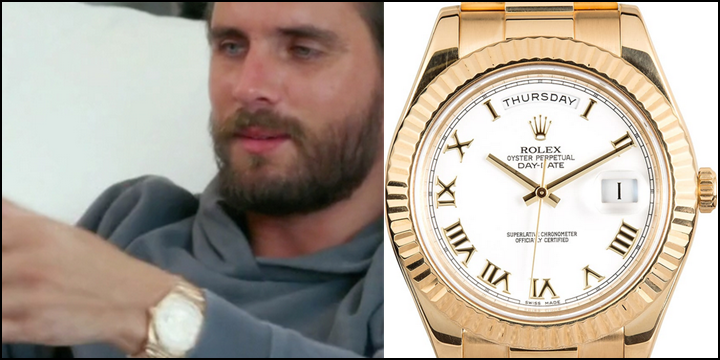 In addition to the watches listed, Scott Disick is known to own various other yellow gold Rolex models, including a Day-Date and a Submariner. Previously, he owned at least one Rolex Explorer, although that model was later auctioned and it is not currently known if he has another. Moving away from his love of yellow gold, he also has a fondness for rose gold and owns both a Daytona and at least one Day-Date constructed from that material.
Non-Rolex Models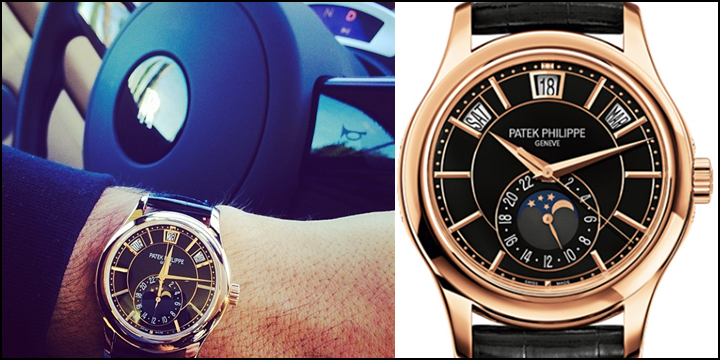 Aside from his obvious affection for the Rolex brand, Disick is known to be a big fan of Patek Philippe watches and once stated that he tends to wear a Patek Philippe when he is really dressing to impress. Moreover, his collection includes numerous diamond bejeweled Jacob and Co. watches.
» ROLEX and many other Brands ON SALE in our Watch Online Shop «