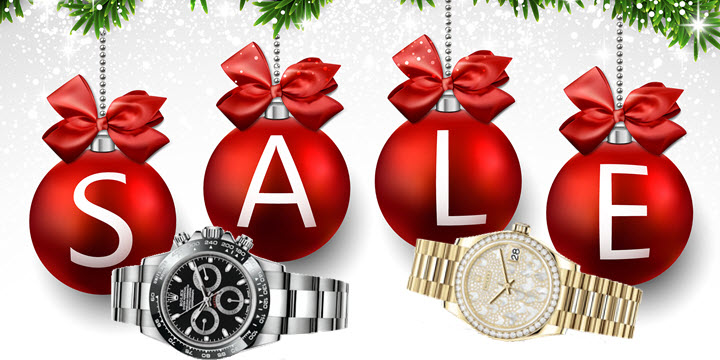 Nothing says 'Merry Christmas' like a Rolex watch. At Jaztime, we sell brand new Rolex timepieces at discounts of up to 20 percent, as well as certified authentic used Rolex watches at discounts of as much as 40 percent. Our extensive collection includes models for men and women, suiting various tastes and budgets.
To make the selection easier, we have compiled a list of suggestions for both men's and women's timepieces, allowing you to buy the ultimate gift for that special someone in your life, or the perfect watch to treat yourself.
Go to: Mens Rolex Christmas Sale   |   Lady-Rolex Christmas Sale
5 Men's Rolex Watch Christmas Sale Gift Ideas
1. Most Affordable Men's Rolex Watches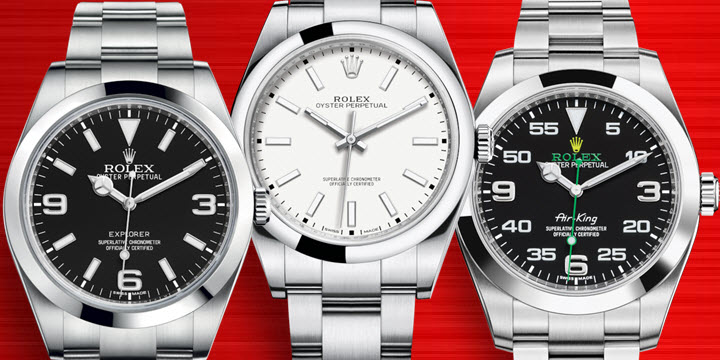 If you are looking for an affordable timepiece this Christmas, your best options are going to be stainless steel models from some of the entry-level Rolex collections. These include the Rolex Oyster Perpetual, the Rolex Air King and the Rolex Explorer I, with the smaller case sizes being the cheapest.
Although these watches lack some of the glamour associated with gold watches, and some of the more advanced functions, like a date display window, they have clean aesthetics, excellent legibility, an understated visual appeal and that unmistakable Rolex quality, both in terms of design and inner-workings.
2. Popular Men's Rolex Dress Watches for Wearing With Suits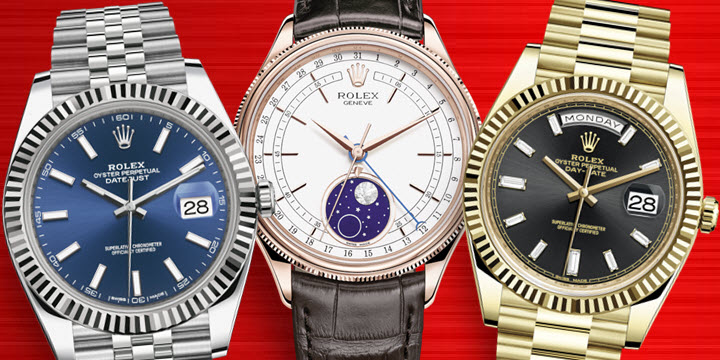 Many of our customers are looking for a sophisticated dress watch, which they can wear to the office, or to special occasions, and which can function as a fashionable status symbol. For these customers, there are two models that stand out as the most popular options: the Rolex Datejust 41 and the Rolex Day-Date 40.
The Datejust is an iconic model, which features a date display window at the 3 o'clock position. The Day-Date, meanwhile, was famously worn by President Dwight Eisenhower and adds a day display window at 12 o'clock. The Datejust is available in steel, gold and two-tone, while the Day-Date is only available in gold or platinum.
3. Young Men's Rolex Sports Watches for Casual Wear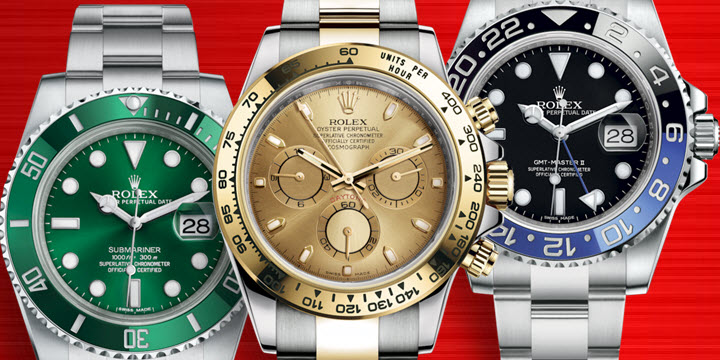 For many younger buyers, owning a Rolex is less about turning heads in the boardroom and more about wearing an impressive timepiece on a more casual basis. This Christmas, we also have various Rolex sports watches on sale, which are ideal for this purpose, providing a sense of luxury, but also catering for every day use.
Models in this category include the Rolex Submariner, Daytona and GMT-Master. The Submariner was famously worn by Sean Connery and Roger Moore in James Bond films, while the Rolex Daytona is difficult to buy from authorised dealers, due to long waiting lists. Other models to consider include the Sky-Dweller and the Explorer II.
4. Men's Rolex Watches for Small, Thin Wrists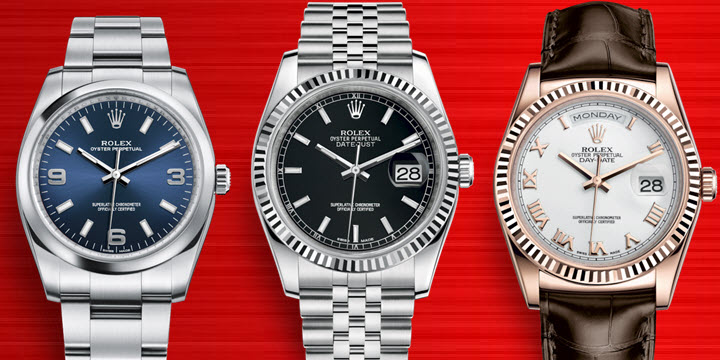 For men with smaller wrists, 40mm and 41mm models can appear over-sized. Fortunately, we have plenty of watches in our Christmas sale that will be a better fit. For instance, the Rolex Oyster Perpetual and Rolex Datejust collections include 34mm and 36mm models, while the Rolex Day-Date President is also available as a 36mm watch.
Generally, it is best for those with thin wrists to steer clear of the various sports watches in the Rolex catalogue, as these tend to be larger in diameter and also bulkier. As a result, the proportions can sometimes look wrong on a smaller wrist, and the models may even be less comfortable to wear too.
5. Men's Rolex Watches for Large, Thick Wrists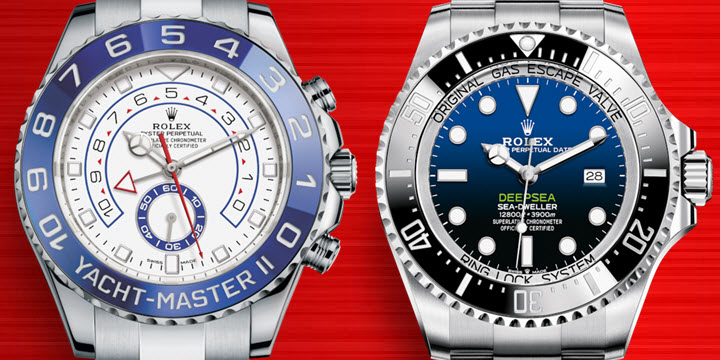 Conversely, men with larger wrists are unlikely to want 34mm or 36mm models, as these can look under-sized. Even a 40mm model may be less than ideal for some buyers. For these customers, we recommend checking out the Explorer II range, which has 42mm models, and the Sea-Dweller collection, which has 43mm models.
With that said, the largest watches in the Rolex catalogue are found in the Deepsea collection and measure 44mm in diameter. For customers seeking even larger luxury timepieces, we also suggest checking out some of the watches on sale at Jaztime.com from brands like Panerai, Audemars Piguet and Omega.
5 Ladies' Rolex Watch Christmas Sale Gift Ideas
1. Most Affordable Women's Rolex Watches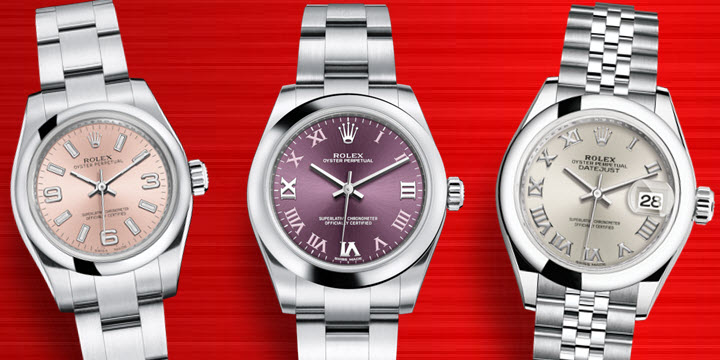 For women looking for a Rolex watch that provides the brand's distinctive sense of luxury, at a price that is affordable, the best option this Christmas is likely to be the Oyster Perpetual. Although this is typically viewed as the most basic Rolex collection, its simplicity offers an understated quality that appeals to many customers.
Unlike other collections, the Oyster Perpetual line only contains stainless steel models, which is why they are more affordable than collections containing timepieces made from more precious materials. As you might expect, the smaller the watch is, the cheaper it will be, and the Oyster Perpetual range includes very small 26mm models.
2. Small Rolex Ladies' Watches
Many women prefer to wear small watches, measuring under 30mm in diameter and this Christmas you will find plenty of options at Jaztime. Both the Rolex Oyster Perpetual and the Datejust collections include models that measure 26mm in diameter, representing the smallest timepieces in the Rolex catalogue.
Both of those collections are fairly understated and some of our customers prefer something more extravagant and overtly luxurious. This is where the 29mm Rolex Pearlmaster and Yacht-Master watches come in. In both cases, the collections include models made from precious materials, with the Pearlmaster adding diamonds and gems.
3. Lady Datejust Mid-Size 31mm Rolex Watches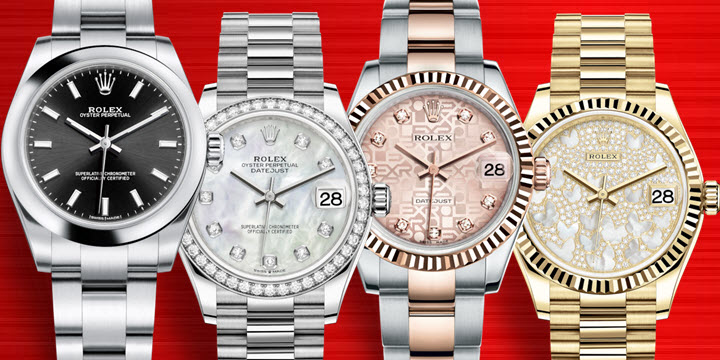 Mid-size Rolex watches are a safe choice, because they will suit almost all wrists and cater to most tastes. For this reason, they can be the perfect choice if you are seeking a Christmas present for the lady in your life. For women, watches with a case diameter of 31mm are usually considered to be mid-size.
Buyers looking for a timepiece in this category should check out either the Oyster Perpetual 31 or the Datejust 31. In both cases, the watches are classic and understated in appearance, which again helps to provide them with universal appeal. The Datejust features a date display window, while the Oyster Perpetual offers better symmetry.
4. Large Face Women's Rolex Watches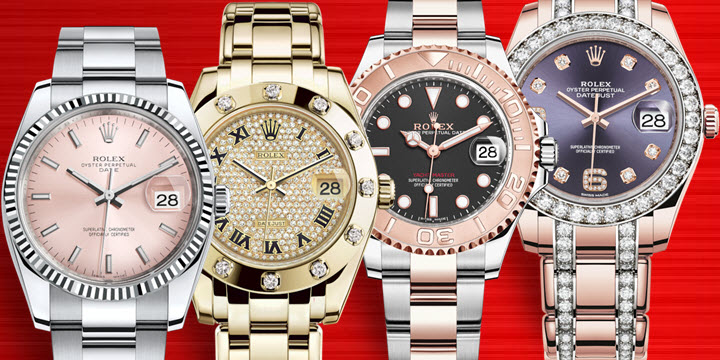 While ladies' watches have traditionally been significantly smaller than men's models, in recent times there has been a trend for much larger timepieces, with celebrities like Kim Kardashian, Jennifer Aniston and Victoria Beckham among those spear-heading the over-sized women's watch movement.
If this sounds appealing, among the collections that fit the bill are the Yacht-Master, which includes 35mm models, and the Datejust, which includes 34mm and 36mm models. Yet, for those who seek something even more eye-catching, the Pearlmaster is also available in a 39mm case size and these models are set with precious gems.
5. Ladies' Rolex Watches With Diamonds
Finally, it is said that diamonds are a girl's best friend, so this Christmas why not splash out on one of the various different diamond options Rolex has to offer? The most basic option here is likely to be the Rolex Datejust, which is available with diamond dial markers, providing a more subtle aesthetic.
Alternatively, the Datejust collection contains some more flashy models, including options with diamond bezels, or options with diamond paved dials. Again, however, those seeking a watch that will make a truly bold statement and exude luxury should check out one of the gem-set and diamond bejeweled Rolex Pearlmaster timepieces.
Buy From Jaztime.com This Christmas!
Regardless of whether you are looking for a men's or women's timepiece, Jaztime.com has you covered this Christmas with our sale on Rolex watches. You will find small, mid-sized and large options, understated and overtly extravagant options, and options for professional, business or casual use.
We sell brand new and pre-owned Rolex models, but all are 100 percent authentic. Head over to our online store at Jaztime.com today, check out our ON SALE items and buy the ultimate Christmas present for you or a loved one.