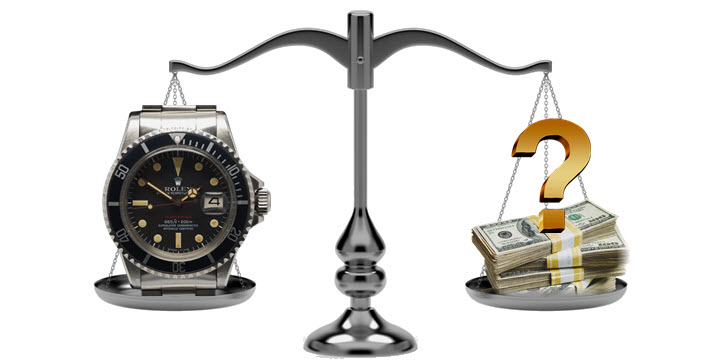 Sadly there is no Kelley blue book for Rolex watches you can use to easily find the price value for your Rolex Submariner. However; There are some ways you can use to try to find out how much your Submariner is worth.
How much is my Rolex Submariner Worth?
The simplest way to figure out the value of your watch is to fill out our online form and get a quote or offer from a qualified watch professional for your Submariner within a few business hours:

Model: Within the Rolex Submariner Watch Collection there are many little differences which can have a large effect on the resale value. No Date Submariner Watches are in general cheaper than Rolex Submariner Date. The Model Year also makes a difference of course. Which Year was the Model introduced? Are you trying to sell a vintage Rolex which is very common or very rare? Does your Submariner have the old Aluminum Bezel or the new Ceramic Bezel? Is is a no holes Submariner case or a newer one?
Material: Similar to the Bezel, of course the case and bracelet material is very important to determine how much the Submariner is worth. Full Stainless Steel is cheaper then a Two-Tone Steel & Gold Submariner which is cheaper than a full Gold Rolex. Special models such as the steel Rolex Submariner Hulk can have a true market value of almost as much as a less popular two tone model.
Color: Certain Rolex Submariner Dial colors are difficult to get. A classic plain black Rolex Submariner is not as valuable as a green/black 50th Anniversary aka Kermit Submariner. The newer green bezel/dial aka. Hulk Submariner watches are also high in demand.
Production Year: Often times, the production year corresponds with the time the Submariner was used. Even if the Submariner was not used, the luminosity of the dial markers lose strength over time. At the same time, even without major changes of a specific model, there are differences from year to year.
Condition: If the Rolex Submariner is in mint condition the true market value of the Submariner is much higher than a Submariner with visible wear and tear. However; even if the watch was never used, once it was in private hands, the resale price drops considerably, similar to a new car leaving the lot.
Engravings: Some people find it necessary to engrave their watch. Of course this makes it more difficult to find a buyer for the watch, which in turn lowers the value of the watch. This is due to either the difficulty of selling the watch with an engraving, or hiring a professional polisher to remove the engraving to be a more marketable watch.
Original Box & Papers: Having the original Rolex Box and Papers leads to a higher resale price than without them. This should be obvious.
Broken Submariner: Even if the Rolex Submariner is broken or does not work any more, its possible to sell it. Certainly the price will be very low, but you can salvage at least some of the watch value.
Who buys Rolex Submariner Watches near me?
Once you've decided to sell your Rolex Submariner, the first instinct of a seller is to find a local buyer. Perhaps the closest Rolex Authorized Dealer? Unfortunately, Authorized Dealers do not buy back any watches. Then there are Jewelry Stores or Pawn Shops, but those shops very rarely pay a fair price. Selling to a specialized Rolex reseller such as Jaztime.com will most likely get you the best price for your Rolex Submariner.
Sell Rolex Submariner on eBay? Great idea, but its not so easy to sell a high value item on eBay. You might not be even allowed to list your Rolex without a proven track record. => How to sell on eBay
WARNING Craigslist: Research the topic of "Craigslist Robberies" before you list any high value item on Craigslist. Craigslist is great for selling low value stuff you want to get rid. Rolex timepieces do not belong there. There are much safer ways to sell your Submariner.
Sell vs Trade-in: If you need cash, of course you can do a straight sell. On the other hand, if your final goal is to sell one watch in order to buy another, its much better to do a trade-in. We provide free trade-in quotes. No matter if you want to change your used Rolex Submariner for a New Submariner, a different Rolex or a different Brand altogether. Maybe you are a James Bond fan and want to get rid of your Submariner in order to get a Omega Seamaster instead.
=> Submariner Trade-in Program
Best place to sell your Rolex Submariner Watch:
Fill out the Jaztime Sell my Submariner Quote request Form above and find out how we are willing to pay for your Submariner is worth. You get a free quote with no strings attached. After you find out how much we are willing to pay for your Submariner you still can try to find a better place to sell your Rolex. At least you have an idea of how much your Submariner is worth. We are convinced, that we offer the best deal. At the same time we understand that people want to get a few offers before they decide.